A GoPride Interview
Andy Siara
Check in to The Resort on PeacockTV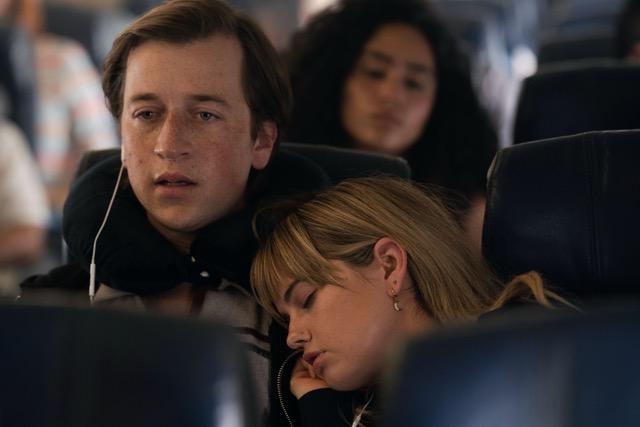 photo credit // peacocktv
Mystery series The Resort will keep audiences guessing
The new mystery series titled The Resort is coming to NBCUniversal's streaming service Peacock on July 28. There are a wide variety of characters depicted on the show including some from the LGBTQ+ community. The show stars William Jackson Harper, Cristin Milioti and Nick Offerman.
Showrunner Andy Siara said he was inspired by people in his life and friends on vacation in creating some of the gay characters included in The Resort. "We are showing all types of relationships within the mystery of the show from the first love to a tattooer. We wanted to represent everything. When we first met with Ben Sinclair and Michael Hitchcock, who I have been a big fan of since Waiting for Guffman. He is a kind person and we talked about his relationships. That was an important part of this show. If someone didn't believe in the script or feel it was inauthentic we changed it."
Two of The Resort cast members, Dylan and Becky Ann Baker, are married to each other in real life and hail from Western Kentucky University. Siara said the Knowlston family were the first characters he created for the series, "They are inspired by parents that I like, but feel real and of the time period too. Ben Sinclair had worked with Becky a long time ago on one of the first things that he did and wanted to work with her again. They are not usually cast as a married couple and they were able to bring in that lived-in experience. Their performances speak for themselves."
Siara wants to entertain audiences with this unpredictable half-hour show, "The Resort is made for people who are who want to relax at night or lean in and solve the mystery part of it."
Nina Bloomgarden plays Violet Thompson on The Resort described her character as "adventurous, she marches to her own tune and dealing with the loss of her mother, which leads her into going on this vacation with her father. She meets Sam and they come together when they need each other the most. My character has the disappointment of time and nostalgia is not a good feeling for her. It is a wild ride! "
Bloomgarden has several scenes with Offerman, who is from Chicago, and mentioned him living in Japan doing Kabuki theater. They played the game Never Have I Ever while on set.
She has never been to Chicago but said she would like to check out the theater scene
The talented actress has a new movie coming out in the fall starring Madelaine Petsch called Jane.
Luis Gerardo Mendez plays the intriguing character of Balthasar Frias and Gabriela Cartol portrays Luna, a worker at the Yucatan hotel. Cartol said, "It is not about what they do as a profession, but what they do in life. That is the curious part about it. Viewers will find out who Luna is and why she is in the story. She has important information and has the key to make the doors open."
Mendez elaborated, "These characters have all the secrets and have the privilege of being in the golden days of the resort. A horrible thing happens with a hurricane erasing everything. They have a second chance 15 years later to try to solve that mystery with two crazy, American tourists who have no idea what is happening."
Mendez travels often but has never worked in the hospitality world, but Luna worked as a hostess when she was 16 years old at a hotel in Acapulco, which she was "quite an experience."
Mendez spoke on the representation of Latinos on The Resort, "My character was a very rich kid from the Yucatan with a very specific accent. We never see that in Mexican cinema or on television depicted so that was a surprise for me. The reason is that they have brilliant Mexican writers in the writer's room. There were cenotes and Maya ruins that people see unfold throughout the show. Representation has to be authentic to break stereotypes."
Both performers have a new Netflix show called Belascoaran debuting in October. Until then home viewers can take a trip to The Resort on July 28, 2022, at PeacockTV.com. 
Interviewed by Jerry Nunn. Jerry Nunn is a contributing writer to the GoPride Network. His work is also featured in Windy City Times, Nightspots Magazine and syndicated nationally. Follow @jerrynunn