A GoPride Interview
Miki Ratsula
Trans musician Miki Ratsula talks top surgery at Bottom Lounge
Straight people silencing queer trans people is why queer people can't live their lives to the fullest.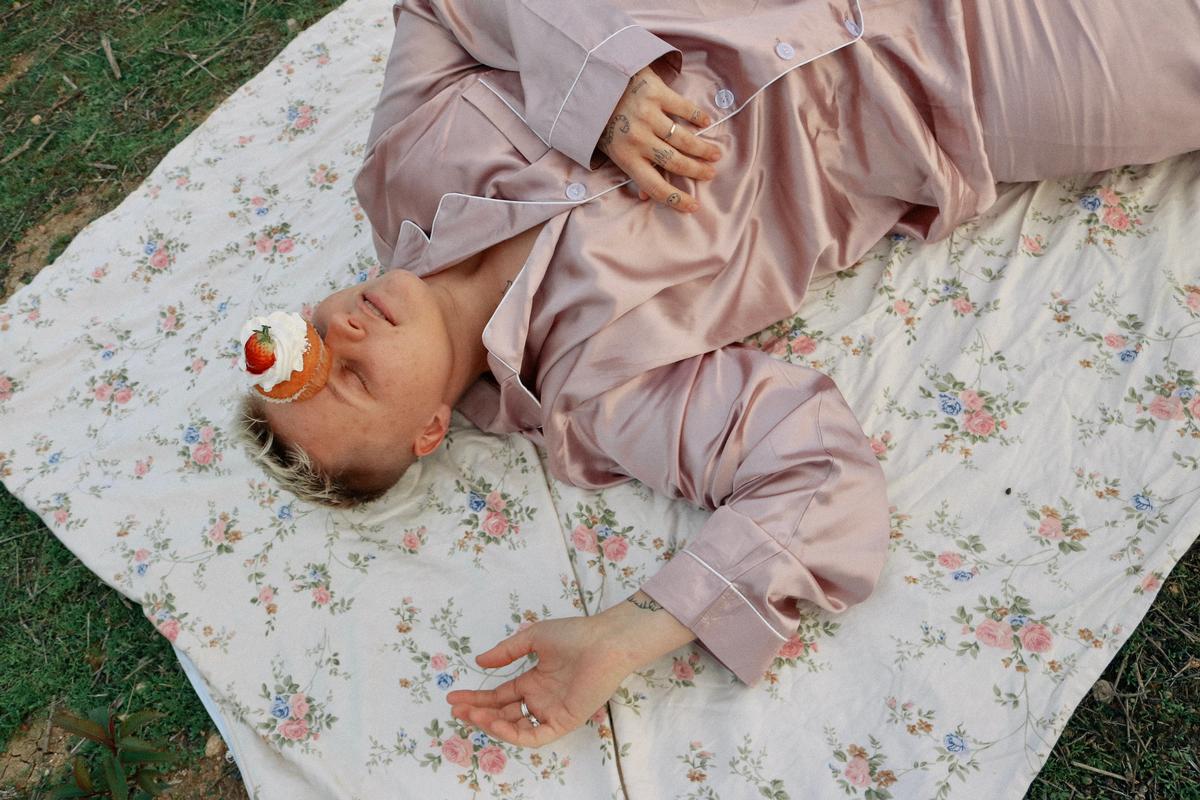 photo credit // hope reim
Trans nonbinary artist Miki Ratsula talks new career at Bottom Lounge
Out musician Miki Ratsula is Finnish, non-binary and uses they/them pronouns.Their debut album i owe it to myself covers a lot of personal territories including mental health and self-love.
These important messages are conveyed visually with powerful music videos such as "second" and "sugarcane."
The talented singer landed in Chicago in support of their friend Laura Sanderson. Ratsula sat down at The Bottom Lounge before their appearance to talk about music and their current journey on the road.
JN: (Jerry Nunn) You are Finnish?
MR: (Miki Ratsula) Yes, Finnish American.
JN: Oh, I interviewed Alma in the past who is also Finnish.
MR: I love her. I saw her in Finland in concert and then open for Tove Lo. It is so cool to see a queer Finnish person performing around. I would love to work with her one day.
JN: What is the LGBT scene like in Finland?
MR: It is relatively progressive in the Nordic areas. I have a lot of trans friends there and it is hard for them to change their names. Sometimes the rules make things complicated.
Gay people wanted to get married but the country almost forgot to make it legal because it is so widely accepted. It is legal now.
Unfortunately, their trans rights are not up to par yet. at least what I have heard from my friends that live there. When I visit, I feel safe and welcome there, but there is room to grow, just like there is everywhere. I don't live there so I don't know all the nuances.
JN: The United States is discussing having 16 states as safe havens for trans people. I feel like things are going backward here.
MR: Yes, why do we need safe havens in this country?
JN: The world has gone crazy. Are you originally from California?
MR: Yes. I was born and raised in Southern California. I am a first-generation American in my family. I have dual citizenship. My entire family lives over there.
I grew up with my parents and my brother. My dad recently moved back to Finland. My brother goes to school in London. Now it is just me and my mom in California.
JN: Did you always want to be a singer/songwriter?
MR: I have been doing it ever since I can remember. I was always writing and singing music. I didn't know it could be a career for me. I was casually putting music out and some of it did well. I figured it out and now can't see myself doing anything else.
JN: This is your life now. Some people say not to have a backup plan for an entertainment career because people always wind up doing the backup plan.
MR: I have a song about that on my debut album.
JN: How was performing at South by Southwest?
MR: It was super fun. I did a label showcase. I saw Muna twice perform and Phoebe Bridgers once.
JN: March 10 was a big day for you?
MR: Yes, I am a year and two months post-op top surgery. A year has flown by and it is so surreal.
JN: How are you now as compared to then?
MR: Look, I was very privileged that my family was accepting. My mom and partner took care of me. Part of me misses that recovery period because it was so meaningful to me to watch my body heal and connect with my family in that way. I finally did it for myself and made it happen.
People sometimes don't understand that.
JN: Well, it's not that you want more pain, just more of the special experience. I don't usually ask trans artists about body parts because they don't like to talk about it.
MR: Everyone has their own boundaries and viewpoints on it.
JN: Was the process expensive?
MR: More than it should be. I had to pay up to my deductible for insurance.
JN: Now that it is done you can have your shirt off and be proud. I saw your Instagram photos!
MR: Yes, finally.
JN: Talk about making your personal music video for "second."
MR: I wrote that song before I got top surgery, but I was in the process of getting it. Once I made the album I knew that I wanted the video to feature my scars.
I wanted to share queer love and have queer representation. I planned on showing top surgery scars and no nipples. This was to show my trans body.
We told the director that is what we wanted and we made it happen. That music video is my favorite thing I have ever done.
JN: That is brave and makes it easier for other people to be out in the open.
MR: It is a beautiful moment. When my partner and I first saw it we sobbed.
JN: How many times have you cried on this tour?
MR: At least once a show. When I play "second" I have everyone sing it at the end and I tear up every time.
I almost cried in the car today because I miss my fiancé. It has been a week and it is really hard. I am struggling today and I miss her a lot.
JN: You also have animals at home that I am sure you miss.
MR: Yes, it is pretty heavy. She is coming to Dallas and will be with us the last week.
I am on tour and this is what I am meant to be doing. That was the one part that I was not looking forward to was that I was going to miss her.
JN: You talk about empowerment in your songs. Sometimes people worry about being too arrogant while building their self-esteem. What do you recommend for people to do to get to that middle ground?
MR: I think it is about unlearning a lot of stuff that we have been told. Right before I had top surgery I had to fire my ex-manager. One of his issues was about me being queer and being vocal about it. I was told I would be excluding cisgender hetero people. I was told that I was being too loud and proud, that my scars are thick and would make people uncomfortable.
It was the very notion of me existing would somehow make others uncomfortable and that I needed to tone that down.
If any other men on TikTok can be shirtless then so can I!
I can talk about my body anytime I want. Straight people silencing queer trans people is why queer people can't live their lives to the fullest.
JN: What a toxic manager…
MR: It took me a while to realize it was not me that needed to be quiet, it was what I was told to do. They are just trying to silence us. I had to stop it at the source.
JN: I wouldn't feel comfortable giving a manager my money if they were that way. Why don't you use capital letters on the album?
MR: For me, it was a visual way to show that this was the beginning of a new chapter. It adds to the nostalgic and youthful aspect of the album. It has content about things I grew up with and have overcome. It has a lot of vulnerability.
The lower case represents that and visually it looks like a new project. The day I put out the album was actually day one in my career. Everything I did in the past led up to it. I now know who I am as an artist and person. The music is right and this is stylizing things to show life is different.
JN: Great explanation! Before this tour had you performed live very much?
MR: No, just here and there. It was usually just a stripped set, so this is the first time where I have a solid project that I am sharing. It is not just random songs from my catalog. This is my album and I am playing these songs with a purpose. I am learning how to perform them live. Everything is legit from here!
JN Playing off the title did you feel like you "owe it" to yourself to do this?
MR: Absolutely. That is where the album title came from. I owe it to myself and all of the vulnerability that came with it in the storytelling. It is a space for me to cross, grieve and grow.
JN: Do you want to make a completely different record next time?
MR: I have the next album in the works. The next one is looking like it will be me being in a place where I know who I am. Now I know how to set boundaries and protect myself from other people's bad energies. I am moving on after finally being my unapologetic self. I am not letting anyone else tell me otherwise. I think the second album will lead me in that direction.
JN: I look forward to hearing that. What would you like to tell other people about yourself as an artist?
MR: My biggest goal is to be the artist I needed growing up. If I had seen someone as vocal as me with my body of scars and story, I would have saved myself from having some rough times.
I want to be a voice for people who need it. I can imagine a transphobic parent seeing my video for "second" and realizing their trans kid can be loved. I hope it can make other people understand everything more.
JN: Representation is so important so keep on doing what you are doing.
MR: Thank you so much!
Interviewed by Jerry Nunn. Jerry Nunn is a contributing writer to the GoPride Network. His work is also featured in Windy City Times, Nightspots Magazine and syndicated nationally. Follow @jerrynunn