A GoPride Interview
Cynthia Bailey
Cynthia Bailey Strikes a Pose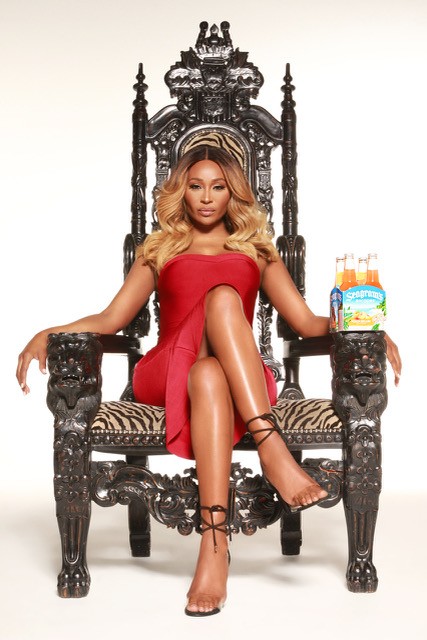 Bravo Real Housewife talks about products, Pose and Pride
Cynthia Bailey was a model in New York before settling down in Atlanta and joining the cast of Bravo's The Real Housewives of Atlanta in 2010. She had appeared on shows such as The Cosby Show and New York Undercover before that. She also did films like Sandra Bernhard's Without You I'm Nothing and For Love or Money. 
Bailey has down well with reality TV. Besides the Housewives, she has also been on The Next:15 and Cupcake Wars. 
The launch party for her Seagram's Escapes signature drink was captured on film during season 11 of the The Real Housewives of Atlanta. She recently visited Chicago to promote the Bellini cocktail and talk about the show.
JN: (Jerry Nunn) We haven't talked in a few years. You are one of my favorite Housewives. 
CB: (Cynthia Bailey) Thank you! 
JN: I was worried when Steve Harvey moved his show out of here that you might not visit Chicago anymore. 
CB: I know. That was the reason I was there all the time when I did his show. Now with Seagrams I get to come to Chicago. I love Chicago!
JN: How did you get involved with Seagram's Escapes?
CB: They reached out to my agent. They wanted to do a partnership with me and thought I was a good match for the brand. Seagram's has been around for a long time. I've been around for a long time [laughs.] They know how to make a good cocktail and I know how to drink a good cocktail. It was a win-win!
JN: Was the peach flavor on purpose because of Atlanta?
CB: I wanted to start out with the peach flavor. I could go with more than one flavor, but I thought it made sense to do the peach flavor first because I live in Atlanta, I'm an Atlanta Housewife and a Georgia peach. 
JN: So more flavors are in the works?
CB: I am 52 now. I would love to have 52 flavors! 
JN: I turn 50 next year so it's a big birthday. 
CB: Well, I hope you celebrate with a 50 Cynt birthday like I did. I celebrated for 50 days. 
JN: You had a launch party for this cocktail on the show. 
CB: I did. It was a very dramatic launch party and it was the season finale. It was a huge success and everyone came out to support. We had an unexpected visitor, Miss Kenya Moore. 
JN: I interviewed her at the four in the morning at a Pride event in Chicago one time. You are going to be on the Bravo float for WorldPride?
CB: I am. I will be there with Eva Marcille and NeNe Leakes.  
JN: I need to get on that float to take some selfies. 
CB: I hope it's a big float, honey! 
JN: There will be a lot of personality on the float, that's for sure. That will be a historic day in New York. 
CB: It's my first time doing Pride in New York. I love and support the gay community. I came up in that community. I started modeling when I was 18 in New York City. I remember when voguing started. A lot of my family and friends are gay. I am excited and honored to represent Bravo on the float to celebrate Pride. Love is love. Everybody deserves love. 
JN: Have you watched Pose on FX yet?
CB: I'm obsessed with Pose. It reminds me so much of New York. In my head I'm already thinking "the category is…"
I might take a voguing class so I can learn how to do it. This show has brought back all of these memories of me hanging out in New York City when I was a model and in all of the clubs watching the voguers. One of the guys that first taught me to walk the runway was a voguer. The legendary Willi Ninja from Paris Is Burning. He was my runway coach. 
JN: Do you hit the gay bars in Atlanta?
CB: Yes. I go to Swinging Richards and a few spots. I like to hang out with the family. 
JN: How is your home Lake Bailey going?
CB: It's great, very peaceful. My daughter is home from college. She's back at the lake trying to figure out what she wants to do. She might go back or possibly move to LA. She might even do online schooling. I'm looking forward to her leaving the nest again because she wasn't gone that long. Noelle left the nest, but it wasn't empty for long because Mike Hill came right in after she left. 
JN: You must have heard from parents with that storyline of her going to college. 
CB: Initially I did because she's my only child. Noelle was home schooled most of her life. She has not really been around a lot of people. She was living on her own was a big step for her. We are super close. I am a hands on mom. We had to rip the Band-Aid and let her go. Trust me, it wasn't easy. 
When she left, I was like, "Please don't come back." [laughs]
JN: You liked the freedom?
CB: Once she left it wasn't bad having the lake house all to myself. 
I am so proud of her. She's doing phenomenal. As her mother, I hope she finds her way. I can do everything I can for her, but I can't live her life for her. 
JN: Your new house went smoothly compared to some other Housewives. 
CB: I moved there at a point where I was just turning 50 and divorced. I was starting over and on a quest for peace. I was trying to figure out the rest of my life. It was love at first sight. I immediately knew that my house. 
JN: How do you deal with the stress of being on the Housewives?
CB: There's good days and bad days. The Real Housewives of Atlanta is the number one show on Bravo. We film for about five and half months out of the year. It takes up a lot of our lives. If we are not filming it then we are watching it and promoting it. It really is our life in a lot of ways and our reality. 
How do I handle it? I think now that Noelle is older, it's a little easier because I only have to deal with myself. I used to struggle with being a mother and having several other businesses like the Bailey Room Wine Cellar and an event space. There's a lot that I do. 
I'm in love, so I want to make time for all of my babies, the baby I gave birth to and Mike Hill. He's the baby I'm going to marry one day!
JN: I saw you talking about Flat Tummy on Instagram. It's a shake?
CB: Yes. It's a shake and I take the chocolate one mixed with almond milk. It gives you a smooth move. When I use it I go! I take it at breakfast and I'm good until lunch. 
JN: Last time we talked you mentioned you do your own hair. How do you do that?
CB: I use a lot of wigs now. I fell in love with wigs years ago because I like to change my hair. 
When I first went on the Housewives they said that I should have one signature hairstyle. I had to explain to them that I'm not a typical Housewife. I'm a model without a signature hairstyle. I'm a chameleon. I change. 
Ironically, now that's what I am known for. 
JN: Does the new season of Atlanta Housewives feel different than past seasons?
CB: Every year is different. I came on season three and now I've been on the show 10 years. I can't even believe it. My reality is different every year. This year I am in love again. I found love. We are serious and excited about getting married one day. When I got divorced I never thought I would get married again. It was not on my list of things to do. I wanted to meet someone, but never thought I would be in love. 
JN: When do you see him?
CB: We have a long distance relationship. When I'm not filming, I'm in LA with him. When he's not being a sportscaster, he's in Atlanta with me. We all have jobs, so we are trying to figure it out. 
JN: I don't think there's been a Housewife that switched shows. That would be interesting. 
CB: Wouldn't that be cool? I wish I could still stay in Atlanta and be a friend on Beverly Hills when I'm out there. Those two worlds could collide. I would love to be part of a crossover. 
I don't want to leave Atlanta because I love it there. It would be great to capture my friendship with some of the ladies in California though. I love Erika Jayne and Kyle Richards. Lisa Rinna and I just did LuAnn's "Feelin' Jovani" video. 
JN: So you have three events in Chicago. Are you out right away?
CB: Yes, I am. I go to St. Louis then back to Atlanta to get ready for Pride. They should call me an "Airplane Wife" because I spend most of my time flying around the world working!
Interviewed by Jerry Nunn. Jerry Nunn is a contributing writer to the GoPride Network. His work is also featured in Windy City Times, Nightspots Magazine and syndicated nationally. Follow @jerrynunn