A GoPride Interview
Tarell Alvin McCraney
Tarell Alvin McCraney and Tina Landau talk about a new project together
We are trying to create a journey that has the sensibilities of Terence and Joan in a way that is entertaining and surprising.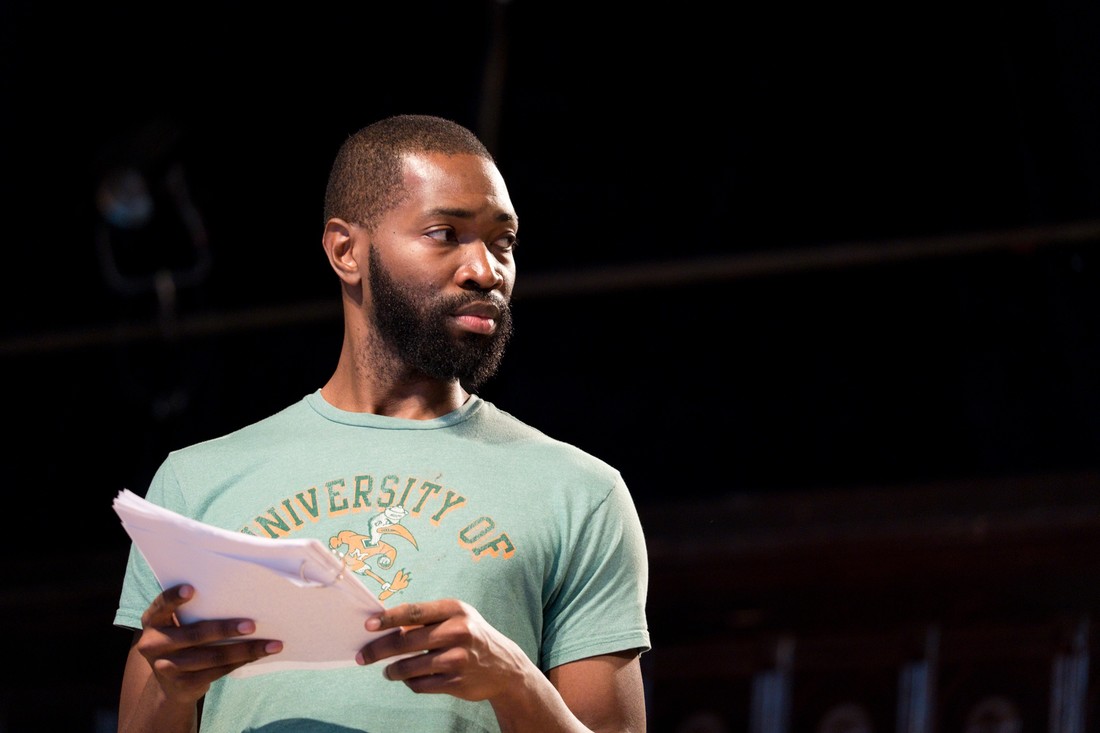 photo credit // steppenwolf
There's a precious piece of Chicago history coming to the Steppenwolf just in time for Pride month. MS. BLAKK FOR PRESIDENT tells the story of activist Terence Smith's drag queen persona Joan Jett Blakk, who ran for president of the United States in 1992. 
Tarell Alvin McCraney is a playwright and an out actor, who is playing the lead role in the production and is also the 43rd member of the Steppenwolf Theatre Ensemble. Many may know him from co-writing the 2016 film Moonlight, based on his play In Moonlight Black Boys Look Blue, where he received an Academy Award for Best Adapted Screenplay. His screenplay for the recent film High Flying Bird was directed by Steven Soderbergh for Netflix. 
Tina Landau is the co-writer and direct for MS. BLAKK. She is known for her Broadway work including the Tony nominated musical SpongeBob SquarePants. Landau was named one of the Out 100 of 2009 by Out Magazine. 
The talented duo sat down at the Steppenwolf Front Bar to discuss their latest project together. 
JN: (Jerry Nunn) That Steppenwolf gala last week was amazing. What does being a Steppenwolf ensemble member mean to you each personally?
TL: (Tina Landau) To me, it means artistic family. They are people that I have developed relationships with and have gotten to know over the years. 
It also means when you have a crazy idea like MS. BLAKK FOR PRESIDENT and you just have the idea six months before the first rehearsal, they will say yes and will try to make it happen. 
TAM: (Tarell Alvin McCraney) It means a kinship in the sense of artistic alignment. The collaboration is based on trust. We sit in ensemble meetings and try to describe it, but we fail to because you only know it when you are onstage with somebody and there's a sense of play and adventure in their eyes. To me, that's the core of what we cherish by working with each other. 
JN: You two have both worked together before…
TL: Many times. 
JN: How did the concept and production come about?
TAM: We had slotted to do a different play and it didn't feel like the right time. Tina had asked me to work with her and she had been reading a book about Chicago queer stories. She found this one. 
I had never heard of it before. I didn't know Terence not only ran for mayor of Chicago in 1990, but in 1992 launched a campaign for president of the United States. 
I thought it was compelling, beautiful and scary. Our next step was finding Mr. Smith. 
JN: Was he hard to find?
TL: He was. I spent a good amount of time looking. First of all, there were a lot of Terence Smith's in the United States. I got in my head that I would find him myself. I looked on Facebook and the Whitepages. It took me a good six weeks to find him. 
When I did, he was immediately receptive and shocked that someone had heard about his story and wanted to tell it. 
I flew to San Francisco where he lives and spent some time with him there recording our conversations. After they were transcribed, we used that as a jumping off point. It is such a rich time so we wanted people to understand what was happening at that time in Chicago in terms of gay rights and the AIDS crisis. 
JN: What is the arc of the show to cover all of this?
TL: We follow Terence as Joan from the evening of his 35th birthday to when he is first eligible to run as president. Joan declares her candidacy in January of 1992 and the piece takes us from there to the floor of the Democratic National Convention in New York in July. We are focusing on that time period. 
We wrote in the front of the script "inspired, but not bound by true events" so it is not a straight forward documentary telling of what happened. We are trying to create a journey that has the sensibilities of Terence and Joan in a way that is entertaining and surprising. It speaks entirely to this moment now in our culture. 
JN: Did you feel pressure portraying him, Tarell?
TAM: Yes, but he's been so amazing that the pressure is not from him. It's just from me. 
When you meet him you know he's an incredible being. You want to be around him and have him around.
TL: It was never our intention to depict Terence as he is. They are two polar opposite heights. Terence is a small man and Tarell is a giant in my book. There was never an idea of impersonating or becoming him. We are creating a character that was infused with the spirit of and inspired by Terence. 
JN: What do you want young audiences that have no idea of the history to take away from the show?
TAM: I think it's good that young people can see that where there was no space, they can make one. It's reclaiming space. 
They can know this was a time period where something as audacious as this happened. This could be the time for it to happen again. The time is nigh. 
It is central to the story that this man at 38 years old was pretty young to do what he did. He went to the floor of the Democratic National Convention. I'm 38 and never been to that floor.
They created a platform where there was none. That's amazing at a time where Ellen DeGeneres hadn't kissed on TV yet. Will & Grace was not a thing yet! 
JN: There was no RuPaul's Drag Race.
TL: But there was a RuPaul…
JN: Have you done drag before, Tarrell?
TAM: No. 
TL: But he has on some alternate plane of reality. In the shows we have done before, there has always been a moment where Tarrell has gotten up and done things. One play in particular, Wig Out!, had three characters called The Fates. They were a trio of backup performers. I will never forget in New York when Tarrell got up and was a fourth Fate. 
Maybe not actually in drag, but I had seen enough of how he moves and personifies certain characters that I can't wait for the rest of the world to share in the pleasure. 
Our designer kept saying last night that Tarrell is really good lip syncher and he knows!
JN: I heard my friend Molly Brennan is in the show. 
TL: Yes, we love Molly! Molly and Tarrell were both in the piece Theatrical Essays where we all met in 2004. This show is a little mini reunion. Molly is doing a million things in the show. 
JN: More than one character?
TAM: Yes. She's amazing. 
JN: There's a party zone and it's interactive?
TL: In my mind, the whole theater is turned into a shared space. It's not a theater, it's a room. The party zone are the seats closest to the runway. 
A lot of the interaction takes place all around the audience through the whole show though. I hesitate to call the thing a play, even though I know it is. You said "show" and I like that word. I like "event" and "performance." Call it a "party." It feels like all of those things. 
JN: It seems like shows are now moving into being more interactive. 
TL: I think people want to be in spaces that feel live. That is the thing theater has to offer over the other mediums. This is happening in this moment and between us. Since Tarell and I first met, we have both tried to capitalize on that. 
JN: As theater people we all know that in front a live audience things can really change. 
TL: Exactly, and we have no idea what will happen. 
TAM: We don't want the audience to just sit back and watch something that happened in the past. We want to remind audiences that we are in that time now. The freedoms that we thought we had are not guaranteed or promised today. 
JN: I love that this hidden story is finally being brought to attention. Is Terence coming to the show?
TAM: Yes. He's been at rehearsals already.
TL: You never know who's life you are going to impact down the road. 
Terence was so surprised that we wanted to tell his story. He wasn't expecting it. People go on with their lives and never know who they will touch people with their story even generations later. 
MS. BLAKK FOR PRESIDENT runs from May 23-July 14 in the Upstairs Theatre at Steppenwolf Theatre, 1650 N. Halsted St., with tickets and information at Steppenwolf.org. LookOut presents a special schedule on the website with conversations after select performances and DJ's every Friday in the Front Bar during the run.
Interviewed by Jerry Nunn. Jerry Nunn is a contributing writer to the GoPride Network. His work is also featured in Windy City Times, Nightspots Magazine and syndicated nationally. Follow @jerrynunn