A GoPride Interview
Val Emmich
Val Emmich interview with ChicagoPride.com
Wed. November 12, 2008 by ChicagoPride.com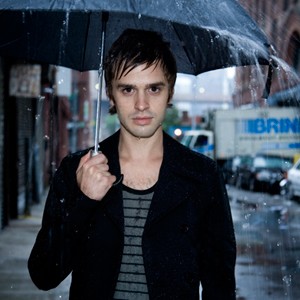 photo credit // tyler shields
Val Emmich is truly a jack of many trades and has proven himself a master of anything he takes on. A creative soul, he is inspired by the world around him. He takes bits and pieces of life, love and spirit and pours them into his work, be it in his writing, his acting or, most importantly, his music. Little Daggers, his first release for bluhammock music, is a warm yet intense ode to human emotion and reality, produced and engineered by Emmich himself.

No stranger to the music industry, Emmich's got five albums under his belt. He's also toured extensively with artists like Dashboard Confessional, Butch Walker, Gavin Degraw, The Honorary Title, Better Than Ezra and others. Emmich's not happy if he's not creating--which may account for the fact that not only is he a musician, he's also a novelist (he just recently finished his first book) and an accomplished actor who's been quietly flying under the radar until now. Emmich is currently playing Betty's new next-door neighbor on Ugly Betty.

No stranger to the gay community either, Emmich has been getting raves for his music—and for his considerable physical charms—all over the gay web. Emmich also campaigned heavily against California's Proposition 8, appearing in a PSA with other stars like gay fave Kathy Griffin.

Here, the singer talks about Little Daggers, his burgeoning acting career, and how it feels to be the gay community's "hunk du jour."

CP: Little Daggers is a great pop record. You've written some really catchy melodies. Have you always written pop songs?

VE: (Val Emmich) No, I've written a lot of different kinds of music. This is actually my fifth CD. I was on a major label for a while, and they wanted me to write with other writers and come up with a pop hit. I played ball with them for awhile, but if I went any further, I would have ceased to be myself. Writing with other people was a great learning experience and I made some great friends through the process, but trying to sit down and purposely write a hit is a mind-boggling concept with little reward. That put me off the idea of pop for awhile.

CP: So how did you get back to it?

VE: My next phase was to grow a long beard, get a place in Woodstock, live in the house by myself, and just write music. Living on my own in the woods was an amazing rebirth. I just played because I wanted to. Some songs were 7 minutes long, and some songs didn't' have a chorus. And some were poppy. It lead to making this record. With Little Daggers, I wanted to make an extravagant pop thing. Pop can be a dirty word—dumb, disposable and cheap. I took that as a challenge. Could I make smart pop? I hope I did that.

CP: What do you usually write about?

VE: Things that I see as problems in my life. Things that irk me. Usually, it's a negative emotion because the positive emotions make me go out and live. For this record, I wanted the songs to be about love. The most interesting thing to me is that everyone is struggling to make love work, and repeatedly, no matter how many times they fail, they keep going. They just want it.

CP: I love the song "Down." It's a little more offbeat than the pop sound of the rest of the album. I'm impressed by the vulnerability of the lyrics.

VE: That's a more moody kind of song, like the kind of thing I used to do. It's about giving yourself to someone completely. There's a real beauty to servitude in relationships. It's scary, isn't it?. But it's a real attractive thing too—to have that kind of innocence to say, "I will be what you want me to be." It's a crazy thought, but it's very selfless.

CP: How did your acting career develop?

VE: I was a sophomore in college, and I was working at a used book store. My boss said, "Did you ever think about acting? "Her son was doing some acting on The Sopranos, and she thought I could make some money doing it as well. It's very funny--someone telling you that you could make some money acting, like a pyramid scheme. Sure enough, I met her son's manager, did a cold read, got sent out on some auditions, and landed a commercial. While my friends were waiting tables, I was getting residual checks.

CP: So, how do you balance the music and the acting?

VE: A couple of years ago, I put so much pressure onto my music. In fact, I stopped acting because I didn't wany anything to challenge my image as a musician. I just don't give a shit anymore now. If I can do them both, then I should. The moral of the story is that, so far, it's all led to something really good. I made a record I really like, and I'm on TV, which will hopefully end up helping the record.

CP: So, you play Betty's rock and roll neighbor on Ugly Betty. What other acting have you done?

VE: At the beginning, I did a bunch of commercials--AT&T, Wendy's, Got Milk, Sony memory stick. I've done TV shows like Third Watch and Ed, and more recently, Cashmere Mafia and 30 Rock.

CP: And you get to sing in Ugly Betty, right?

VE: Yeah, my character is a musician, so I get to play music. I've been singing in every episode. I even get to sing my own songs. It's not like I break out into song—there's a legitimate reason to sing in an upcoming show. I've been promoted as a potential love interest for Betty, so we'll see what happens with that.

CP: I saw you sing a bit of Tom Petty's "American Girl" in the first episode. I wanted to hear more.

VE: It faded into the real version. People said they loved it, and I recorded my own version and threw it up on my MySpace page. The reaction was crazy. If there is a chance like this that draws

people to my own music, then great. I do a quiet version, and hope I did it justice.

CP: So there's been a lot of stuff written about you on gay web sites. You've been called the "hunk du jour" and LOGOonline's "new crush." How do you feel about guys being into you?

VE: I feel flattered and ridiculous. I'm the kind of person who tries to please myself first, so that kind of thing goes in one ear and out the other. But overall, I think it's really nice. It's actually funny for me because when I was growing up, a ton of people thought I was gay. And they would say it while I was standing right there—"He's not gay?" And I was like, "I'm right here!" I play into that now because I find it fun for me.

CP: Have you ever played a gay character?

VE: No, not yet. But I was on this 30 Rock episode where this straight guy fell for my character, who was also straight.

When he saw me, he said, "I'm gay for Jamie," which was my character's name. And "Gay for Jamie" really became this major thing. These gay publications wanted to interview me, and people were talking about who they were gay for. And they were asking me, "Are you gay for anyone?"

CP: Well, straight men can be attracted to other men without actually being gay, don't you think?

VE: Definitely. I mean, think about how men get really into certain athletes. And I'll like a certain actor, and someone will say, "You're gay for him." It's been much more acceptable for women to say things like, "That woman is hot" and nobody thinks anything about it. I don't shy away from the feminine side of myself. It's offensive when people are characterized as any one thing. I like f*cking with people's expectations about sexuality. I love to be around a bunch of macho men and say something that eggs them on and makes them uncomfortable sexually, like talking about penises or something. I'm an idealist, and I'd love to see a world where we can talk about things from a place of curiosity rather than hate. Now, I actually like it when someone says, "Is he gay?"
Interviewed by ChicagoPride.com
Serving the Chicago gay, lesbian, bisexual and transgender communities. ©Copyright 2019 GoPride Networks. All rights reserved.