A GoPride Interview
Garrett Allain
Garrett Allain Brings Gayerbear to Second City
This is a very LGBT heavy show.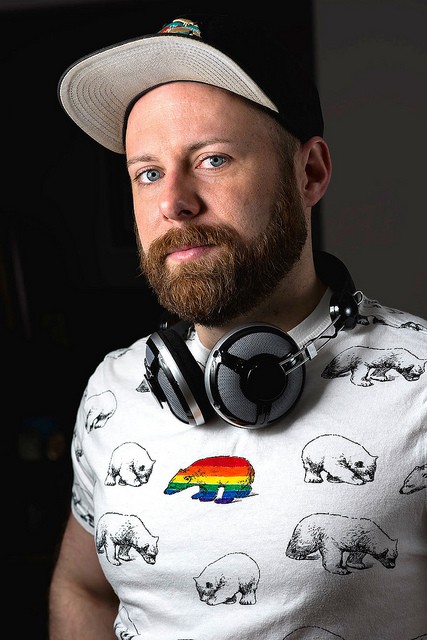 Multi talented Chicago artist Garrett Allain comes out as
Garrett Allain is getting Gayerbear to the stage. He's playing his original show at Judy's Beat Lounge at The Second City Jan. 26-Feb.16. This new visual album is backed by Dwaine Wells-Ehrisman and Roy Samra for the live shows. 
Gayerbear is the idea of Allain, who brings experience from past sketch comedy revues such as Love in the Time of Cholesterol and Cholesterock. His solo show Altered Boy was a hit at Pride Arts Center at at the 2017 Chicago Nerd Comedy Festival.
He sat down to talk about Gayerbear: The Live Visual Album recently. 
JN: (Jerry Nunn) So you worked at Sidetrack the Video Bar in the past?
GA: (Garrett Allain) Yes, for just about two years. I stopped this past June 2018. I worked the door and barback. The owners are amazing guys.  
JN: You grew up catholic?
GA: I did and I am of Cajun background, Louisiana settlers from Nova Scotia. They were French and exiled by the British. 
JN: Did you want to perform when you were younger?
GA: Yes. Me and my older brother would make home videos. In high school I got more serious about acting. I got into the American Musical Theatre Academy in New York then transferred to LA. I finished there. That's when I got serious about becoming a priest. I was very close to entering the seminary. I went into the environment being my religion in LA. 
It's about having sustainable agriculture. That led me to Costa Rica. While there, I built a bamboo stage and realized I wanted to get back into performing. 
I moved to New Orleans and started coming out to myself and others. After moving to Chicago, I started studying at Second City. I took an improv class to start off then got into conservatories. I discovered in the whole process of improv that I need structure. That is when I found out that I liked sketch comedy. You can still play along but you can have something set.  
JN: How did you create Gayerbear?
GA: I finally decided to write for myself and made Altered Boy. That was semi autobiographical about my upbringing and catholicism. I performed that at a few venues in 2017. My closing number brought down the house at every performance. I decided to record it at a studio and make a music video. I had a launch party at Sidetrack and got it into the Austin Music Video Festival.
After that I wanted to get back onstage in a full show. It is all songs and a live visual album. I tried to find a common theme and storyline. I ended up working with the director who directed my music video. I have a choreographer and two backup dancers. 
JN: Sounds like a big project. 
GA: It is in terms of my producing it. I try not to let anything hold me back. I don't scale back and try to make it big. 
JN: What did the name of the show come from?
GA: It's from my Instagram. I tried Garebear with my name and it was taken. I tried different spellings until I found Gayerbear. As an actor, I had been struggling about how out I should be. I was inspired by Dustin Lance Black who said actors should be out and visible. I took the name on as my brand and it took off from there. 
Since it was singing I wanted to make a live visual album. They are popular now with Beyonce and other artists doing them. 
JN: So this is your Lemonade?
GA: I can't compare to that, but I have a twist on one of her songs that I use to comment on the gay community. It is a song called "Daddy Issues." It is about me personally growing up with that and commenting on daddies who have issues. Being in the LGBT community we want to be equal and serve the whole community. I want to be aware of my privilege and how I can help service others. It is calling on that. I hope I do it justice. 
JN: Who are the dancers in your show?
GA: Roy Samra and Dwaine Wells-Ehrisman are featured. Dwaine dances, sings and also  choreographed the big numbers in it too. I met Dwaine at Sidetrack when I worked there. I knew he was skilled in dancing and choreography so that's why I reached out to him. I had seen Roy in Priscilla: Queen of the Desert at Pride Films and Plays. He came to Sidetrack and we became friends. Sidetrack was a great place to connect to people. 
JN: What do you want people to get out of the show?
GA: Laughs! Hopefully something they have never seen before. Second City is a comedy space. This is a very LGBT heavy show. There's really amazing dancing. Usually it's one or the other, sketch comedy or music. I try to combine all of that. I couldn't do it without all of my team. 
JN: How many shows are you doing?
GA: It is slated for four, but I would like an extension. 
JN: What are your plans after the show?
GA: My director Emily Rallsback, who has her masters from Columbia, is talking about directing my next two songs with a stage and a video shoot. 
In 2018 things ended a little rough. I was just planning this show. Once I got around the coruve I saw the light! 
For tickets and information visit SecondCity.com/Shows/Chicago/Gayerbear-the-Live-Visual-Album or call 312-337-3992.
Interviewed by Jerry Nunn. Jerry Nunn is a contributing writer to the GoPride Network. His work is also featured in Windy City Times, Nightspots Magazine and syndicated nationally. Follow @jerrynunn