A GoPride Interview
David Cromer
Famed director David Cromer returns home with award-winning The Band's Visit
I hope this interview about my terror will inspire people to come see the show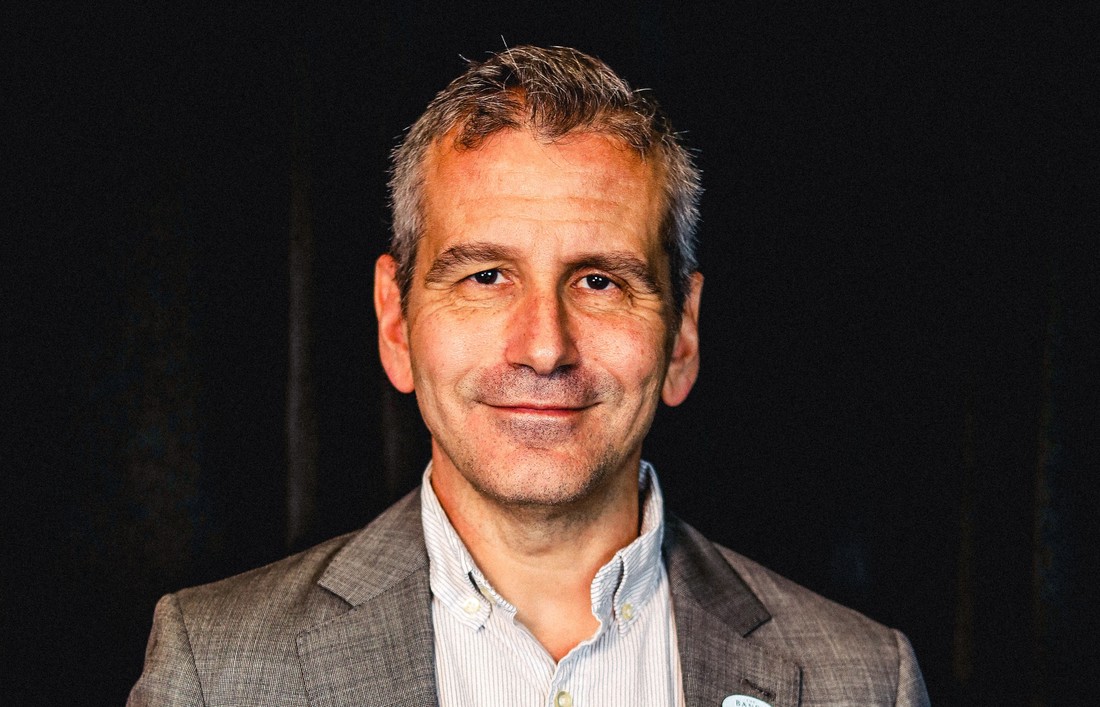 photo credit // marc j. franklin
The Band's Visit features music and lyrics by Tony and Drama Desk Award winner David Yazbek, and a book by Tony Award, NY Drama Critics Circle, Lortel and Outer Critics Circle awards winner Itamar Moses. It is based on the screenplay by Eran Kolirin, and is directed by Tony, Drama Desk, Lortel & Obie Award winner David Cromer.
The show, which tells the story of an Egyptian Police Band is sent to a remote village in the middle of the Israeli desert where lives become intertwined in the most unexpected ways, celebrates the deeply human ways music, longing and laughter can connect us all.
The Band's Visit is current playing at Broadway In Chicago's Cadillac Palace Theatre (151 W. Randolph) for a limited two-week engagement September 3-15, 2019.
GoPride chatted with Cromer, who received the 2018 Tony for Best Direction of a Musical about the show. The Band's Visit has received numerous honors, including 10 Tony Awards over the past year (Best Musical, Best Actor in a Musical, Best Actress, Best Featured Actor, Best Direction of a Musical, Best Book of a Musical, Best Original Score, Best Orchestrations, Best Lighting Design in a Musical, Best Sound Design in a Musical).
MI: Tell us a little about The Band's Visit, for those who aren't familiar with the play. What drew you to the production?
DC: Well The Band's Visit was based on just a really beautiful, elegent, gorgeous Israeli film from 2007 written and directed by an Israeli filmmaker named Eran Kolirin. 
And Orin Wolf, who is our lead producer, saw the film - which was successful over in Europe and in the States it started at film festivals in New York - and really fell for it. He is a producer, he is not a creative producer, he doesn't generate shows, he leads to get shows on tour, and he said "I want to do a piece of theatre about the show," and he kept clawing at it and he slowly gathered a group of artists when originally Hal Prince was directing this show.
Then Hal brought on Itamar Moses for book and David Yazbek for score and they worked on it for several years. Then Hal left to focus on another show and they brought me on before it was ever done - and so I sort of took over and I loved it. I was handed a thing that was half-written, so I was ahead, it was ahead of most things you get and it was the film, and what the writers were creating it was sort of like it was for my aesthetic. 
In my mind it was delicate and subtle and really rich and it took its time. And it was about things that are really universal and incredibly pressing to people, but they are things that people don't really like to talk about. Things like isolation and loneliness and "look, I'm surrounded by people, I'm in a community, why am I lonely? Why do I feel alone?" That doesn't sound fun, but it is true, it is human - and it is something that really struck a chord with me; so I got taken onto this project and I was in development for about a year. 
I was drawn to it because it was a musical, which is a form I love, but it was about things that musicals aren't always about and it used the muscles that musicals don't always use.
MI: So take us back a little bit, where did you find your passion for the theatre and how did you get started?
DC: I think the passion was that I stumbled into it. When you look back, often if you are lucky - once you figure out what you do - you look back you can see behavior in your childhood. You can see I was this, I was that.
I was this. I think I started out I was n actor, but I was also a director because all of the games we played, all of my toys were characters; and all of the games we were going to play were characters from a movie we had just seen. We would act out other scenarios. And I was always telling everyone what to do, so it sounds horrible, an adult manifestation of childhood behavior, but I did a little play in fourth grade and realized I loved it and I spent a lot of time planning to be an actor and I wasn't much of one. But I went to college and I studied at Columbia College in Chicago where I was taught by everyone in the Chicago theatre community – Sheldon Patinkin and Perry and Rondi Reed and all of these people, and all of these wonderful, wonderful Chicago performers taught at my school. 
So I was kind of, not having been in the community at all, was kind of cause I had went to a school that was in the city and had working professionals who were teaching at it; I was kind of suddenly in the community playing little parts in plays at Oak Park Festival Theatre and at Body Politic and places like that. So I had a passion for it when I was
a little kid and I stumbled into a college that threw me into a community in a city that has a fairly significant theatre community. 
I gotta tell you I'm from Chicago. I was born and raised and spent most of my career there. I have only been in New York for 10 years, so I gotta say it is weird that I am sending a show to Broadway in Chicago. It is weird that I have a show, that isn't like a regular Chicago show, that is going to Chicago. It is really kind of freaking me out! My mind was always for Chicago-style things I have received the compliment about The Band's Visit, people would say "wow, it seems really Chicago, it seems like a Chicago theatre show" which I took as a badge of honor. 
I found the passion by picking a school that really thrust me into the thick of the Chicago theatre community.
MI: Over the past year you won the Tony Award for best direction for this show. How does that feel bringing that back to Chicago?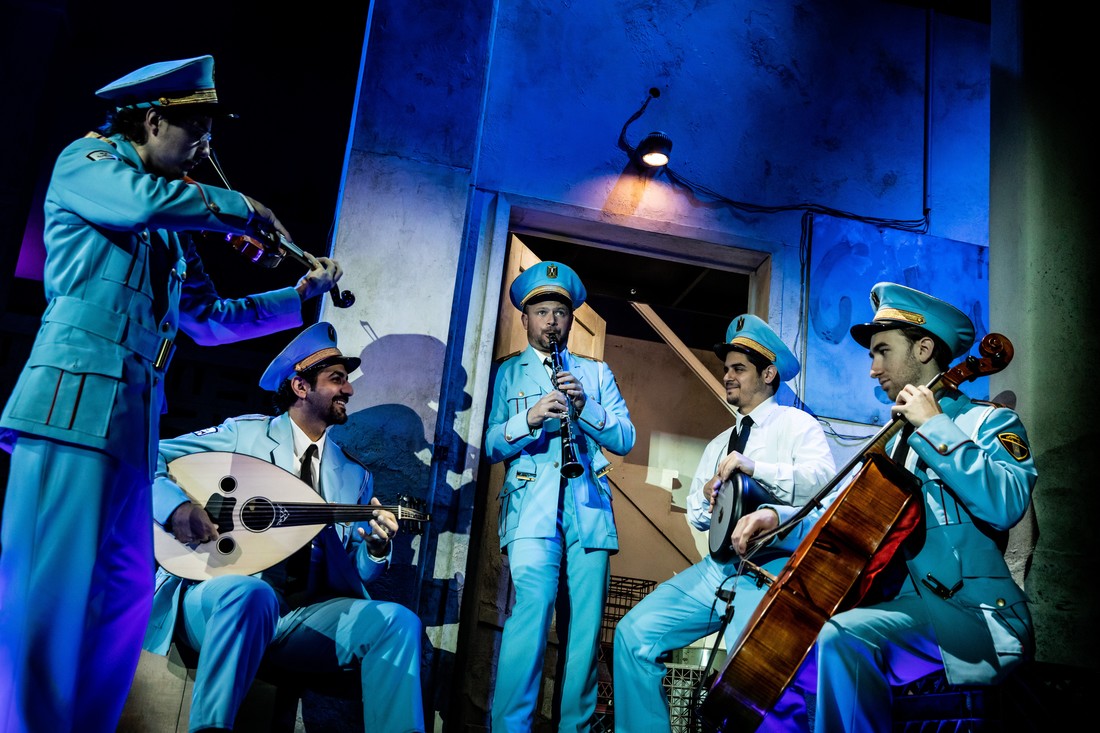 DC: It's thrilling, but it's strange! I'm used to doing theatre in Chicago that goes somewhere else or doing theatre in Chicago that is just for Chicago. So it is strange to do this, this is the first time since Ieft that I am taking a show back to Chicago. I hope people dig it, like I said, I think it is very much our aesthetic. I think it is unpretentious and it is honest like I think a work in theatre is and it feels terrifying. 
I am terrified to bring this piece back and I hope this interview about my terror will inspire people to come see the show!
MI: It's all about the vulnerability.
DC: Yes, that is what we tell ourselves, isn't it?
MI: You have an amazing list of credits! If you had to choose, which of your previous roles or productions are you most proud of?
DC: I would say, "Angels in America" at The Journeyman in 1998, which was a Chicago show. The original "Our Town" at The Hipocrits, which was a Chicago show. I think it is all Chicago stuff. I love "Picnic" at Writer's Theatre. I am very proud of "The Band's Visit," but I directed a play at Big Game's Theatre called "Women and Water" which was the first thing I ever did sort of out in the world and I still go back and think about that one. That was one where I had no business being able to do it and I didn't know any better and
I did something really ambitious. They are all Chicago shows.
I am proud to be in New York and I'm trying to do the best work I can, but it's things like "The Cider House Rules" that I did at the Famous Door in Chicago, it's those things that – I've only been away from Chicago for ten years and for some people that is a long time, but I'm in my 50's so for me that is a very short amount of time, so I kind of really think of myself there. Things like The Journeyman, things like "Angels," things like "The Cider House Rules," those are the ones I care most about.
MI: So let's talk about our favorite city for a little bit. What are some of your favorite local restaurants or sites here in Chicago?
DC: Well, the problem is probably all of the restaurants I love are probably gone. I used to be a big Edwardo's stuffed spinach pizza fan, I've replaced that with Lou Malnati's. I love The Lucky Platter in Evanston, I just recently went there and loved it. I gotta tell you, I wasn't the king of foodies. Elizabeth Langlaw and Gil Langlaw used to have a restaurant called Chalkboard that I loved that was fantastic. I don't know if that is still there, I don't think it is. I went to Leona's a few years ago, but the food wasn't good anymore. That was distressing. 
You know, can I tell you, the minute I get to Chicago I go to a pizza place in Rogers Park called JB Alberto's and that is my favorite pizza in the world; and I know that's a cliché to want Chicago pizza, but I really love Chicago pizza and I eat it all of the time. I still care very much about pizza and I'm always happier when I go to Chicago.
MI: You mentioned that you went to Columbia College, you also taught directing at Columbia College. So what's the best advice you have ever given to one of your students?
DC: You know I had a teacher named Sheldon Patinkin and he ran the theatre department at Columbia College and he was an important figure in the theatre community in Chicago. The thing he always used to say was "better an asshole than a chickenshit." Which means better to make a fool of yourself than you are a coward. It is "be wrong loud."
MI: That's some great advice! So, you are openly gay. Has being openly gay helped or hindered your career path in any way?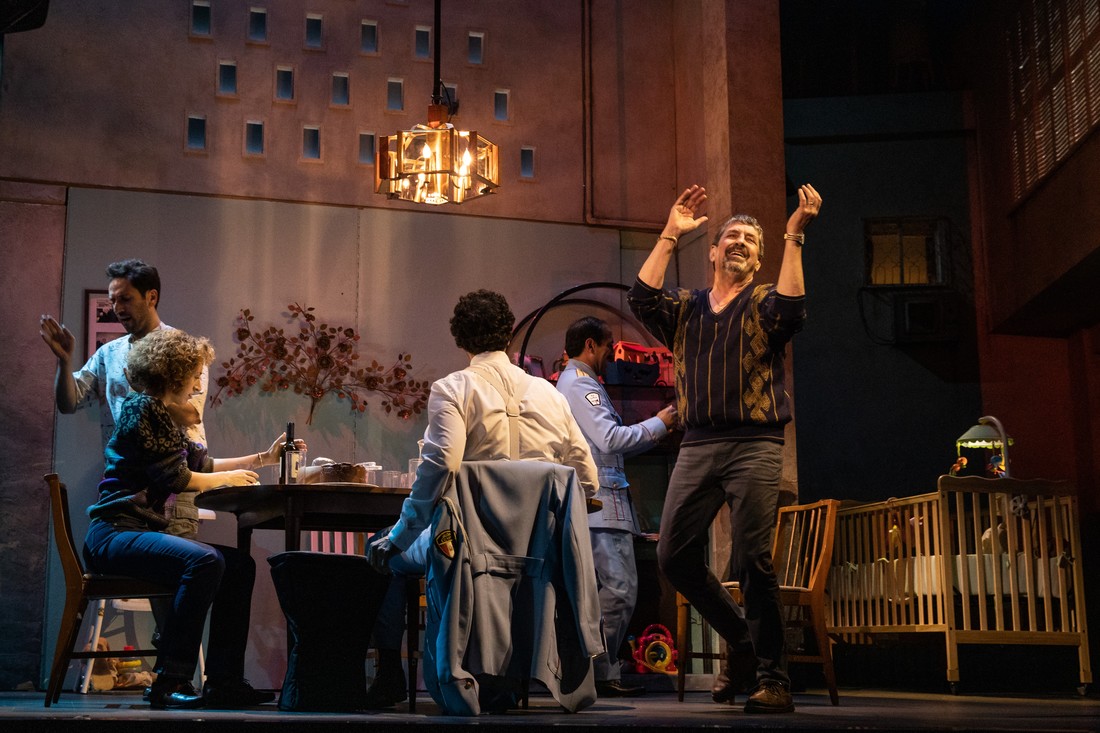 DC: I would say that there are probably many careers in this world and many people who have thought, I know there are many people who have struggled to be out. I am not one of them. I am a gay, Jewish theatre director. That is where we are the safest. If you want to be gay and Jewish be a theatre director because nobody cares. Nobody wants to sleep with you, but nobody cares that you are gay. 
So no, I have not, I have been lucky to have been in communities that have kept me safe and that has not been the case for a lot of people. So no, I have never suffered, I think it is tricky. In our era in the theatre there are still a lot of issues, I mean the big complicated issues are for trans actors, for people of color obviously, but as a white male I am doing just fine.
MI: We have a couple on-the-lighter-side questions coming up here - so tell me something in your home that might make a stranger think you were gay?
DC: I have a copy of the Scott Madsen, the Soloflex guy - remember the Soloflex guy? He put out a book of posters. He put out like a sexy book. It was him posing, sort of
like Soloflex, but him. Him on a merry-go-round horse. Him lifting weights and it was thing you could order and I had to order it mail-order. We didn't have internet porn, we didn't have any of that stuff. Mail-order, I had to order it to get it, so it was like this old-school gay erotica I had to order. And I can't throw it away, I waited so long to get it. There was so much stress to get it. I can't throw it away and my cleaning always puts it up, she finds it in drawers and she always puts it up on the shelf on display. It's always on display.
So I think if someone came into my apartment and saw that they might think I was gay.
MI: So what's something that might make a stranger think you were straight?
DC: Oh let's see. I have some power tools.
MI: And your top three Broadway man-crushes?
DC: Wow. Let's see Broadway man-crushes. I have never gotten that question before and I'm not sure I want to give those three mother-f*ckers the satisfaction of seeing their names in print. How about that?
They know who they are!
MI: So any charities that are near and dear to your hear that you would like our readers to know about?
DC: I won't claim that I've given zillions of dollars, but I have given money here and there. There is Trans Lifeline, Moms Against Gun Violence, and to things that fight things that are crippling us. There's Covenant House, which is in New York, but helps homeless youth. It is a charity that has been championed by a very close friend of mine. I don't have the moxy of a lot of my colleagues and friends to be more militant, but I try and throw as much money as I can, when I can, to help fight homelessness and gun violence.
MI: So before I ask the last question, was there anything you wanted to further share about the show or yourself?
DC: You have to say a lot of things to sort of sell a show. "It's about this, it's about this..." What we worked very hard on was to create a show that was about the things that everyone truly has in common. The things that everyone truly needs which is a connection to each other. 
I spent most of my life seeking connections. I think most of our community spends a lot of time trying to find friends, trying to find a lover, trying to find a partner, you know, some kind of place where we belong and someone gets the very most basic things about us and we tried very hard to create a show that was about that. That was about people who find themselves isolated and through an accident get thrown into conversations with others who find themselves isolated and they all just help each other a little bit. So it's meant to be a very pure effort to be with other people who help you get through to the next day. 
So those are the things I care about because I have lost family to despair, to suicide. There is a point where despair is so isolated and isn't shared and this show is about that you can share with friends in fellowship and that was the show we were trying to create and we hope people come and see it.
MI: David, this has been such a fascinating conversation! Thank you for taking the time to chat! Before we part, here's one last question: what would you pick for a title based on a musical about your life?
G: Too Many Bastards!
MI: (laughs) Why? 
G: Because there are too many bastards, that's why!
MI: Thanks again, David!
G: Thank you, it was fun!
The Band's Visit features music and lyrics by Tony and Drama Desk Award winner David Yazbek, and a book by Tony Award, NY Drama Critics Circle, Lortel and Outer Critics Circle awards winner Itamar Moses. It is based on the screenplay by Eran Kolirin, and is directed by Tony, Drama Desk, Lortel & Obie Award winner David Cromer.
Award-winning Israeli film actor Sasson Gabay will reprise the role of "Tewfiq" in the upcoming North American tour of The Band's Visit. He created this role in the 2007 film of The Band's Visit and most recently played it on Broadway. Joining him for the tour is Chilina Kennedy in the role of "Dina" (known best for her historic run as Carole King in Broadway's Beautiful – The Carole King Musical).
The cast will also include Jennifer Apple as "Anna," Mike Cefalo as "Telephone Guy," Adam Gabay as "Papi," Marc Ginsburg as "Sammy," Kendal Hartse as "Iris," Joe Joseph as "Haled," Sara Kapner as "Julia," Pomme Koch as "Itzik," Ronnie Malley as "Camal," James Rana as "Simon," Or Schraiber as "Zelger," and David Studwell as "Avrum," along with Danny Burgos, Loren Lester, Nick Sacks, Hannah Shankman and Bligh Voth.
The creative team also includes Patrick McCollum (Choreography), Scott Pask (Set Design), Sarah Laux (Costume Design), Tony Award winner Tyler Micoleau (Lighting Design), Tony Award winner Kai Harada (Sound Design), Maya Ciarrocchi (Projection Design), Charles G. LaPointe (Hair Designer), Tony Award winner Jamshied Sharifi (Orchestrations), Andrea Grody (Music Supervisor, Music Director & Additional Arrangements) and Dean Sharenow (Music Supervisor & Music Coordinator).
Individual tickets for THE BAND'S VISIT  range in price from $39-$106 with a select number of premium tickets available. Tickets are available now for groups of 10 or more by calling Broadway In Chicago Group Sales at (312) 977-1710 or emailing GroupSales@BroadwayInChicago.com. For more information, visit www.BroadwayInChicago.com.
Interviewed by Matt Inawat. Ron Matthew Inawat is president of the GoPride Network and contributes to ChicagoPride.com, PrideLA.com and other sites within the GoPride Network. Follow @cpmatthew