A GoPride Interview
Ryan Robbins
Ryan and Alex Play the Funks in Pure
I am sure there are gay kids in the Mennonite community I just don't know if they are supported.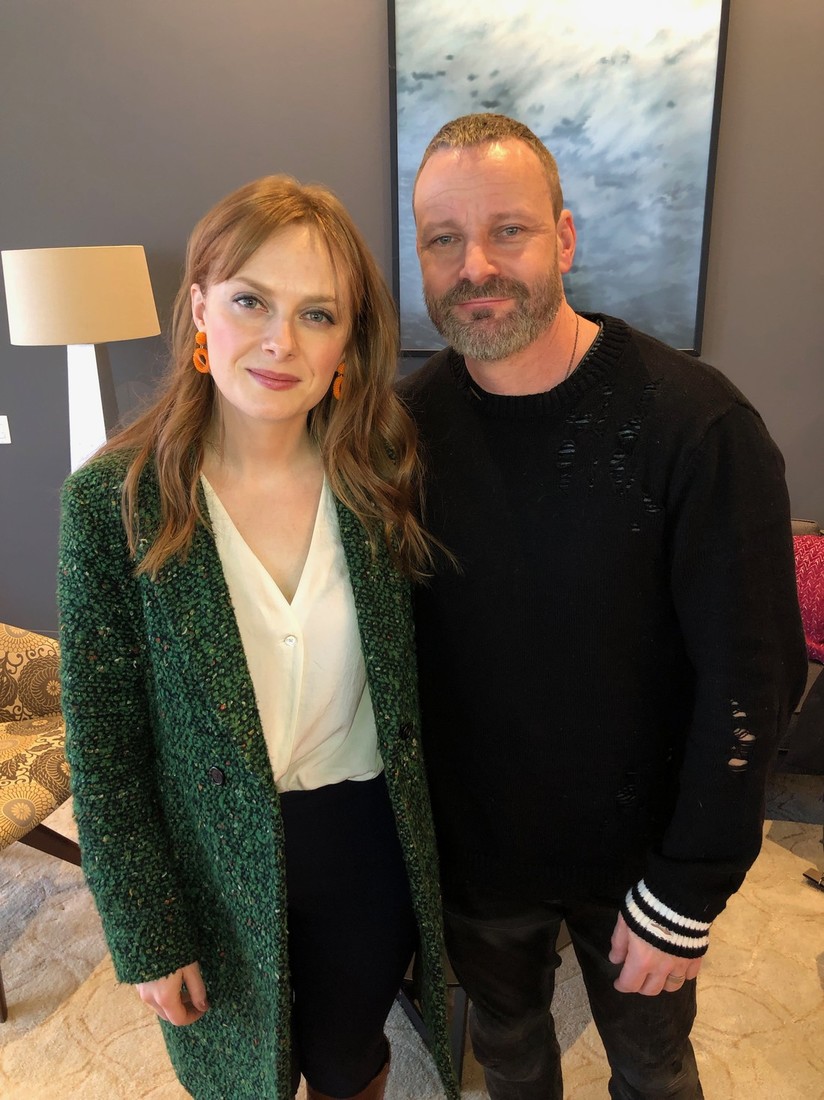 photo credit // jerry nunn
Two cast members of the WGN America television show Pure sit down for a chat
WGN America just debuted a second season to the crime drama Pure. The show takes television watchers into the world of the Mennonite community. A pastor named Noah Funk, played by Ryan Robbins, needs to protect his family from a crime syndicate and will do whatever it takes. 
Many will know Robbins from TV shows like Arrow and The Killing. Alex Paxton-Beesley plays his onscreen wife Anna on Pure and she has credits such as The Strain and Murdock Mysteries that she brings to the table. 
The two sat down to talk about Pure in Chicago recently on a press tour. 
JN: (Jerry Nunn) Where are you both from?
APB: (Alex Paxton-Beesley) I'm from Toronto.
RR: (Ryan Robbins) I'm from Victoria in British Columbia, a little town called Squash. 
JN: The show is filmed in Nova Scotia?
APB: Yes, right outside of Halifax. It's so beautiful and the people are ludicrously kind and friendly. I love shooting out there. 
RR: It's beautiful and maritime living. Nothing happens fast!
JN: You have a big theater background, Alex?
APB: I went to theater school. I worked in theater for two years after school then went back for more school at the Canadian Film Centre. Since then I have worked almost entirely in television. I love theater though, it's my home. It's hard to maintain a career in theater because of the time commitment. 
JN: How did you land parts in this show Pure?
RR: It was an audition process. I sent in a tape and got the job. We did a screen test and chemistry reads for Alex's character. The first time we read I completely flubbed all of my lines. I apologized. She was so phenomenal and was caught up in watching her. 
APB: The director Ken Girotti and I had worked on a show together before. It was a big deal for me since it was the first time being a series regular on a show. 
RR: Ken had told me that I needed to see her. As soon as we read together I got it. 
JN: So you didn't know each other?
RR: Through mutual friends, but that was it. 
APB: I feel like the Anna and Noah relationship was already there. There was a mutual understanding that magically happened when we met that has been super useful.
RR: It is the uncomplicated chemistry that makes a working relationship fantastic. 
That is a really hard to find balance. We have had that since day one. We can't put it into words or explain it. 
When we are working and a scene evolves for us, we just know to trust each other and go with wherever the scenes take you. It may sound like an actor thing to say but it's true with us. We've got each other and trust each other. 
APB: I feel so respected by Ryan as a fellow actor and a woman. That goes so far in terms of our friendship. When we are making this together I don't have to put up walls and protect myself. I trust him and know what's going to happen will be spectacular. 
JN: Tell our readers about your characters and the show Pure.
APB: Pure is about a devout Mennonite community that gets infiltrated by a drug cartel. I play Anna Funk and Ryan plays Noah Funk. Our family gets implicated and pulled into the drug trade against our will. We have to deal with that for our community and family. 
RR: This is inspired by real events. It's a heavy subject matter. These people of devout faith are thrust into a world they know nothing about. These are not TV watching Mennonites. This is completely out of their realm. Noah wants to get everything back to the way it was. He really believes he can eradicate this issue and everything can be the way it was. That is not how life works and one of the hardest lessons everyone has to learn. 
JN: Is the last name Funk common?
RR: One of my friends in junior high was named Ziggy Funk! In the Mennonite community there are some popular names like Funk. 
JN: Was the language tough?
APB: Yes. It is fun and we enjoy it. I think everyone in the cast has enjoyed it because it is such a crazy challenge. 
RR: It is intimidating at first. 
APB: At first, we were working on an accent. We then realized we should have as much Plautdietsch as possible in the show. We have an amazing Mennonite consultant on our show. She helps with our translation and annunciation. 
RR: There are even things like behavior where we show affection toward one another versus how we show affection to our kids. This is no walking around holding hands or hugging. It's not a public affection community that we are portraying, but there is a lot of love there. It's just how it's showed.
JN: Are there any closeted Mennonites on Pure?
RR: We don't know yet because with this religion they are baptized at 17 so they choose it. The kids are just kids and go to regular high school. If the lifestyle they choose doesn't mesh with the community then it doesn't work. 
APB: We are portraying very devout Mennonites. There are many that are not as segregated as our family. Our community has closed borders and we stay within our church. There are Mennonites everywhere. 
RR: One thing we have learned by having Mennonites reach out to us is how diverse the Mennonite community is. You may not think they have computers or televisions, but they do and are like everyone else. 
APB: We found videos on YouTube with Mennonite teenagers doing plays and skits in Plautdietsch. You would never think that exists, let alone be on YouTube to watch. 
RR: I am sure there are gay kids in the Mennonite community I just don't know if they are supported. 
JN: How was working with Rosie Perez on Pure?
APB: She's lovely. 
RR: She's my pal and one of the greatest human beings on the planet. She has spent her career being underrated and unappreciated. She worked for Obama and was a spokesperson for AIDS. 
APB: She's a boxing expert, too. We were stoked when she joined our show. It felt like a privilege to have her come play with us. 
RR: She took that role seriously and never broke character. She was in the zone the whole time and such a pro. 
JN: What can you tell people about the new season. 
RR: Hold on, just when you think it can't get any heavier, it does. It's an intense, fun ride. You will be shocked with every episode and surprised. 
APB: I'm excited to see which characters audiences fall in love with. Our cast is incredible and there are some very fun characters. I want to see which people they root for. 
JN: Do you have a favorite Arrow moment, Ryan?
RR: There's a scene where Stephen is whipping me. I say something about never doing that, then there's a scene with me whipping him!
I had a blast on that show. They were so kind to me. My character was not destined to stay past that season, but I loved playing the bad guy. 
JN: How was working with Guillermo del Toro, Alex?
APB: He was such a calming presence on set. The Strain was just starting to get its legs under it when I started. He has such a vivd imagination and knows exactly how thing should look. 
It was cool working on that show because I was scared all of the time, just because the content of it. It was creepy and deeply upsetting. 
JN: What are you working on next?
RR: I have a show called Deadly Class that starts airing soon. I just finished a heavy movie called Daughter. We just finished filming Pure so we hope the audience wants more. We are not done yet! 
APB: Like you said there are can be more plot twists that could be interesting to examine through this lens and these people that we have come to love. 
Pure airs Wednesdays at 9 p.m. central on WGN America.
Interviewed by Jerry Nunn. Jerry Nunn is a contributing writer to the GoPride Network. His work is also featured in Windy City Times, Nightspots Magazine and syndicated nationally. Follow @jerrynunn