A GoPride Interview
Alaska
Alaska from RuPaul's Drag Race dishes with Jerry Nunn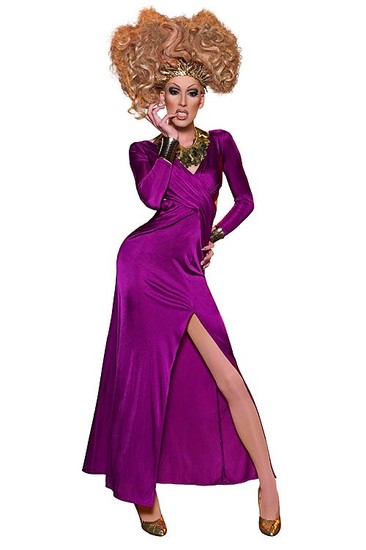 As RuPaul's Drag Race is nearing the finish line, Alaska (as she's simply known to those watching the show on Logo) remains in the top three.

The fierce queen is the boyfriend of season four winner Sharon Needles and became a member of Needles' Haus of Haunt in Pittsburgh several years ago.

ChicagoPride.com's Jerry Nunn caught up with Alaska backstage at the anniversary party for Roscoe's Tavern.

JN: (Jerry Nunn) Hiii, Alaska. Let's talk about your career from the beginning.

Alaska: I started doing drag when I was a little kid because I would dress up in my grandma's clothes. I would runway walk in the living room. I didn't really do it until I moved to LA. I moved out there to be an actor but I hated headshots and auditions. I was unhappy so I went out in drag to cheer myself up. I went out to a club and they offered me a door job. So then I got a job from doing it so I kept on with it afterwards.

JN: Where did you grow up?

Alaska: I grew up in Erie, Pennsylvania. That is just two hours north of Pittsburgh. It is really small and we were really poor. We lived in a trailer for a while.

JN: Where was the first bar you did drag in?

Alaska: Pegasus Bar in Pittsburgh. It must have been around Halloween. I thought I was the prettiest damn thing. I made a top out of a garbage bag. Me and my friend just wore wigs and went out to the club. Oh, it was a mess…

JN: Pretty much grass roots kind of thing…

Alaska: Grass roots motherfuckin' drag! There were five people in the bar. It was a Wednesday night.

JN: But a good place to learn. You didn't have tons of pressure on you. Do you have a favorite artist that you like to perform to?

Alaska: I like to sing live. Nobody likes to hear it but I like to do it. I just feel most comfortable and more connected because I studied theater. I want to have my voice with me onstage because I don't dance. I don't do back flips.

JN: You don't juggle like I just saw Ivy Winters do the other night at a club.

Alaska: No, I don't juggle so that is one of the tools that I have that I can use is to sing.

JN: Where did you meet Sharon Needles?

Alaska: Myspace. She was a drag queen in Pittsburgh when I moved to LA. I would see her pictures and we would comment on each other's pictures like, "Fierce girl.'

I went back to Pittsburgh to visit and we met out of drag. I thought how funny and cute he was. I basically fell in love with him. I went back to LA, cleaned up all of my affairs, then went back to Pittsburgh and never left.

JN: Do you find dating a drag queen that you have a lot of things in common?

Alaska: Oh yeah. We have so much in common and I can steal all of his shoes!

JN: You were at the live finals when Sharon won. What did you think of that?

Alaska: We just all cried. It was so surprising and I was so proud. He worked so hard and was so smart. He is so good at what he does. There is no one like him. It was such a huge moment for our whole community. It was a thank you lord Jesus moment but as Sharon would say hail Satan!

JN: Was it hard being in seclusion while making RuPaul's Drag Race?

Alaska: When you are filming you cannot use the Internet or talk to anyone. You don't have a phone.

JN: Is that the hardest part?

Alaska: The whole thing is hard. You are under constant stress and scrutiny. You feel you will go home every single day. I would go to bed and cry. I would be scared and under pressure the whole time. I missed my family and my support system. You need those people to tell you to keep going. I was happy to get that little Sharon video. That was nice.

JN: Television watchers sometimes don't realize it was filmed a while ago and not happening right now.

Alaska: It was almost a year ago when it was filmed.

JN: What was the first thing RuPaul said to you?

Alaska: Hiii. RuPaul did that funny way of saying hello first. I didn't steal it from him though. I stole it from Coco Ferocha and Isis Mirage who are from the UK and do these hilarious RuPaul's Drag Race reviews on YouTube. Sharon and I got into them last year because they are so spot on and funny. They start every video with "hiii." So I did it as a shout out to them. I had no idea that I said it so much and now everywhere I go everyone says, "Hiii!" They think I made it up but it is not mine.

JN: There is also the funny way to say Ivy Winters.

Alaska: That is a La Toya-ism.

JN: She's a hoot. Have you have a favorite guest judge so far?

Alaska: When La Toya Jackson was there she read me to filth so not her.

JN: She was tough on you?

Alaska: She was so mean to me.

JN: She's usually not like that. I have met her in person and interviewed her.

Alaska: She was nice to everybody else but she was rude to me!

JN: I heard the celebrities are then whisked off. You don't really get to talk to them much after the judging panel.

Alaska: No we don't. I liked Paulina Porizkova. She was sweet and came out to talk to us afterwards.

JN: I have enjoyed watching you on the show. You really have a range that many drag queens don't have.

Alaska: Good, tell RuPaul that!

JN: I haven't talked to RuPaul in a while. I think it was the second season when we last spoke. RuPaul puts on this whole deep interview persona when we have spoken before. I want the funny RuPaul but instead I get the talk about the universe RuPaul.

Alaska: I think that is just her. She gets very Zen. She has gone through the fire.

JN: What do you think of Michelle Visage?

Alaska: She's fun. We were just out with her in New York. She doesn't drink but wanted to go out with the girls.

JN: Oh, I know. She will drink a Diet Coke though. What is your favorite drink?

Alaska: Whiskey. I don't want it on the rocks or watered down. I want it straight motherfuckin' up!

JN: What are your goals. You want to do acting?

Alaska: Yes. I have a degree in theater so I would love that.

JN: You have a website to go to?

Alaska: Of course, you can go to Alaskathunderfuck.com anytime you want.

JN: We didn't talk about that last name. Did they just decide to chop your name off on RuPaul's Drag Race?

Alaska: Doesn't that suck? I don't even get a bleep or anything.

JN: They didn't even use part of the name.

Alaska: I know, I didn't want to change it at all but I didn't really have a choice. It was hard. In the beginning I was struggling with my identity. One of my friends recently said to me that I was having such a hard time because my name was chopped in half. Your name is so much a part of your identity when you are putting it out unto the world. This was like calling Lady Gaga just Lady!

It is just generic. I think my name conveys what you are gonna get with me. It is a little weird and fucked up but maybe from outer space. It is sort of a mind fuck of a jumble of words. I like to do that. That is what I like to do. To have that part of my name stripped away I think affected me. You can see it in the early episodes. It took me a while to get my footing a little bit.

JN: Well, you definitely did. First time in Chicago?

Alaska: No but this is the first time performing.

JN: When are you coming back?

Alaska: I don't know but I hope soon. Check my Facebook page because all of my upcoming appearances are on there.

Watch Mondays to see if Alaska takes home the title of America's Next Drag Superstar.
Interviewed by Jerry Nunn. Jerry Nunn is a contributing writer to the GoPride Network. His work is also featured in Windy City Times, Nightspots Magazine and syndicated nationally. Follow @jerrynunn