A GoPride Interview
DJ Scotty Thomson
DJ Scotty Thomson interview with ChicagoPride.com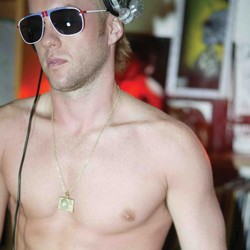 DJ Scotty Thomson was set to heat up Chicago's club scene this February at
Hydrate Chicago
, 3458 N Halsted, but bad weather kept him in New York City an his appearance was cancelled.
Now the NYC hottie, a self-proclaimed exhibitionist - famous for spinning his sets in swimsuits (or in his underwear), returns to Hydrate this Saturday, April 12th.
Though an incredibly sexy man, Thomson's cutting edge beats are equally as impressive. Born and raised in New York, Thomson managed to break away from the pack and become one of the party scene's hottest new DJs. He enjoys residencies at NYC's Avalon, XL, SBNY, Spirit and DC's Nation.
ChicagoPride.com was able to pin Scotty down and see what he's been up to and where he's headed in 2008. Plus we get the low-down on his "relationship" !
BP:
You have been traveling a lot since the last time you were here in Chicago. Tell us about some of those travels.
ST:
WOW, where do I start. The summer was great for my career. I managed to cover cities all over the globe including Montreal, Toronto, Sao Paulo, Philadelphia, Sydney, Mexico City, Puerto Vallarta, Rio de Janeiro and Los Angeles.
As always, I LOVE spinning in Brazil. The energy and excitement of the parties is exhilarating.
Of course, Sydney was amazing since I'd never been there before. Next time I would like to tour the country a bit. Pure Nightclub in Philly has been great every time I return.
I have to say, Chicago was a blast last time. I can't wait to get back this weekend.
BP:
What events have you played?
ST:
In 2007, I kind of had my own "event". The Andrew Christian "SHOW IT" tour, which I brought around the country. It was named the second hottest tour this Summer by
Genre Magazine
.
Otherwise, I played the headline events at "Folsum Fair North" in Toronto, "Sleaze Ball" after-party in Sydney, "You Better Work" in Mexico City and two great New Years events in Rio.
BP:
I noticed on your MySpace page that you are in a "Relationship". How do you juggle that with you busy schedule?
ST:
Actually, it's a pretty great situation for both of us. During the week I'm always available for my boyfriend since I work mostly from home. It makes things simple for me to conform to his busy corporate NY schedule.
On weekends, I'm usually only away for one or two nights.
On my overseas trips it can get a bit lonely. In fact, I found myself really wanting to come home early from Sydney...go figure, but things were still very new at that time and I was falling in love.
Otherwise, I try my hardest to bring him with me as much as possible. To name a few, I've already taken him to Brazil three times, Montreal, Toronto, Miami, Philly and LA.
BP:
I bet you meet a lot of famous people in your line of work! Care to share who you've met?
ST:
Honestly, I'm not really a star chaser. A lot of celebs make my skin crawl. When a crowd charges towards one, I usually run the other way...haha
I've had the misfortune of being confronted by a few cracked out celebs who wanted to try their stuff at the turntables...not cute.
Alexander McQueen, Tom Ford and Cheryl Crow were all very nice.
BP:
Where do you see club music going theses days?
ST:
Wow... that's so hard to say. Of course the electro influence has become heavy in every genre of club music. I see that trend continuing. Of course there is a huge difference between where I see it going and where I'd like to see it go. I feel like it's becoming more and more acceptable for DJ's to just be juke boxes playing tracks simply back to back. It scares me that I am one of only a few, American DJ's, who still spins vinyl. Don't even get me going on the computer thing.... I am glad that one can find more and more bars/clubs focusing on house music rather than pop a-la-radio. Yes, it may be house remixes of the radio songs, but at least it's got a beat.
BP:
Every DJ seems to have another DJ that mentored them. Who was your mentor in the business?
ST:
I never really had a "mentor". One of my goals was to learn everything myself either by trial and error or simple observation. I find that I learn better and faster by doing something myself rather than being told. Yet, with regards to influences, Junior Vasquez was the one DJ I found myself studying and observing obsessively. Other influences have been Victor Calderone, James Andersen, Chad Jack and Danny Tenaglia.
BP:
Can people purchase your music?
ST:
NO, but my recorded sets can be downloaded from my website -
www.scottyt.com
. I'm hoping to release a compilation very soon though
BP:
Where are you heading off to next?
ST:
In March, LA, Rio and Brasilia!!!
Fully clothed or in his speedos, DJ Scotty Thomson will undoubtedly throw down hot sets this Saturday, April 12th at Hydrate. (
Event Details
)