A GoPride Interview
Montego Glover
Bye, Felicia, say hello to Angelica
I don't see my feet for three hours!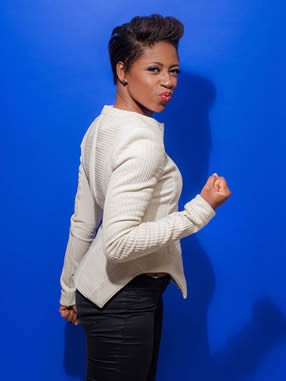 Montego Glover takes over as Angelica in Chicago's Hamilton
Lin-Manuel Miranda's hit musical Hamilton is more popular now than ever. The story of American founding father Alexander Hamilton portrayed through singing, dancing, and rapping has resonated with audiences for years. After Broadway the show has branched out and has been in Chicago since September 2016 and last year in London. 
The talented Montego Glover joined the Chicago cast of Hamilton in Sept. 17 as Angelica Schuyler. 
She has performed on Broadway in the past in the Tony nominated role of Felicia in Memphis. Glover was also seen in musicals Aida, The Color Purple, and Les Miserables. She was seen on television in USA's White Collar. 
She sat down at a local coffee shop to talk Hamilton before the night of a show.
JN: (Jerry Nunn) So you are from Georgia?
MG: (Montego Glover) I was born in Macon, Georgia and raised in Chattanooga, Tennessee. 
JN: Did you always want to perform?
MG: As long as I can remember. I started studying acting when I was 12. 
JN: How did you wind up on Broadway?
MG: I started studying and realized I could be an actress and a musician as a profession. It never occurred to me before that to be an actual job. It was just something I loved to do. 
I sought out a degree program at Florida State University in Tallahassee. 
So many of my friends shot to New York after school, but I wanted to make sure I would be ready. I moved to Japan instead. 
One day I woke up knew it was time for New York. About two weeks went by after moving there and I got a job Off-Broadway. 
JN: What was your first show?
MG: It was the Pirates of Penzance. I was physically on the ship in a story about pirates. 
JN: How did Memphis happen?
MG: I got one job after another. I built my resume and traveled a lot. I got a call from my agent. I was told it was a lead role and was asked to read the script. Six years later there I was!
JN: You earned a Tony nomination for it. Was there a celebrity at the ceremony that you liked?
MG: It wasn't the fact that they were celebrities, it was that we were all in the same Tony class. I still see pictures of them on the walls of my apartment and can't believe it is me and Angela Lansbury or Viola Davis!  
JN: You were an understudy in The Color Purple musical. How often did you go on?
MG: I joined the show as a standby for Celie and Nettie. I only went on as them. I joined it a year after it opened and closed the show. It was easily over two years. I went on more times than I could count! 
I took over Nettie and continued to cover Celie. So I would do sometimes both in one week. No complaints, though. 
JN: Do you have a favorite musical?
MG: It's Hamilton. If I reach back into my childhood, it's Seven Brides for Seven Brothers. 
JN: Hamilton has grown on you?
MG: Hamilton has yes, but Memphis was made on me. When I got the call to play the part on Broadway I was in shock. 
When I got a call from David Hyde Pierce about It Shoulda Been You I had to say yes of course also. 
It is so crazy, Jerry, but they are all my favorites for such specific reasons! The journey I have taken is so personal. Every single one of those projects was my blood. I worked right into the DNA of those women. 
Even thought my role in Aida had already been made by someone, she feels very personal to me too. 
JN: How did the role in Hamilton happen?
MG: My manager got a call and was asked if I was interested in playing Angelica. You have to careful with Hamilton, everyone loves it, but it's a bear. If you start you can't fall off. You have to tackle "Satisfied." You have to dig in. 
I would do it for any role, but Hamilton is such a game changer. I had never rapped before. Certainly, not in the theater, maybe back in the day when I was in shower! 
When the call came in I took a couple of meetings. I am such a fan of the show and the creators. I have known Lin for years. 
JN: When did you first see Hamilton?
MG: I saw it at The Public Theater and just went bananas. My brain exploded in the best possible way. I was seeing my friends up there telling the story. It was euphoric. Invited to be a part of it was thrilling. 
JN: What is the behind the scenes of Hamilton like?
MG: It is like your typical musical, but completely the opposite of all of that backstage. There is lots of activity and stand up comedy. Boots are being put on and corsets tightened. There is a lot of sharpening of skill backstage. Once we start there really is no stopping. 
It is wonderfully chaotic and organized like any piece of theater is. Our crew works so hard. There's a lot to be done. 
JN: The bustles that the Schuyler sisters wear heavy?
MG: They are light as air, but there are so many skirts and so much silk that I never see my feet. I don't see my feet for three hours!
JN: Weird things that nobody thinks about. How do you make the role of Angelica your own?
MG: Pretty much the same way as any piece. The difference with Hamilton is it had already been made. The first order of business for me was to do the actual work. I had to learn the music, my lines, and the blocking pattern. I studied the show so I could fit into the piece. 
It is like a train that is already moving. It is well oiled. You can't be the squeaky wheel because it doesn't serve the piece. 
Once you have it down then you can start making color changes. My lines are always infused with my impulses, but you have to hit the marks. That is how I make it my own. 
JN: Do you think Alexander and Angelica were friends or lovers? 
MG: Both. The loving was emotional and spiritual. 
JN: Was it physical? 
MG: It was not. It was a connection spiritually, which is so much more titillating. 
JN: What is your favorite thing about being in Hamilton?
MG: I know beyond a shadow of a doubt how important this piece is on every level. When I first saw it I was so proud to be living in the age where this comes out. It made me want to read voraciously about everything with the founding of this country. It was orally a feast. It was information I knew and did not know. I bless Lin for being so true to the history and writing it in the verse. 
JN: How are the fans?
MG: They are fantastic. 
JN: There are always people waiting by the stage door. 
MG: There is always a crowd. The stories I hear there are so lovely. Sometimes people have waited for a year to see it. It can be birthdays, anniversaries, Christmas gifts or graduations. Hamilton has become an effect in people's lives. 
People come out blown away by the experience. Some thread comes out in the cast album but it is different to sit in the theater and take it in. 
JN: Would you want to have eight children like Angelica?
MG: Heck, yeah. Let's fire 'em off. They had a country to populate!
JN: There is a city in New York named after your Hamilton character.
MG: Get out. The people have spoken!
Interviewed by Jerry Nunn. Jerry Nunn is a contributing writer to the GoPride Network. His work is also featured in Windy City Times, Nightspots Magazine and syndicated nationally. Follow @jerrynunn