A GoPride Interview
Chi Chi DeVayne
Chi Chi DeVayne launches holiday tour before RuPaul Drag Race All Stars
I was not going in for blood like I was the first time!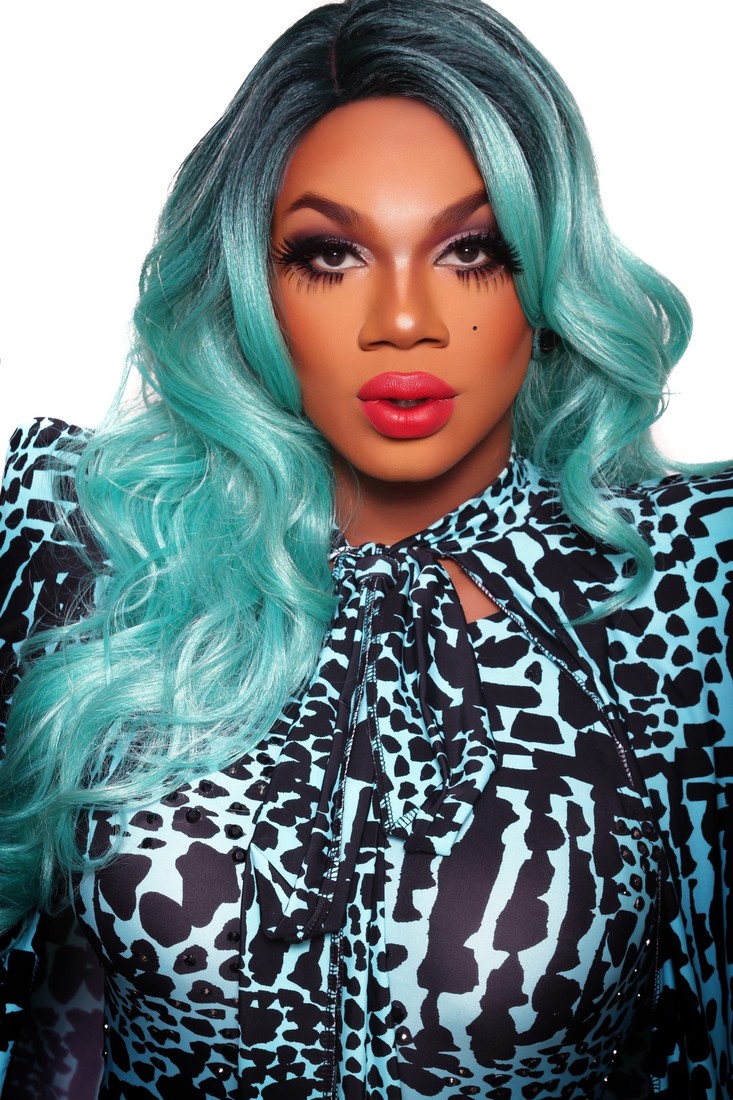 Shreveport drag queen Chi Chi DeVayne competed for the crown on RuPaul's Drag Race for season eight. Coming in a respectable fourth place, audiences enjoyed the friendly and realistic attitude this Southern Bayou native projected to the world. So much in fact Devayne was asked to return for season three of Rupaul's Drag Race All Stars on VH-1. 
Devayne, real name Zavion Davenport, talked on the phone before heading out on tour for the holidays. 
JN: (Jerry Nunn) Hi, Chi Chi. Where in the world are you right now?
CCD: (Chi Chi Devayne) I'm at home in Shreveport. I am getting ready to leave out tomorrow. 
JN: Still in Louisiana? You have not forgotten your roots?
CCD: No, not yet [laughs]
JN: How did you pick your numbers for the tour? Was it only Christmas music?
CCD: We have to do Christmas music. It is hard to find good holiday music. I used to do dance a lot so I am using a song we did at our recital. 
I don't like Christmas. I loved Christmas growing up, but it is not the same anymore. I need to create new memories. I have always been considered the Grinch! 
JN: Do you like the traveling involved in your work?
CCD: No, I don't. I like traveling to different countries, but I am just a homebody. I am always ready to come back home. 
JN: Are you single?
CCD: Yes, I am at the moment. 
JN: Maybe you can meet someone on the road. 
CCD: Usually on the road I am in the hotel trying to sleep. 
JN: We can go out to the Nashville gay bars next week after the show. 
CCD: It is different this time. Last time we had to fly everywhere. This time we are on a bus. There will be more time to go out. We won't have to rush to the airport at 6:00 a.m. 
I will have more fun being on the tour bus. 
JN: Was there anyone you are excited to meet on the Drag Queen Christmas tour?
CCD: I met Shea Coulee before, but we didn't have a chance to talk or work with each other. I am excited to meet Sasha Velour who is on part of the tour. I think she is a fun, amazing person. I am sure I can get a lot of tips from her. 
JN: How did you get booked on this Christmas tour?
CCD: Murray & Peter's tour for season eight. It was a blast and I had standing ovations in every city. 
Wait one second my mom is calling. [pause] Okay, I am back. 
JN: Is your mom a southern mom like mine?
CCD: Yes, she is from Louisiana. I was born and raised in Shreveport. 
JN: Was your mom okay with you doing drag?
CCD: At first she wasn't, but now she is. At first she thought I was transitioning. When you dress up like a woman here it makes people think you want to be a woman. She didn't understand it at first. 
She didn't take it serious until I made it on Drag Race. Then she wanted to see what I was doing so she showed up at my appearances. Now she completely understands it. 
JN: Is she religious?
CCD: She is very religious, but very accepting of her kids. She bends the rules a little bit. My sister is gay, too. She has a girlfriend. She understand we are normal people with flaws. She's very cool. 
She had us when she was young. My grandmother's generation would have not understood drag. 
JN: How were you cast on All Stars?
CCD: They just select you. They call you up and ask if you want to do it. You say, "Yes" and go film the show.  
JN: What made you stand out from the other girls?
CCD: I was satisfied how I did on my season. I had been performing for a long time and knew not everyone could be a winner. I was very accepting of coming in fourth place. 
I didn't go into All Stars feeling I had something to prove. I just wanted to show growth. I never considered myself to be one of the best drag queens in America doing it period. I have seen other girls that are amazing. I still couldn't believe I got picked. I did it for the fans. They asked for me to be on the show so that is why I went. 
I was not going in for blood like I was the first time!
JN: So a whole different experience?
CCD: Yes. I said, "Hey, sister! Long time no see. Let's have fun and dress up." 
JN: Did you know the other cast mates of All Stars?
CCD: Yes, from tours and working together. 
JN: Lip synching was the big topic on season nine. What did you think about that?
CCD: I think they should have done that on our season. I would have won for sure! 
I am just a Drag Race fan period. I don't get why people think certain seasons are boring. I just see the magic of Drag Race. I thoroughly enjoyed season nine. 
JN: Was there a misconception about you from the show?
CCD: I guess that idea that me being broke was used as an excuse. That I was playing on the judges sympathies. I just wanted to make it clear that we were all not equal in the game. Certain girls had coin and certain girls didn't. That is how it is. 
I got very little hate mail. 
JN: If you have money then there would be a team behind you, which is not the same if you don't.
CCD: Correct. People have to realize I come from a small town, country, and in the middle of nowhere. I don't have a team of talented fashion designers that are behind me. I don't have access to that. I am not trying to complain though. 
JN: What are you doing after the tour?
CCD: I want to start working on music. I want to release a song, but I want it to be very professional. I don't want to hurry up and get something out that is not good. So next year I will be working on it. 
Check out www.DragFans.com for tickets of A Drag Queen Christmas with a Nashville stop on Nov. 24, at TPAC, 505 Deaderick St, also try TPAC.org.
Interviewed by Jerry Nunn. Jerry Nunn is a contributing writer to the GoPride Network. His work is also featured in Windy City Times, Nightspots Magazine and syndicated nationally. Follow @jerrynunn
Serving the Chicago gay, lesbian, bisexual and transgender communities. ©Copyright 2019 GoPride Networks. All rights reserved.