A GoPride Interview
Mila Kunis
Sequel to Bad Moms is better than the original with a new twist
I feel it is a very inclusive holiday film, absolutely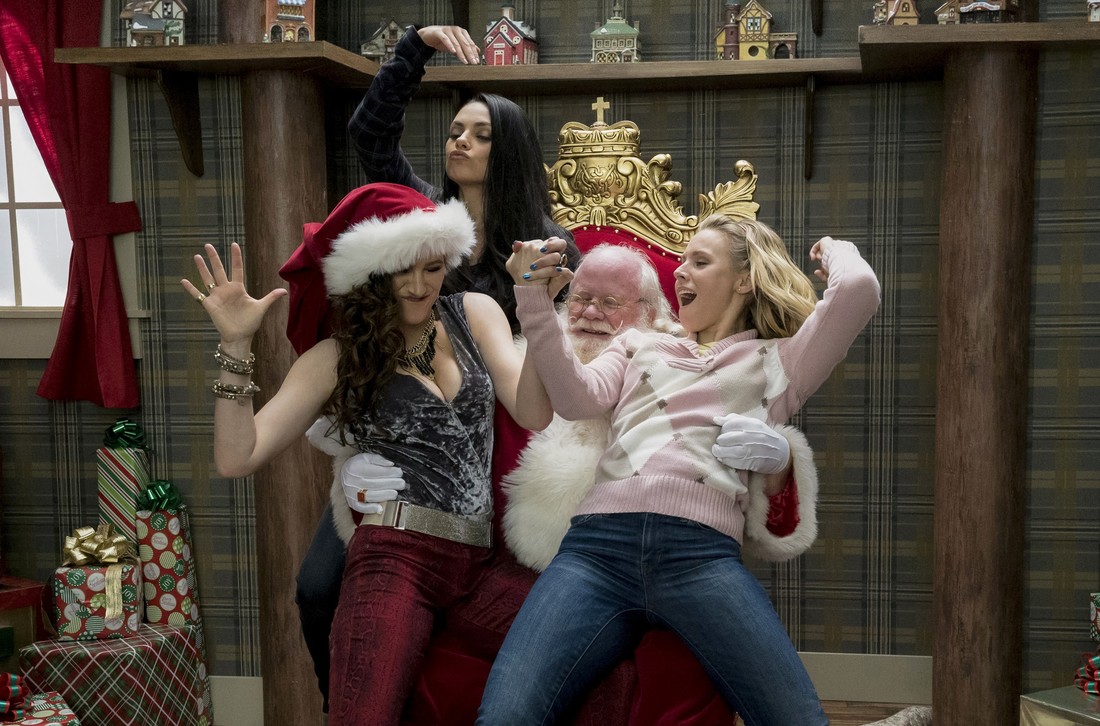 The Bad Moms are back in town with Bad Moms Christmas, a sequel to the original 2016 hit movie in 2016. Stars Mila Kunis, Kristen Bell, and Kathryn Hahn all return for more hijinks this time for the holidays. The twist is their moms are in town visiting and played by veterans Christine Baranski, Cheryl Hines, and Susan Sarandon. The over the top humor is a vast improvement on the first film that successfully creates a backstory for the trio by spotlighting their families. 
JN: (Jerry Nunn) I love you in Transparent, Kathryn. 
KH: (Kathryn Hahn) Why thank you. 
JN: There was a lot of humor in A Bad Moms Christmas for gay audiences. 
KH: I feel it is a very inclusive holiday film, absolutely. 
KB: (Kristen Bell) Let's bring them!
MK: (Mila Kunis) You can call them and tell them Justin Hartley is naked. 
JN: There is women on women kissing. Wanda Sykes is in it. 
KH: She's incredible. 
JN: The waxing scene with Justin is destined to be in the hall of fame of comedy. 
MK: We agree. 
KB: It is like When Harry Met Sally in the restaurant scene. 
KH: We met each other that day. He had a towel on and we shook hands. We went to work and it was another day at the office for this mother of two! 
JN: Was it a closed set?
KH: For some reason it was very crowded behind Video Village that day. 
We were very professional and came at it from an innocent angle. Honestly we were just playing the love story. We wanted it to be a romantic scene and just went from there. 
JN: Who do you relate to the most as far as the characters of Bad Moms?
MK: I think we all relate to each one of our characters. They might be our spirit animal or someone we are like. 
KB: It could be someone that I am scared I will become or someone I already am. 
KH: We have our moms in this movie so there are six views of mother. We are able to widen the experience. 
KB: This movies says It's okay to be two things at once and a paradox. Everybody is. As humans for survival we like to label things in a split second. It is how we don't implode from anxiety. 
It is okay to be a really good mom that loves her kids and also every month need a cool girls night out. It will make you a better mom to blow off steam.
JN: What do you think of the new trend of raunchy women movies like this one and Girls Trip? 
KH: I still have not seen that!
KB: They killed it. 
JN: The humor goes for it more than the first Bad Moms film.
KB: Girls have always thought that way, but we thought we weren't supposed to say it. 
JN: With the world so heavy it feels like we need to get out of the house and see comedies like this, doesn't it?
KH: Yes. It feels like now it is medicine. There is so much noise and we need an escape to have a simple laugh. 
JN: Look at the year of women directors in films and Wonder Woman being a big success. 
KH: We finally get to take our share. It is interesting to have spotlights on this. I am proud to be with these women. 
MK: I realized two weeks into production that the movie I was in called The Spy Who Dumped Me was directed by a woman that was a Rated R comedy. In 25 years of acting it was the first thing I did that was directed by a woman. It comes out after this one. It is a really funny movie with Kate McKinnon and I. Susanna Fogel is the director. 
KH: That is bananas!
MK: Name an Rated R movie directed by a woman. 
KH: Fast Times at Ridgemont High was directed by Amy Heckerling.
JN: This year's Rough Night was directed by a woman.
KB: Yes, it was by Lucia Aniello. 
KH: I am so over dudes!
JN: Will the next Bad Moms movie have a female director?
MK: No, Jon Lucas, and Scott Moore are kind of like having a female director. It is the same thing! 
KH: They are so in the DNA. 
KB: You can simultaneously believe in female equality and opportunity while participating in their work Jon and Scott created this.
MK: They are so amazing. 
JN: Do you go all out for the holidays?
MK: As much as I can while still having fun. In my three years of being a mom I never question why I am decorating. I go way over the top and have bonded with these two over it. 
KB: It is a huge arts and crafts piece. 
KH: Do you have fake snow?
MK: No, I have a projector in the front of my house that you can buy for $9.99 with four easy payments. I have the Christmas one with lights that across it in the shapes of snowflakes. 
KB: We do a lot of the cotton. Sometimes I reuse the spiderwebs from Halloween. 
KH: That is a great idea! 
KB: It is spidery in October then I will wad it up and make it into a snowball. 
KH: We shot this movie in Atlanta in the spring for a Chicago winter. It was very funny to drive to the set house and see the one house covered in fake snow while the others weren't. The homeowners are probably still cursing us cleaning up little tiny pieces of white snow. Apparently they all loved it because it was overdone holiday houses.
MK: They took over a block in Atlanta and did it up. It was magical and weird, because it was a hundred degrees out. 
KH: I had pools of sweat in places I didn't know about. I am still taking my fake eyelashes off! 
JN: What should mothers and daughters take away from this?
KB: As far as Christmas if you lower your expectations you might be happier. I like to go all out but not in a Pinterest way. I give my kids a ton of construction paper in the Christmas colors and plaster it on the walls. It looks amazing and homemade. It doesn't need to be perfect in a picture. No one sees it but us and it's festive. 
By introducing our moms in this film you can understand someone by seeing where they came from. Everyone is doing the best they can with what they got! 
Bad Moms Christmas sleighs the holidays at theaters everywhere on Nov. 1. 
Interviewed by Jerry Nunn. Jerry Nunn is a contributing writer to the GoPride Network. His work is also featured in Windy City Times, Nightspots Magazine and syndicated nationally. Follow @jerrynunn