A GoPride Interview
Sean Anders
Director, writer and producer Sean Anders talks about new Instant Family movie
When you go to the classes you find it is a lot of same sex couples and couples that can't conceive or people that find it through their church.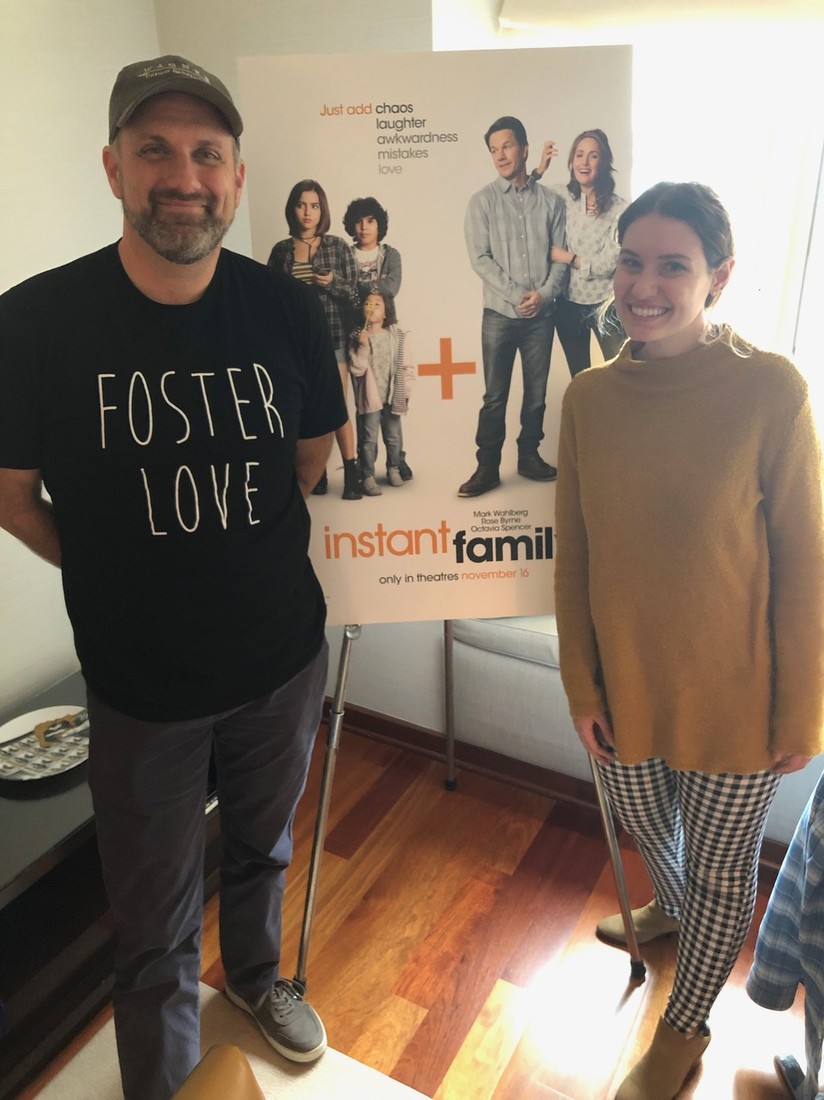 photo credit // jerry nunn
Sean Anders Makes an Instant Family
Sean Anders is a film director, screenwriter, and producer. In the new movie Instant Family he does all three. The storyline is based on his real life as he adopted three children at once with his wife.
In the movie version it stars Mark Wahlberg and Rose Byrne as the couple ready to take on a new family adventure. Anders worked with Wahlberg in the past with the Daddy's Home movies.
He sat down at the Park Hyatt to discuss what makes Instant Family stand out from the rest.
JN: (Jerry Nunn) Start off with what you want people to know about your new movie Instant Family.
SA: (Sean Anders) It is inspired by my own families experience of adopting and foster care. It is also inspired by a lot of families that I met along the way.
So many movies give people a feeling of fear and pity towards kids in the system. I hope people when they see this movie, they will have a different attitude towards the kids in the system. 
JN: Being adopted myself, the little boy in the movie seemed like me.
SA: He's a lot like my son Johnny. He was accident prone when he first came to us. It's funny because now is so athletic and coordinated. He's a real sweet kid and a good guy. 
When Gustavo Quiroz came in to read for the role of Juan we had that character different on the page. He reminded me so much of my son. He had such a big heart. We rewrote the character and Gustavo helped make it more like my son. 
JN: Were the gay couple trying to adopt based on real people?
SA: Everybody in the movie were inspired by real people. The distinction there was they were based on, but not portraying actual people. That was really the case with everybody including Pete and Ellie, who are not me and my wife. 
In  my foster classes and the support groups there were several same sex couples that we met along the way. We met this in this comical get together, so they inspired those characters. 
My writing partner John was always telling me about these friends of his he has. I just met them at a screening the other night. They are a same sex couple and in the process of about to adopt. They just finished their classes. 
JN: I talked to Tig Notaro who is in the film and spoke about adopting some kids. 
SA: We are going to get her!
JN: What did you learn from past films that you brought into this one?
SA: I learned a lot about comedy, directing and working with actors. The Daddy's Home movies were the perfect tee up for this movie. They are much lighter and wackier obviously. I got involved with the first Daddy's Home movie because it was about a guy who was not a biological father to his kids, but loves them more than anything. I really relate to that. 
We touched on those feelings in the Daddy's Home movies so that was a set up for this one. 
Mark Wahlberg had met several kids in the system. When I proposed the idea of the movie he jumped in immediately. He told me about these amazing kids he had met and how much that meant to him. When we were making the movie Make has a teen daughter that was the same age and has younger children as well. He has some real parenting experience to draw on. 
JN: I heard Rose did a lot homework also. 
SA: She did. She sat down with my wife right away. She talked to adopting moms and our social worker consultant. 
JN: Why was the release date moved?
SA: It was tentatively set for January, but there was a carrot dangled that if the movie had a holiday feeling to it then the studio might move it into the holiday. 
The holidays are crowded this year so we really had to prove it to them. 
We really worked hard and fast in post to make that deadline. We got it in front of a test audience and it scored off the charts. They moved it into the holidays after that. 
JN: Was it hard to balance the comedy with the sad parts?
SA: It was. That was the most important element from start to finish. From the very first draft to the final edits we had to make sure we had the balance right. We tried not to shy away from the tragedy, but also always bring it back to the laughter. We want a fun night at the movies.
JN: It seems like there were more adoptions when I was born in the '70s than now. 
SA: For a long time we started hearing about overseas adoptions because there were a lot of famous people adopting kids from there. Meanwhile, there are so many kids in our own backyard that have grown up in group homes or are bouncing from foster home to foster home. Those kids need parents and love as well. 
JN: You were director, writer and producer. Is that the trend in movies to do everything these days?
SA: I don't know that much about what other people are doing because I am so busy doing those things. I get focused on what I am doing. 
I much prefer to direct the things I write because I can maintain control of my story from start to finish rather than handing it off to someone else and seeing what happens. 
I think the producing part is more of the trend. As writers and directors we are involved with so many of those elements, such as working with the studios and different departments. It really does become a lot of hats!
JN: There is a lot of diversity in the film. Did that just happen with the casting?
SA: The nice thing about the diversity in Instant Family is that there is nothing pushed about it because this was my reality. My kids in real life are Latin. The parents I was with in the classes were a very diverse group of people. When you go to the classes you find it is a lot of same sex couples and couples that can't conceive or people that find it through their church. I am hoping that there will be more people like my wife and I who chose it. As a result you get people coming in from all different walks of life. Everyone comes together with the same goal, to provide home and family to kids that need it. That bonds you as you go through. 
I love that the film is diverse in a really honest way.  
Instant Family delivers on Nov 16 at theaters everywhere.
Interviewed by Jerry Nunn. Jerry Nunn is a contributing writer to the GoPride Network. His work is also featured in Windy City Times, Nightspots Magazine and syndicated nationally. Follow @jerrynunn