A GoPride Interview
Simon Curtis
Director Simon Curtis visits Chicago to talk about new film Goodbye Christopher Robin
The most important thing is to cherish your family.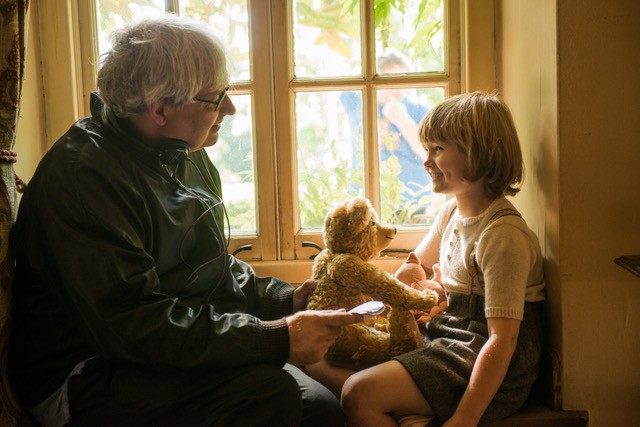 simon curtis and will tilston
photo credit // fox searchlight
The dramatic film Goodbye Christopher Robin tells the tale of the creation of the iconic Winnie the Pooh. Domhnall Gleeson plays A. A. Milne the author of Pooh who suffers from post traumatic disorder after serving in both World Wars. His son Christopher Robin helps him through his terrors by playing with stuffed animals creating a classic in the process. Margot Robbie plays the awkward mother role and Will Tilston is the young Christopher Robin Milne covering the majority of the film. 
British director and producer Simon Curtis sat down at the Park Hyatt to discuss the behind the scenes development of the Goodbye Christopher Robin. Many will remember his work from My Week with Marilyn and most recently with Woman in Gold.
JN: (Jerry Nunn) Didn't you start in theater?
SC: (Simon Curtis) I did. I started at the Royal Court Theatre in London, but I had directed at Steppenwolf about 20 years ago. I directed The Rise and Fall of Little Voice by Jim Cartwright. 
JN: How did you move into more filmmaking?
SC: I worked at BBC television a lot. I then morphed into film. I did it the wrong way. All the clever people are going from film into TV!
JN: Talk a bit about My Week with Marilyn.
SC: I was very lucky to get the cast that I got with that film, as I have always been lucky. I am very blessed with this cast too. 
JN: I just recently met Helen Mirren who you worked with in Woman in Gold.
SC: She is an amazing woman as well as an amazing actress. 
JN: How much research was involved with making Goodbye Christopher Robin?
SC: A lot. The woman who wrote the biography of A. A. Milne was our guide to keep us on the right track. 
JN: Did you know people who had PTSD?
SC: Not really. Though I suppose in retrospect the Winnie the Pooh stories became famous so quickly because they were a way for readers everywhere to reconnect with innocence before the war years. 
JN: What drew you to the project in the first place?
SC: It was the unknown creation of one of the most famous ever books. There is so much else to it, too. 
JN: Were you a big Winnie the Pooh fan?
SC: Not massive, but I cherished my parents reading the stories to me and me reading my stories to my kids. I think that is what happens, different generations pass it on. 
JN: They are so relaxing and that is what helped him as a person. 
SC: Yes, there is a simplicity and brevity to them. 
JN: Where is Margot?
SC: I said goodbye to her last night when we finished some press. She was a joy to work with. 
JN: So many American audiences now identify her with Harley Quinn in Suicide Squad, but this role is completely different. 
SC: She's going to be Tonya Harding next in I, Tonya too. She has been very bold in playing a variety of things, mixing up big budget with smaller things. She is a fantastic actress and a very clever woman.
JN: How was working with Will Tilston?
SC: He was a joy as well. He was very easy to work with. He seemed to get it. 
JN: That must have been a tough role for a little kid. 
SC: It is and a big part of the film. I was just hoping to get the right boy. It was a long, dull process to find him and we auditioned so many boys. 
JN: He had to be the adult in the film. 
SC: Well, he has a maturity to him. He has to play the fun of the boy and the sadness. 
JN: Was it tough balancing the happy with the sad themes in Goodbye Christopher Robin?
SC: Yes, but that is what life is. 
JN: The scenery was beautiful. How was filming at the location?
SC: It was fun filming at the actual Poohsticks Bridge. The rock they sit on at the end actually has a plaque dedicated to A. A. Milne. It was introducing this view to the world. 
JN: The piece has a lot to say about fame. I kept thinking of the Kardashians. 
SC: Exactly. The difference is that this family couldn't have predicted the fame. No child had been a celebrity before so that was uncharted territory. 
JN: The author seemed like he was wrestling with fame himself. 
SC: Yes, because he was a writer. He liked the attention. He was surprised that it wasn't him getting the attention. It was his boy. 
JN: So all of the characters in Winnie were discovered this way?
SC: Yes, and you can hear the audience sighing with pleasure as Eeyore is named and Tigger is given to the boy. 
WCT: There is bullying in the film so it may resonate with a community that has been mistreated. 
SC: I will say men in particular have been moved by this film. There aren't many father and son films. I have been deeply impressed. There is a lot of laughter when people see the film, a lot of pleasure, but also a lot of sniffling, even in men, which I don't think happens too often. 
JN: Were you inspired by films like Finding Neverland?
SC: Not so much inspired because it was its own thing. 
JN: What are your future plans?
SC: I'm not sure, but I hope it's American. I am looking at two films, one is set in America. One is total fiction, and one is historical. You never know which one comes first. 
JN: Is it trickier to do fiction or these biopics?
SC: They both have pros and cons. It is tricky to get the story right and it to be a successful film. There are constraints on telling a true story. You have to have a man that looks like the real person. The boy certainly did in this film. 
JN: What do you want audiences to get out of this movie?
SC: The most important thing is to cherish your family. If you have parents, or kids, put the smartphones down and engage with each other. 
Goodbye Christopher Robin opens at theaters in Chicago on Oct. 20.
Interviewed by Jerry Nunn. Jerry Nunn is a contributing writer to the GoPride Network. His work is also featured in Windy City Times, Nightspots Magazine and syndicated nationally. Follow @jerrynunn