A GoPride Interview
Miguel Cervantes
Miguel Cervantes and Christopher Lee talk 'Hamilton'
They are going to have to drag me out of here kicking and screaming from Hamilton if I have my way.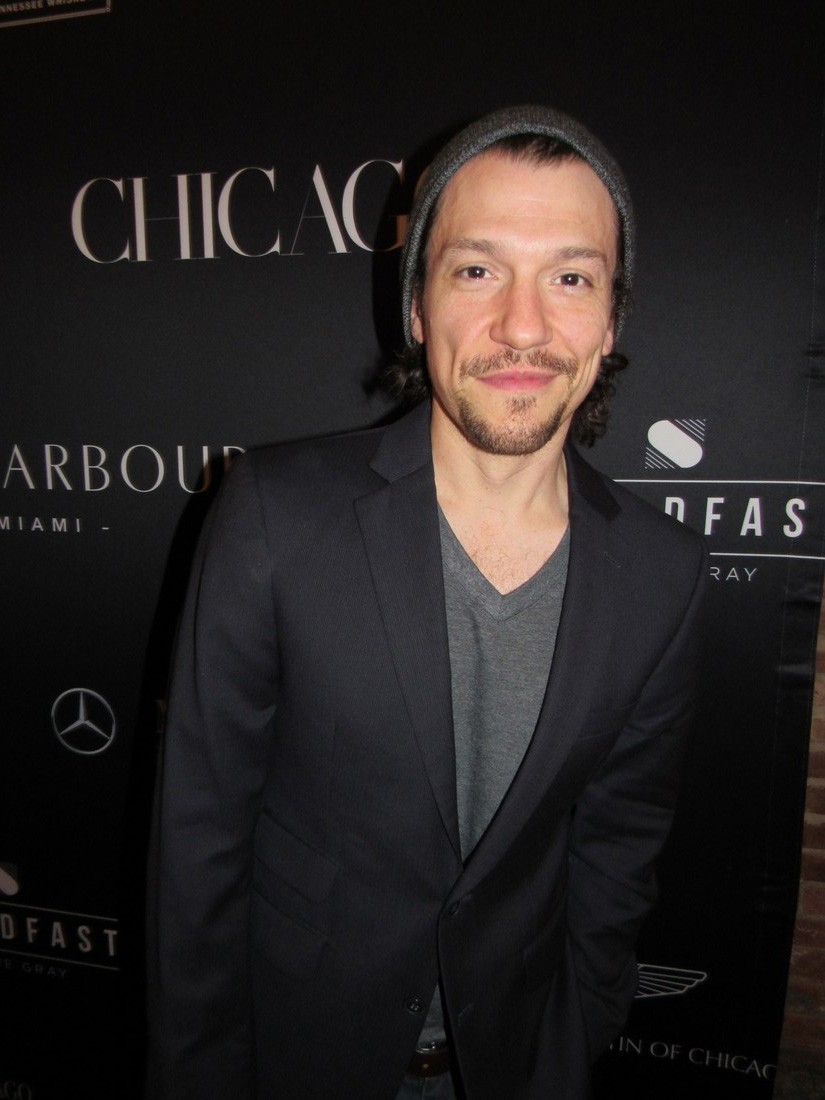 photo credit // jerry nunn
The hit show Hamilton has turned into a phenomenon that has recharged and revitalized musicals. The hot ticket came to the PrivateBank Theatre in September of last year. 
Created by Lin-Manuel Miranda who based it off the story of Alexander Hamilton. The plot follows the early life of Hamilton as an orphan in the Caribbean and continues through adulthood where he is involved with out great forefathers. From duels to powerful lyrics, everything is captured for entrainment in this prominent show. 
At the ChicagoMOD magazine premier party two of the cast members talked about the experience while walking the red carpet of the Morgan Manufacturing Innovation Lab. 
JN: (Jerry Nunn) I was outside a Hamilton show and saw the fans line up. Has there been a crazy fan moment? 
MC: (Miguel Cervantes) It is a crazy thing to see how people are affected by Hamilton. When you walk up to someone and feel them shaking you understand the power that this piece has on them. It is just me…Miguel. Everyone wants a kiss or a hug. 
The cool thing is when they make stuff. I got this wooden carved star. It was a great piece of art.  
JN: So you kept that?
MC: Those are the ones you have to keep, and put in the dressing room.
JN: How is it going with Wayne Brady? 
MC: It has been great. This is his last week. He replaced Josh. The cool thing about this show is  Josh Henry did it a certain way, then Wayne Brady comes in a does it a whole different way. We are saying the same words but it feels and looks different. It keeps it fresh and exciting. 
He is such a nice guy, and so cool to be onstage with. 
JN: He was very nice when I met him. 
MC: The nicest guy! We have seen him do his improv a couple of times after the show for the Broadway Cares charity. He was selling words for a hundred bucks. He would do ten words then write a song there on the stage. He is brilliant. 
JN: That must be inspiring to be around. 
MC: Of course. I wish I were better at it like Lin or something. I could go with him. That is not my pay grade! 
JN: Did you go see Spamilton? I didn't see you at the opening. 
MC: I have not yet. My wife and I need to go see it. I heard it is pretty amazing. 
JN: It is funny. There was a joke about Wayne, but he was there and took it well. Did you get a place to live in Chicago?
MC: Yes. My wife and I moved our family here. We left our house in New Jersey. We are renting a house, but thinking about buying a place, and putting down some roots. We are really liking it here. 
JN: How old are your kids?
MC: A two year old and four year old. We have little ones. 
I like to put out in the universe that as long as Hamilton is in Chicago. I am going to be in it. It could be here for awhile. It is a great job. It is the reason you go to school, and train. I began acting to do something like this. 
They are going to have to drag me out of here kicking and screaming from Hamilton if I have my way. Chicago is a great town. We are feeling like this is something we are going to do for awhile. 
JN: Your kids could be in college by the time it is over. 
MC: Northwestern is really nice. I heard it's a good school!
JN: Do you listen to the Hamilton Mixtape? 
MC: Yes, a little. What is really cool is when you hear Mixtape songs on the radio. I have heard the Kelly Clarkson song a few times. It is shocking to hear it there. 
JN: So you have no other gigs besides Hamilton?
MC: No. I am not making plans to move on to the next thing. Now if Chicago Med needs a little Mexican doctor to come on there by all means I will chat about that! 
JN: Tell our readers about you part in Hamilton Chris. 
CL: (Christopher Lee) I play two roles. In the first act I play Marquis de Lafayette and in the second act Thomas Jefferson. 
JN: You get to do both?
CL: Yes, it is the best. There are three more characters that have dual roles, two of the guys and one girl in the show. That is the best part of acting in the show is we get to switch. 
I get to be Hamilton's best friend, and his worst enemy. Audiences see two different characters in the same actor. It is a cool part of the fabric of the show. 
JN: Where are you from originally?
CL: Atlanta, Georgia. 
JN: I am from the South also, in Tennessee.
CL: I went to school at Belmont University in Tennessee. I left Nashville to do the show. I got the show and even though I wasn't done yet, I left. 
JN: What were you studying there?
CL: Musical theater. 
JN: Belmont is a religious school. 
CL: It is a southern baptist school. They are pretty good about not enforcing a religion on you. You have to take a religious course as part of the general education requirements.
JN: How is going in Chicago?
CL: I love Chicago. It is my new favorite city. It is the perfect place to do any kind of theater. 
Hamilton is going great. Every day I get to go watch someone's life be changed from the people onstage and beautiful story. In the political and social climate today it is an important story. It is a lot of fun to tell it. 
JN: There is a huge age range that go so it. 
CL: There is no demographic. We reach everybody, old white people, young Black kids! When the music starts the fans scream. I run into people on the street. Chicago is welcoming to that art. It is an artistic city historically. 
This show is open ended so I am hoping to be here a couple of years.
JN: I just talked to Miguel about Wayne Brady. What do you think of him?
CL: He's my man. He's dope! He's my big bro. We have developed a cool relationship. He's leaving this week.
JN: There will be a new guy. 
CL: Daniel Breaker is awesome. I didn't know him, but knew of his work. His shows have been Passing Strange and Shrek. He is Tony nominated and a brilliant actor. We have rehearsed together and he is phenomenal. I am so excited for him. 
The cool thing about the show is we get people coming and going of different calibers, but amazing talent. It keeps the show fresh. 
JN: Did you parents come to see the show?
CL: My mother just left today. She has been here about five times. She loves Chicago. 
JN: Did you see Spamilton?
CL: Not yet, but I met a lot of the cast. It is about time. They don't have a show Mondays, when I am off. I do want to see it. 
JN: Have you been to Sidetrack yet for Musical Mondays?
CL: I have heard of it, but haven't been yet. There are a couple of places we always go, but I am trying to branch out and do more. I get so tired after eight shows. I just want to go to bed!
JN: Anything you are still dying to do in Chicago?
CL: Once the summer hits I want to do the tour bus and see all the historic stuff. I want to know more of the city. Every time I learn something I am very intrigued. I am loving it so far, but ready for the summer to hit!
Interviewed by Jerry Nunn. Jerry Nunn is a contributing writer to the GoPride Network. His work is also featured in Windy City Times, Nightspots Magazine and syndicated nationally. Follow @jerrynunn