Pop phenomenon Nick Osin ready to bring the heat to Chicago Pride Fest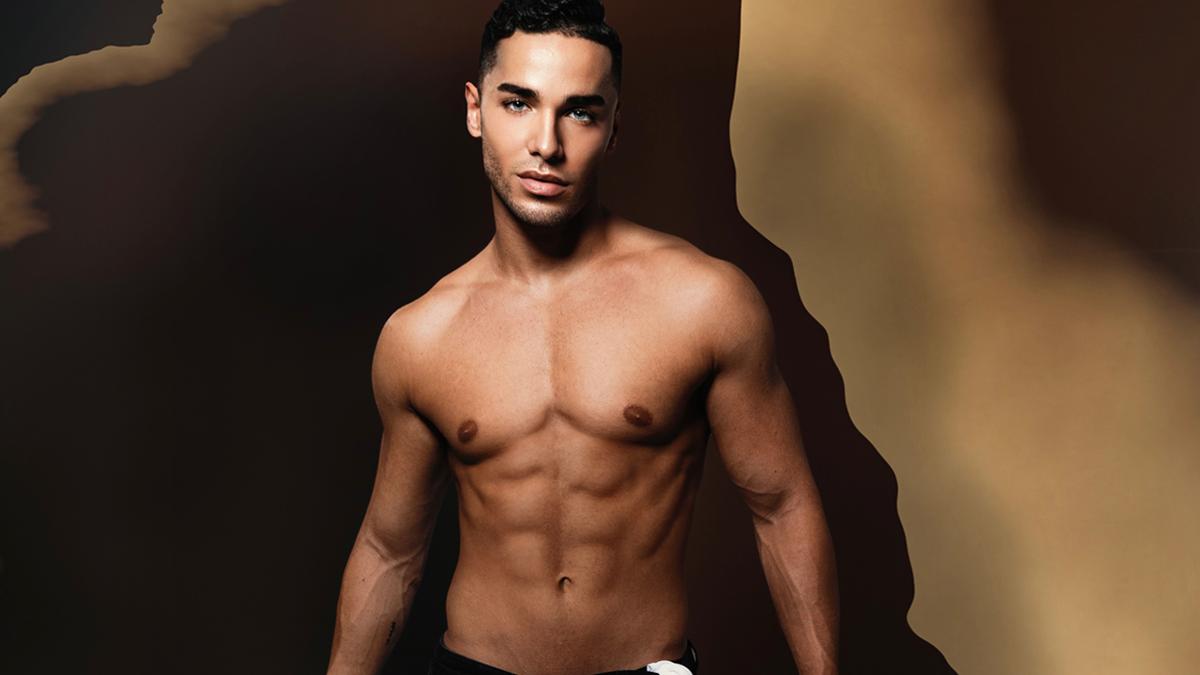 'I cannot wait to bring all the June heat,' says Nick Osin
Nick Osin is set to make his singing debut in one of his favorite cities in the world: Chicago.
The 24-year-old Los Angeles resident – by way of Evansville, Indiana and Vinnytsia, Ukraine – has one of the prime timeslots for this year's
Chicago Pride Fest
. He is performing on the North Stage (Halsted & Grace) on Saturday, June 17, at 8:30 p.m., the last set before
Heather Small
wraps up the night at 9:15 p.m.
"I am extremely excited for the opportunity; I cannot wait to bring all the June heat that me and my dancers Drake and Cammie can. It's going to be a super fun and engaging performance; I can't wait to see people reacting to my new music," Osin said. "Chicago is one of my favorite cities in the world. People (there) are very nice and welcoming and the whole vibe of the city is so different from Los Angeles. Summer boating, fun concerts and events, food scene … all those things and more complete my memory box of Chicago."
On his last visit to Chicago, Osin last summer saw The Weekend's concert at
Soldier Field
. "It was an incredible experience and very motivational," Osin said. "He is one of my favorite singers and the show was incredible."
Boating in Lake Michigan is one of Osin' favorite Chicago activities, where his chiseled chest shines as bright as the summer sun. Osin plans to hit some of the city's popular restaurants and nightclubs.
His Chicago trip also will include a visit to the Nutella Café along Michigan Avenue. "That's my guilty pleasure," he said, laughing.
The two-day Pride Fest is a Lakeview staple that this year features
Slayyyter
,
Jordy
, Eureka O'Hara, Cookiee Kawaii,
Shab
and others. Pride Fest is open June 17-18 from 11 a.m. to 10 p.m. both days.
"For my performance at Pride Fest, you can expect all the powerful energy and vibes as well as a great show," Osin said. "I have incredibly talented dancers with me, Drake and Cammie; their choreography will not let you take your eyes off the performance. I will be introducing everyone to my new music and opening up about why I wrote some of these songs and what chapters of my life I had to go through.
"Performing at Pride Fest means a huge accomplishment to me. I am extremely grateful and honored to be taken seriously as an artist. Being an immigrant with a huge dream and barely any budget, establishing myself and making people believe that I am good enough to have a place in (the) music industry, it is very humbling and motivating for me to be invited to (such a large) festival and have a platform to share my life and art with everyone."
Osin began recording songs at age 18 and his singles are available on all streaming platforms.
"I started my music releases with happy and uplifting songs," Osin said. "I feel like after some time I came to realize that being authentic is the only way to be relatable and understood, so I started to write more personal songs and my new upcoming music is going to have a wide range of diversity of genres, feelings and emotions, all connected to my life, experiences and feelings. I enjoy a combination of a powerful bass and orchestra instrumentals."
Osin's road to Pride Fest is an international journey that started about 10 years ago.
He was born and raised in Ukraine and, at age 15, he was called to be on a singing TV show in Russia, called "Hochu K Meladze." Round after round, Osin said he realized that he didn't want to live in Russia and be part of an entertainment industry there. "I made a decision to quit the show and went back to Ukraine," said Osin, who then spent a year learning English outside of school. "Studying 40 hours a week of English, I learned it to the level where I could somewhat explain myself. I was motivated to move away and live a better life abroad and do what I'm passionate about: music."
At 16, Osin went through an exchange program, FLEX (Future Leader Exchange). Of more than 30,000 applicants, Osin was one of the 200 successful winners. "I was sent as a Ukrainian ambassador to the U.S. to do what I'm best at, represent," he said. "I didn't hesitate for a second. I grew up with my grandmother and my uncle, who gave me everything they could. At age 16, it was up to me to begin and build my life. There was nothing else my family in Ukraine could do for me or give me, so I left (for) the U.S. to build my own journey."
He was placed in Evansville, Indiana with a host family, Stacy and David, who he stayed with for more than a year. "After my exchange year was over, I figured out a way to stay in this country; my host family was a huge part of that; they vouched for me in this country and I made sure to use this opportunity and make my life happen by finding an amazing immigration lawyer and getting political asylum as an LGBTQ+ refugee."
Osin said he is grateful that he experienced Midwest life, culture and more: "the incredible Sonic sundaes with fudge, Dairy Queen milkshakes, drive-through movie theaters and the whole cowboy scene with students driving trucks to high school," he said. "I enjoyed how hospitable most (Midwest) people were and how curious they were to find out more about the world that's out there outside of their bubble. I had a mission to let everyone know where I was from and what it's like out there."
He lived in Indiana for three years, spending time at Castle High School in Newburgh and at Evansville Day School, a private high school.
After graduating, he moved to Los Angeles to pursue his dream.
"I moved out of Indiana on June 4, 2018. I couldn't wait to begin a new life in a huge and challenging city. Los Angeles was always a dream, (with) surreal expectations that were overwhelming."
Osin kept wondering, Am I good enough? Am I pretty enough? Am I talented enough?
"Some people told me that I wasn't any of those things. Despite those people, I have never doubted myself," he said. "Life has been guiding me in the best way, helping me meet good people and finding opportunities. I use all my excitement and motivation to do better.
"I have established myself in Los Angeles and feel like I have a solid family here and amazing friends. I am deeply grateful for each one of them."
Osin has spent the past five years living in Los Angeles.
Now On-Stage: Pop singer Nick OsinYour 3 Most Popular Songs:
 Better Yet, So High, and Never Been Enough
Favorite Of All Your Songs:
 So High – "I wrote it in Joshua Tree (California) while looking at the stars wishing for love. My lyrics, 'Take my hand, trust me now, close your eyes and feel the sound' are inviting a listener to love and act. Hopefully, someone (will) meet someone while listening to this song and it motivated them to get to know each other." 
Most Recent Release: 
Sam Sobi Kraina: "It's a cover to a Ukrainian song written by Kuzma Skryabin. I released this cover in support of Ukraine. In collaboration with a global non-profit, Influence The World, me and my friends created a benefit concert to raise funds for Ukraine. I performed that song at the event. The lyrics of the songs are encouraging and hopeful. Right now, Ukraine needs all the support and acknowledgment it can get."
Upcoming:
 "I have a lot of songs coming up soon."
Next Track:
 Time Of Our Lives – "It's a song about living and enjoying your life to the fullest. It's a dance pop song and I hope everyone will like it." 
Favorite Actor:
 Ryan Reynolds
Favorite TV Show:
 Selling Sunset
Favorite Movie:
 Avatar 2
Favorite Sport:
 Ice skating
Hobbies:
 Ice skating, content creation, cooking and traveling with friends. 
Little-known Fact:
 "As a child, I professionally competed as an acrobat and an ice skater."
Chiseled Chest:
 Goes to the gym daily and maintains a proper, healthy diet. "Eventually, you get used to the routine and it becomes organic," he said.
Favorite Pigout Food:
 Wendy's, where he orders Dave's Double #2, along with chocolate ice cream and fries. "I dip fries into ice-cream. Yes, it's delicious," he said.
Boxers or Briefs:
 "If I wear tight pants then I wear boxers, for sure. I hate it when my butt gets hungry and consumes briefs like it's a happy meal. I must be strategic when choosing my daily underwear."
Hobbies:
 "I love good beach days, rollerblading, nights out at the clubs. Although, it's a privilege to call my career a job, I always have fun in a studio, making art, producing, and taking on other projects. It gives me joy and a purpose."
Website:
NickOsin.com
Instagram:
Nick_Osin
Twitter:
Nick_Osin_
Youtube:
Nick_Osin