Chicago Pride Fest returns this weekend - full entertainment lineup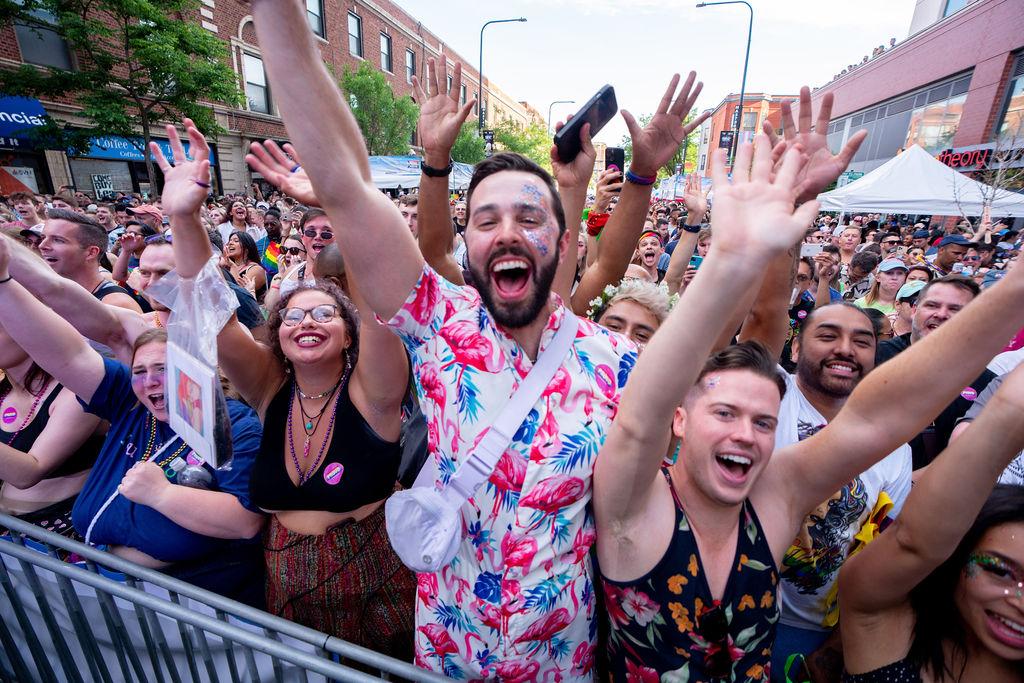 photo credit // steven koch
The 22nd annual Chicago Pride Fest, June 17 & 18
Chicago Pride Fest returns this weekend to the Northalsted neighborhood, commonly referred to as "Boystown."
The two-day street festival turns the iconic LGBTQ neighborhood into one enormous Pride party with 2 entertainment stages and a dance music stage featuring some of Chicago's favorite DJs and drag queens.
"We come together in June to celebrate community and uplift each other in the struggle for equality and human rights," said lead event organizer, Mark Liberson. "Despite decades of progress, the need for Pride has not lessened, as outright attacks, especially on transgender and BIPOC members of our community, are ongoing."
Heather Small
(M People),
Slayyyter
,
Meet Me @ The Altar
,
Jordy
, and
Eureka O'Hara
are among this year's headliners. 
Other artists on the North Stage include
Nick Osin
,
Shab
,
Ultra Naté
,
Ariana and the Rose
, Dancing Queen: An ABBA Salute, and Ultrabeat.
Related: 
Pop phenomenon Nick Osin ready to bring the heat to Chicago Pride Fest
Chicago Pride Fest's South Stage Saturday lineup showcases local favorites: Sixteen Candles, Too Much Molly, Hello Weekend, and more. Sunday programming by Peach Presents features BbyMutha, Cookiee Kawaii, The Vixen's Black Girl Magic, and others.
Nearly 60,000 people are expected this weekend.
Organized by the
Northalsted Business Alliance
, the neighborhood's chamber of commerce, Chicago Pride Fest takes place the weekend before the 53rd annual
Chicago Pride Parade
on June 25.
A $15 suggested donation is recommended. Donations support local nonprofits and fund community projects like the Chicago Pride Crosswalks.
Related:
Chicago's Pride Month calendar
Chicago Pride Fest 2023 Schedule:
Nutrl Vodka Seltzer Stage (Halsted & Grace)
Saturday, June 17
12:00pm - DJ Laura B
1:00pm - Pride Fest Drag Show
2:00pm - Eureka O'Hara
2:30pm - Pride Fest Drag Show
3:45pm - Servin' Fysh Dance Co.
4:00pm - Meet Me @ The Altar
5:00pm - Ultrabeat
6:45pm - Pride Fest Drag Show
8:00pm - Shab
8:30pm - Nick Osin
9:15pm - Heather Small (M People)
Sunday, June 18
12:00pm - Proud Pet Parade with
Miss Foozie
12:30pm - Lakeside Pride: MultiVerse
1:00pm - Pride Fest Drag Show
2:00pm - Slayyyter
2:30pm - Pride Fest Drag Show
4:00pm - Ultra Nate
5:15pm - Dancing Queen: An ABBA Salute
6:50pm - Pride Fest Drag Show
8:00pm - Ariana and the Rose
8:45pm - Jordy
South Stage (Halsted & Addison) 
Saturday, June 17
1:00pm - Chicago Gay Men's Chorus
1:45pm - Chicago Spirit Brigade
2:30pm - Bev Rage & The Drinks
3:30pm - Firebrand
4:00pm - Hello Weekend
6:00pm - Too Much Molly Band
8:00pm - Sixteen Candles
Sunday, June 18 
12:30pm - Chicago Spirit Brigade
1:00pm - Proud Pet Parade w/
Miss Foozie
, Awards
Peach Presents:
1:30pm - AZN INVZN ft. Chess Knight+Supes Base
2:30pm - Bonita Appleblunt
3:00pm - BbyMutha
3:45pm - AZN INVZN ft. Chess Knight+Supes Base
4:30pm - Cookiee Kawaii
5:00pm - Don Cresando
6:00pm - C*nty MeMe
6:30pm - Mister Hoochiemamma
7:00pm - MochaMocha2.0 Presents: The Body Confidence Queens
8:00pm - Sw33tLov3
8:45pm - The Vixen Presents: Black Girl Magic
Ulta Beauty Stage (Halsted & Waveland)
Saturday, June 17
1:00pm - Barker
2:30pm - Miss Toto
4:00pm - Martin
5:30pm - Alexis Tucci
7:00pm - DJ Bryan
8:30pm - Ca$h Era
Host - Sasha Love
Sunday, June 18, 2023
1:00pm - Blu9
3:30pm - Chomper
5:00pm - Dom Brown
6:30pm - DJ Xtasy
8:00pm - DJ Diox