A GoPride Interview
Brad Rowe
Brad Rowe interview with ChicagoPride.com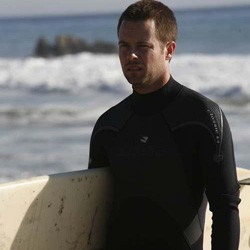 brad rowe stars in shelter from here! films
Seeking Shelter with Brad Rowe
The Reeling Film Festival rolls out it's pink carpet again Nov 8-18, showcasing the finest in GLBT film for 2007. Kicking off this Thursday with a surfer style soiree at the Chicago History Museum followed by the Midwestern premier of Shelter, a tale of two surfers and the unforeseen love that blossoms. I chatted up the film's star, Brad Rowe, best known for his role in the camp classic, Billy's Hollywood Screen Kiss, about his new film, going indie, and best of all going gay again.
JB:
Your new film Shelter is generating a lot of buzz, what's the meaning behind the title?
BR:
The title is a metaphor for the true meaning of family. Here, the traditional American hetero family structure has come totally unwound and we see a promising and beautiful gay family emerge from the chaos.
JB:
We're all ecstatic to see you back on our team but what attracted you to this project?
BR:
When I read Jonah's beautiful script and sat down with him, his vision for the film was of an earnest, heartfelt, love story that anyone gay or straight could identify with. Ultimately the character Shaun had a nice arc that I could really sink my teeth into.
JB:
So, tell me about Shaun.
BR:
Shaun is a published author who comes from money. He has hit a wall creatively and in his personal life. He gets blindsided when a childhood surfing buddy comes back into his life and changes the way he looks at it. A series of unforeseen circumstances make him step up in a big way.
JB:
Did you and your love interest played by Trevor Wright have a lot of chemistry as actors?
BR:
Trevor Wright is a great guy and talented actor! We had a blast hanging on the set and taking that journey as actors. It's great to work with someone who is committed to depicting his character and story honestly.
JB:
I keep reading the reviews on the incredible acting, but I have to know, how about some sexy love scenes?
BR:
Ha,ha! It gets pretty hot up there on the screen. I couldn't believe what a nice job Jonah and the crew did to communicate the excitement and the intimacy of that part of the film. The score really supported it as well.
JB:
Did you have to learn to surf?
BR:
I did not! I can ride tiny waves, but this Midwestern boy had no business riding winter surf while we were shooting. They had the experts out there doubling for me.
JB:
The film is set in San Pedro, how was it laying around the beach all day?
BR:
Haha, surely you are kidding. Indie films crank out huge page counts every day. We were lucky to get time to grab a Snickers Bar from Crafty!
JB:
How do you like the process of making a more independent film opposed to some of the other bigger productions you've done?
BR:
It's best when you're in good hands like we were with Jonah and this production team. Small movies attract people who just love making movies for the art of it and it creates a real cooperative family atmosphere. There's little room for egos when no one's getting paid much, and trust me that's a good thing, haha.
JB:
Do you still have gay fans that run up to you and say they loved you in Billy's Hollywood Screen Kiss?
BR:
"Billy's" does have a semi-iconic following and I certainly still get people telling me how much they enjoyed the movie. It was a fun stylized romp, but ultimately told the story of exploring relationships with someone who is newly out of the closet. In a more dramatic sense, this is the heart of "Shelter" as well.
JB:
These coming of age stories always seem to end tragically; does this one have a happy ending?
BR:
You'll just have to watch the movie, I'll just say this- you should be pleasantly surprised.
Brad will be making an appearance at Reeling's opening night as well as staying for a Q&A following his film, Shelter. For tickets and information on the rest of the week's films and after parties check out
reelingfilmfestival.org
.
For more chat and gossip on Brad Rowe and The Reeling Film Festival check out my blog:
JustinBoltz.ChicagoPride.com