A GoPride Interview
Krewella
Krewella Is Kewl for the Summer
To be a part of the Pride celebration is legendary for us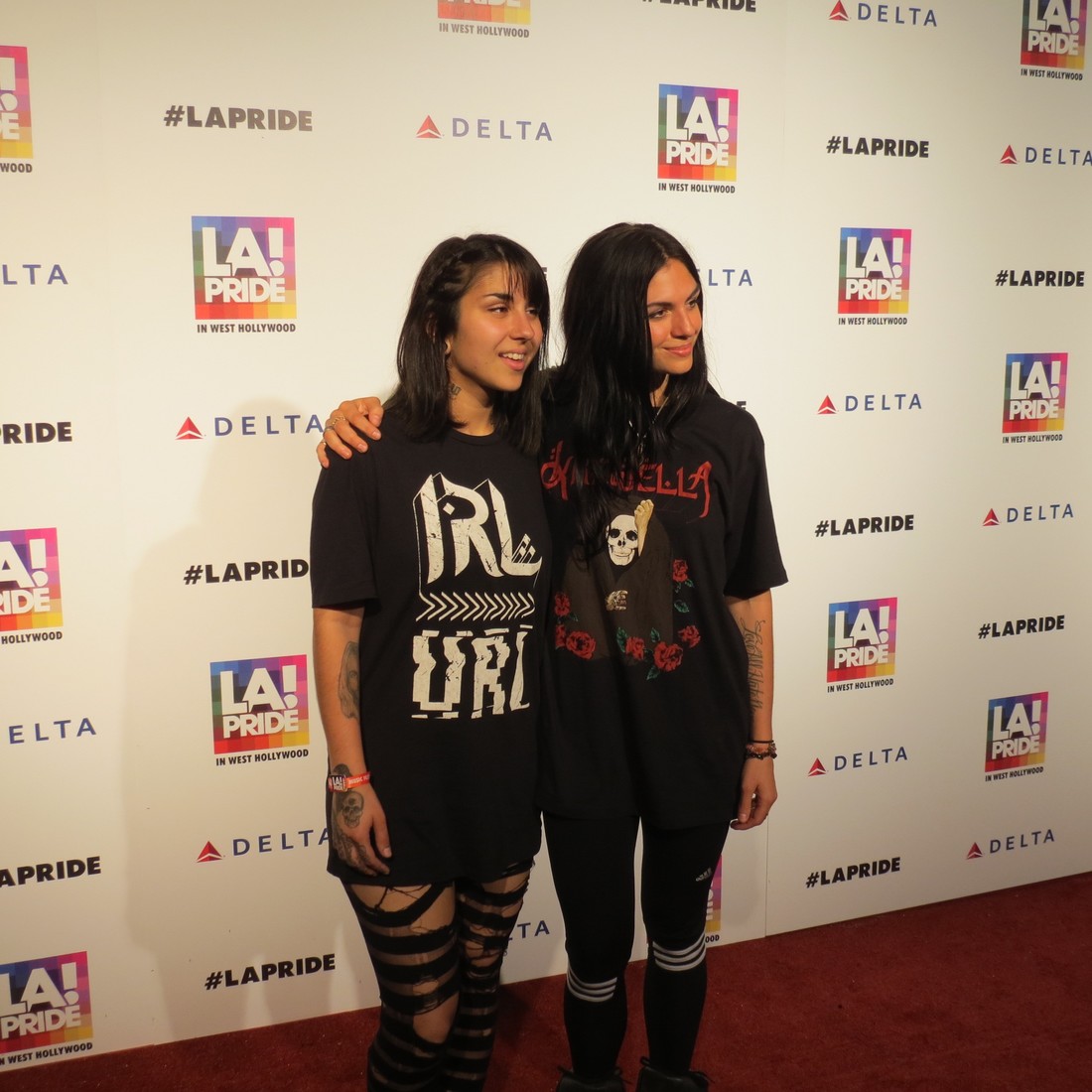 photo credit // jerry nunn
Krewella talks about Pride at the LA festival
Straight out of Northbrook. Illinois, the dance duo Krewella is ruling the world with radio hits like "Live for the Night" and "Alive". Their album Get Wet debuted at number eight on the US charts. This year they have already started releasing new music such as "Broken Record" and "Superstar".
Sisters Jahan Yousaf and Yasmine Yousaf combine techno, house, and dubstep to create a whole new sound that includes their vocals. 
At a recent appearance at LA's Pride festival the two sat down to talk a bit about their career. 
JN: (Jerry Nunn) I interviewed you both in Chicago at the Congress before playing there. 
JY: (Jahan Yousaf) I thought you looked familiar!
YY: (Yasmine Yousaf) You are from Chicago. That was a while ago. 
JN: I remember you doing an after Lollapalooza party at the Park West. Did you like that venue?
YY: That was back in 2013. 
JY: It was super intimate. There is no barrier between you and the front row. You are touching and looking at everyone. It is amazing. 
JN: Do you like the smaller venues?
YY: Oh yeah. I like when I can connect with every person in the crowd. 
JY: Absolutely. 
JN: The vocals can be drown out if it is too big I would think. 
YY: Yes, a lot of the venues that we are planning on our next tour will be smaller punk rock venues. They are made for live music so perfect for our set. 
JN: So you finally doing a Pride event. 
YY: This is our first Pride. 
JN: Are you living in LA now? I remember you talking about it. 
JY: I think we were in the process of making LA our new home. 
JN: How was in the experience of being played on the radio? You were just coming out when we talked last. 
YY: It is always crazy and a bit unreal. We spent so long making those songs. By the time they came out on the radio it was a few years later. It was a really long but amazing process. 
We just put out a new EP two weeks ago. 
JY: We have released two music videos. We are starting a new line of merch really soon. We are approving it right now. 
JN: Are there guest collaborations you have in store?
YY: We have a few ideas but nothing solid. We released a collab last week called "Nightmare" with the Pegboard Nerds but we have some more stuff potentially happening. 
JN: Do you feel pressure to have more radio play?
JY: We are kind of in this mindset now where we say, "fuck it." When you have a big team, a label, and management, you have a lot of people trying to influence you. Yasmine, and I have come to realize that we have to stay focused and not lose our path. We don't want our vision to come watered down based on what other people tell us. 
There is a lot of trial and error in the process of making this EP we just released. During the final stages of the EP we realized we had to truly commit to what we believe in. 
YY: We don't music that we are happy with when we are told what to do. 
JN: You are such rebels. 
YY: Well, you have to follow your heart when you are making music or it won't be authentic. 
JN: How do you stay up late all night when playing these late night gigs?
JY: We don't normally. We haven't played a live show in five months. 
YY: This is our first since New Years. I am going to be struggling in an hour because my bedtime is usually 11:00 p.m. 
JN: Get some Redbull. 
YY: Yeah. 
JY: When we are touring Yasmine and I go into robot mode. We know what we need to do. When to drink our coffee, when to take a nap, and when to work out. We have a system. We really take care of our bodies on the road. 
When we are at home working on an album it is nice to have some sort of ritual, a time to wake up, work out, and go to the studio. A certain time to eat dinner at night, too. A normal routine is nice because when we tour it is gone. 
JN: Especially when you are going to Europe and countries on a different time zone. 
JY: It is hard on your body!
JN: How did you get involved with Pride?
YY: We have a friend who is on the board for choosing the lineup and he suggested us to our manager. Our manager didn't even ask us, he knew we would say yes. When he brought it to us we definitely wanted to do it. 
JY: We would never so no to an opportunity like this. A Pride in LA where we now live is easy. The festival means so much and is so symbolic. It is a celebration of being who you want to be and not having to ask for permission on being who you want to be, and loving who you want to love. It is so powerful. To be a part of that celebration is legendary for us. 
JN: How do we get you for the gay Pride festival in Chicago?
JY: When is it?
JN: The end of June. We had over a million people at the parade last time. 
YY: I know. Chicago has one of the best gay Prides, hands down. We won't be able to play it this year but hopefully next year. 
JY: I would love that. 
JN: I could hook you up with some people. 
YY: Please do! 
JY: We would love that. Just the energy here tonight is so incredible, happy, and open minded. 
JN: Are you touring more now?
YY: We are touring in September all across America. We are working on an international tour so that will come after that. We are working on our next body of work. We don't know if it will be an album or another EP but it is in the works. 
Interviewed by Jerry Nunn. Jerry Nunn is a contributing writer to the GoPride Network. His work is also featured in Windy City Times, Nightspots Magazine and syndicated nationally. Follow @jerrynunn
Serving the Chicago gay, lesbian, bisexual and transgender communities. ©Copyright 2019 GoPride Networks. All rights reserved.