A GoPride Interview
Katrina Leskanich
Katrina Rides a New Wave
A few nights ago David Hasselhoff was on American Idol and sang "Walking on Sunshine."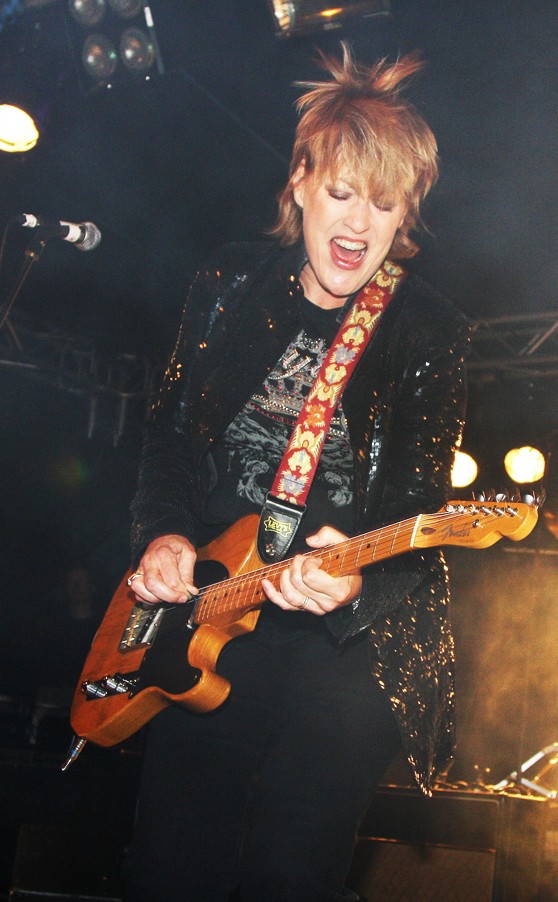 Katrina is bringing 'Sunshine' to Chicago
Katrina Leskanich (and the Waves) may forever be known for her worldwide hit, "Walking on Sunshine". This year marks the 30th anniversary for the song that continues to bring positivity to the masses. It has been used on numerous TV commercials, movies, and most recently on American Idol.
Her new solo album, Blisland, brings her to Chicago and Nunn called her on the road to talk about the tour.
JN: (Jerry Nunn) Hi, Katrina. Where are you calling from?
KL: (Katrina Leskanich) We are on our way to New York. I am sitting in the middle of a field surrounded by snow. The band has gone in to get a Subway sandwich and they will be back in ten minutes.
JN: How is it traveling on tour again?
KL: It takes me back and nothing has changed. The places we play have the same backstage faux leather couch with matching lampshades. It is a constant struggle to find heat. It's rock and roll. There is a lot of sitting around waiting for an hour and a half of a show. That is the reason we all do it. We endure it because we love it.
I'm really concerned about the state of live music. I think people would much rather stay at home and watch their gigantic plasma televisions than get out and hear live music. In that way things have changed very much since the '80s.
It has been a little trying on this tour when the conditions are this cold. I imagined it was going to be a lot warmer but I am sitting here surrounded by drifts of six feet of snow.
JN: You better be careful!
KL: Yeah, combining that with "Walking on Sunshine" and it is not a match made in heaven. It has been really interesting being on the road and doing it again. In this business I do it a lot of different ways. I go out as an ensemble or just myself with an orchestra in Europe. On this tour I go out with three guys that are New York badasses. They have played with Joan Jett as Blackhearts, with John Cale, and with Debbie Harry. They are like institutions these guys.
JN: I heard your drummer is from Midge Ure's band.
KL: Well, I played with all of these guys last year when we did the Retro Futura Tour. They were the band for me, Midge, and China Crisis so that is how I met them. You saw that tour?
JN: I did, at Ravinia.
KL: Then you have seen two of the members of this tour. We have a different bass player. That is great that you are familiar with them.
JN: When I was writing a travel piece in Vegas that tour landed at my hotel in the pool.
KL: That's wild. I promise we are not stalking you!
JN: So this album is your first one of new songs in ten years?
KL: Yes, when I was on the Retro Futura everyone had a new album. It had been ten years so I sat down and did some writing. I came up with the album Blisland. My new single is called "Sun Coming Upper." It is my response to "Walking on Sunshine" 30 years later. It is about my personal journey and what it is like to grow up. I tried to inject that into the song. It is one that we are playing live.
We have another song called "Texas Cloud" which is going down very well because it works extremely well live. I've decided to shake things up in my life and not disappear into a comfort zone because that is not what it is all about. I know people give a lot of psycho babble about pushing oneself to get out there and expand your boundaries, to get out there in the firing line. I am wondering when that is supposed to make me feel better. (laughs) I am going to try to be a little more zen about the whole thing.
JN: There is even a country song called "Farmer's Song" on the album.
KL: I wrote that song because in the '80s when Live Aid was on I went out to visit my parents at their farm in England. I asked my family if they donated to the cause and my mom said, "Fiddlesticks, you save the world, Katrina, we have the hogs to feed!" I thought it was a great idea for a song. It is country pop. I't's a little crazy. I do naturally like country. I'm a Kansas girl after all. I just let it flow.
Blisland by the way is a place in Cornwall, England. I like to go there because it is chilled out and gorgeous by the Atlantic Ocean. It is where Penzance is so it has a history of pirates. It is a very mysterious place. I thought it was charming and decided to name my album that.
JN: There is another version of "Walking on Sunshine" on Blisland. Is that the one you play live?
KL: No, I don't. That was a one off. I have never played it like that before or since. I was doing a gig in London and recording the whole thing. It was a different arrangement with no drummer but I had a guitar player, keyboard player, and a horn player. It was at a place called Borderline in Soho. We just did it a different way and that is how it came out. I wanted to give a different version of the song I am known for.
JN: I thought you were mixing it up after being tired of playing it.
KL: Oh god no. I would probably be assassinated if I didn't play that song the way people want to hear it. With the band I am in now it really rocks. It is the rawest way since Katrina and the Waves ever performed it. When we first started we were a four piece. We never had horns in "Walking on Sunshine." We just did that for the studio because we thought it would be a good idea.
It has been to go back and perform in a really raw way. I will be doing a lot of Katrina and the Waves stuff, some covers, obscure stuff, and some Blisland music. It will be a great night.
The trick is getting people to come out and see me perform live. They have to see me before I am dead. There are some slippery slopes out here so you never know. Oh, and here it is starting to snow again. This could be my last interview. You may have struck gold there.
JN: The venue you are playing in Chicago has some ghosts. Reggie's is an iconic concert hall. I saw the Psychedelic Furs play there.
KL: We supported them on a tour in Canada. It was the first time I have ever been spat upon. I knew I was rocking out when I got someone's loogie all over me! I wasn't sure if it were a demonstration of love or the opposite.
JN: What did you think of Glee performing "Sunshine?"
KL: I was delighted. It was really fun to hear my song mashed up with the biggest star on the planet Beyonce. It made me smile. I think the best version of "Walking on Sunshine" has got to be Dolly Parton's. She started opening all of her shows with it. I wish I could start my show with "Walking on Sunshine" but if I did then everyone would leave after the first song!
JN: I saw Dolly perform "Sunshine" at her concert.
KL: Wow. I am going to start my show singing "9 to 5" and see how it goes. This would give these New Yorkers something to talk about.
I loved hearing the usage of my song in American Psycho, Look Who's Talking, and Secret of My Success. It crops up on the funniest places. It has been used in commercials with diapers. How are you walking on sunshine with diapers? It might be used with Depends.
It has been used on mattress commercials. I don't walking on sunshine on a mattress. Claritin has used it. I can see the allergy thing, maybe. Some of the use of it has been a little ambiguous.
A few nights ago David Hasselhoff was on American Idol and sang "Walking on Sunshine." I have done a lot of work with him in Scandinavia but I had no idea he was plotting to use my song.
JN: Tell me about you dog Peggy Lee.
KL: Peggy Lee Loves London is a photograph book of all of my favorite places. It has the coolest places to go from clubs to parks. Peggy Lee is my little dog that gets in the picture.
JN: Peggy is not on the road with you currently?
KL: Peggy was not invited on this trip. We have to make enough pit stops as it is. She is like the pit stop poodle. She would be out there creating yellow snow right now if she was with us!
Catch Katrina at Reggie's Rock Club, 2109 S State Street, on April 2. Ticket information is located at www.katrinasweb.com.
Interviewed by Jerry Nunn. Jerry Nunn is a contributing writer to the GoPride Network. His work is also featured in Windy City Times, Nightspots Magazine and syndicated nationally. Follow @jerrynunn