A GoPride Interview
Kelly Hogan
Pleasure and "Pain": an interview with Kelly Hogan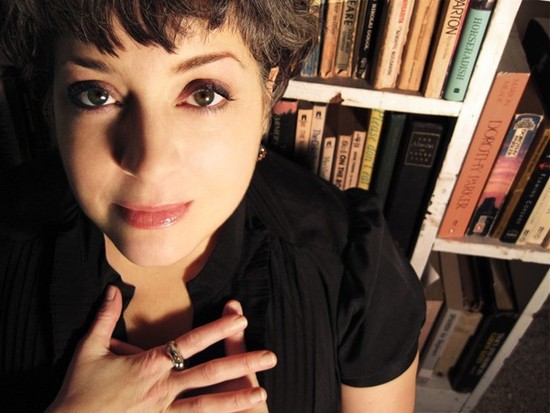 photo credit // neko case
Kelly Hogan has not been resting on her considerable laurels in the 11 years between the release of "Because It Feel Good" and her brilliant new album "I Like To Keep Myself in Pain" (Anti-). "Exploring all the musical crayons" in her box, she toured behind the 2001 release for a couple of years, was singing with Neko Case, and she did the Love Hall Tryst record with John Wesley Harding and Nora O'Connor, on which they sang Elizabethan madrigal tunes. What was supposed to be a one-month residency with The Wooden Leg, her jazz band at The Hideout (in Chicago), turned into three years. As Hogan so eloquently puts it, "I've been busy, Gregg! I never stopped singing," exploring other ways to make music and be on a stage. I caught up with Hogan in Spring 2012 and chatted with her about "I Like To Keep Myself in Pain." (Hogan performs on Sept. 14 at The Hideout on Wabansia in Chicago.)

GS: (Gregg Shapiro) The songs on your new disc, "I Like To Keep Myself In Pain," were for the most part written for you. What was involved in that process?

KH: (Kelly Hogan) Certain songs might not have been written for me specifically, but they were given to me. Like in the case of The Magnetic Fields' ("Plain White Roses"), that was an old song of theirs. Stephin (Merritt), was going to write me one, but he was busy doing an opera, so Claudia (Gonson) said, "there's this song, I think it's a great song and it never really got its due, its day in the sun," so she sent me a version from a Merge (Records) compilation from a long time ago. Now they do it in their live show and it's on a recent record. They're like, "Hey, that song is good!" So, a majority of the songs were written for me, with little things here and there, that came a different way.

GS: I'm glad that you mentioned Stephin, because you also covered his, "Papa Was a Rodeo" on an earlier disc. He writes awfully good country songs for a gay urbanite, don't you think?

KH: [laughs] It's so amazing. I was recently performing concerts with them and I was listening to them and thought, "This is the best country music I've ever heard." They're the most beautiful country songs. Yeah, it's so great, his little visuals, his details that he so carefully picks and chooses. It's definitely evocative. It's a country bar, but it's in Chicago.

GS: Or on the Lower East Side.

KH: Or outside of a factory or one of those bars that open at 7 a.m., where the mailmen go.

GS: The album also includes respectful nods to your Chicago cronies, including Andrew Bird, Jon Langford, Catherine Irwin and The Handsome Family. Was it important for you to include songs by these artists?

KH: Oh, man , I want to get one of those Mayberry police cars, with the giant speakers on top and go slowly down the street, "Ladies and gentlemen, check these people out! They kick ass!" I love waving the flag for people. Maybe get a station wagon or an ice cream truck with a giant loud speaker on it and talk about them. Chicago is well-represented by virtue of who I was working with, because that's where I lived, too. The idea from Andy Kaulkin at (record label) Anti- was that since I'd been working with these people for so long, why didn't I just call in my markers? But that's my terminology. I wrote all these fan letters to people I'd sung for or song with or toured with or worked for that I really admired.

GS: Back to country for a moment, it's a genre with which you have been associated in recent years. But you expand your and your listeners' horizons with forays into soul and '60s-influence pop, Booker T's organ and Bacharach style "buh-buh-buh-buh-buh"s into your sound. What was the inspiration for the merging of these worlds?

KH: I think there are all kinds of little Habitrails between those different types of music, especially country and soul. A really good country song and a really good soul song can swing either way. It's got a great skeleton, a great core and great guts. It has some drama in the lyrics and the story. And I'm just a nut for pop melodies. I'm very attracted to that. Mostly, for me, it just boils down to whatever that song needs or what it's asking me to do for it. I always say, the song is my boss. Yes boss, whatever you need. In my band, the Jody Grind, in Atlanta, we did all kinds of stuff, and nobody was ever able to say what kind of band we were. I kind of like that. We sort of became an adjective after that. I'd see previews for other bands in the Atlanta papers describing them as "a Jody Grind-esque band." You can't pigeonhole. I can't decide who to throw out of the lifeboat, man. I like all kinds of music.

GS: I even heard some Lulu in your voice on "Pass On By."

KH: Good! I think Lulu is very soulful. Awesome! I apologized to Stephin Merritt, I said, "I Olivia Newton-Johned your song, I hope you don't mind" [laughs].

GS: There are some recurring themes on the disc. For example, gold, which you sing about in the aforementioned "Pass On By," as well as "Golden" and "Daddy's Little Girl." Sleep is referred to in "Sleeper Awake" and "Slumber's Sympathy," and little girls appear in "Ways of this World" and "Daddy's Little Girl." Were any or all of these conscious decisions?

KH: No. It wasn't conscious, because I got songs from so many different sources and people. When someone asks me how I picked the songs, I say – even though I sound like a hippie – but the album kind of showed itself to me. I hate to put a framework on something. Like, I'm going to make this kind of record. We had this idea about how to get the songs and where the songs were going to come from, and then we decided to go with my whole baseball fantasy camp idea of working with Booker T and James Gadson, but the album just has to show itself to you. It's almost like found poetry. It wasn't conscious at all but I think it's awesome that there are certain little threads that you can pick out of the quilt.

GS: There is also a disturbed domesticity on songs such as "We Can't Have Nice Things" and "Whenever You're Out of My Sight." Do you think domestic tranquility is an oxymoron?

KH: The only thing I can think of is "Leave it to Beaver" and that was a TV show. I don't think it's ever tranquil. Where would all these sad songs come from? I think that's a myth, sir! I mean I have happy times, we all have happy times, but I don't think that exists. Go chase that windmill, dude, I've got other stuff to do. When I sing those songs, I see pictures on the floor, broken glass, and people smiling through it. I think that's reality. Everybody's just doing the best they can not to kill themselves or others [laughs]; every day and every second.

GS: Songs such as "Sleeper Awake" and "Haunted" have, dare I say, a commercial ring to my ears. They sound like the kind of summertime hit singles you hear pouring out of car windows or radios at the beach. What would it mean to you to have a hit like that?

KH: I love those songs too. I don't just sit around listening to Lee Hazelwood, drinking brandy out of a snifter. I like The Archies and Olivia Newton-John and all that. John Wesley Harding sent me "Sleeper Awake" a long time ago and he sent me some other songs when I asked him for this record. But I kept going back to it and I thought it might finally be time to do "Sleeper Awake." I'm a horrible insomniac and that song kind of gives me a heart attack to sing. His version is a little gentler, like "wake up, wake up," which is how I like to be woken up. I don't like someone to flip on the light, "Hey, come on!" Our idea was to take the song and flip it upside down. It was fun to play it with a Motown thing. I was thinking more of Kirsty MacColl. I love that stuff. I love to throw open my windows, clean the house and sing that stuff. I have an army dad and he used to flip on the light, throw off the covers, and with a wooden spoon and a pan, beat it really loud next to our heads, while singing reveille. Actually, I wove the melody of reveille into my background vocals as a little up yours to my dad, a little homage. I'm not ashamed to sound like a box of Honeycomb cereal, because I'll eat that stuff all day long.

GS: So good and so good for you.

KH: For "Haunted," my only mixing note for that song was "let's make it smell like beer." (Songwriter) Jon Langford is very robust. He's like a pirate. I love him so much. We wanted to make it like a bar sing-along. When Jon heard it, he said, "You've turned it into a Bay City Rollers song." I was like, "What?" I guess it was the clapping and all. But I love how it turned out. It's raucous.

GS: How does it feel to be a part of the Anti- stable, along with Neko Case, Wilco, Kate Bush, Mavis Staples and Bettye LaVette, among others?

KH: I had to buy some adult diapers, man. Are you kidding? They were my favorite label in the world and they asked me to make a record for them. I thought I was being punked. I'd known Andy Kaulkin from Anti- for a long time, through Neko. We've had these three hour conversations about all different kinds of music. It's so obvious to me that Anti- is motivated by their love of music, especially with Andy being kind of a driving force. Yeah, I had to buy a giant box of diapers. I was going to call my record "I'm Not Worthy."

GS: But of course you are.

KH: I just like how they invest in you. It's not like it's my Anti- record, it's my first Anti- record. They're even giving me that benefit of the doubt. It makes me excited. I want to do them proud.
Interviewed by Gregg Shapiro. Gregg Shapiro is both a literary figure and a music and literary critic. As an entertainment journalist, his work appears on ChicagoPride.com and is syndicated nationally.