A GoPride Interview
Michael Urie
Babs' Basement: Michael Urie stars in 'Buyer & Celler'
Her level of fame is unmatched but everything comes with a cost.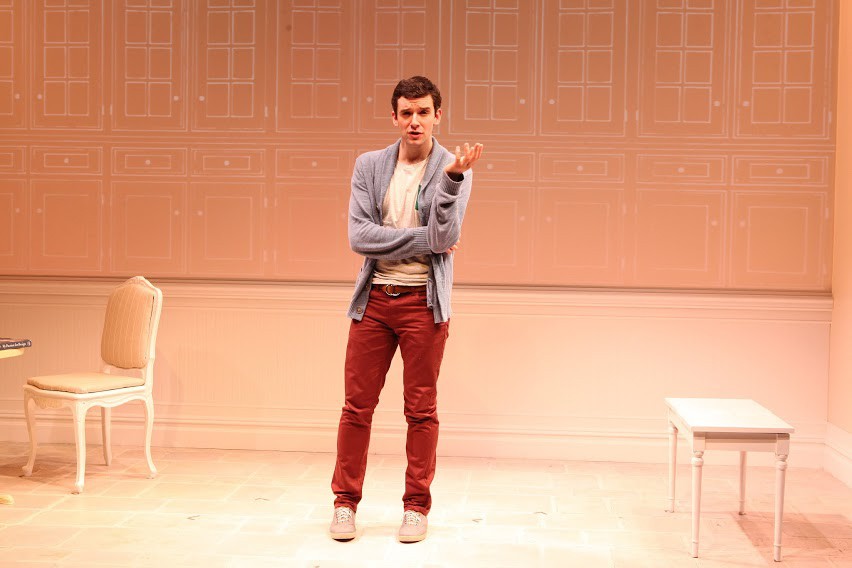 michael urie in 'buyer and cellars'
photo credit // sandra coudert
Babs' Basement: Michael Urie stars in 'Buyer & Celler'
Stage, film and television star Michael Urie is in Chicago for the sold-out off-Broadway hit
Buyer and Cellar
, by playwright Jonathan Tolins. In this one-man show, Michael plays Alex More, a struggling Hollywood actor who gets a job as the sole employee of Barbra Streisand's underground mall, which she had built beneath the barn of her Malibu estate. The different shops within the mall display and protect the icon's multitude of collectables.
ChicagoPride.com's Michael J. Roberts talks with the former
Ugly Betty
star about this hit production and how he prepared to play seven different characters in
Buyer and Cellar
, including "Babs" herself.
MJR:
(Michael J. Roberts) Hi Michael, thank you for talking with me today. I was fortunate to see your performance in
Buyer and Cellar
last year in New York and you were absolutely fantastic and the show actually becomes something much deeper than the subject matter would suggest. So how did you first become involved with the play?
MU:
(Michael Urie) Well Jonathan Tolins, the wonderful playwright behind
Buyer and Cellar
, and I were working on a new sitcom called
Partners
about a year and a half ago. We both knew each other from doing some theatre projects, but we became very close during course of this new TV show. He told me about a play that he had been writing which was inspired by Barbra Streisand's coffee table book "My Passion For Design", where she has literally build a mall of different "shops" in the underground of her barn to store her collectables. Jonathan thought that was kind of funny and wondered what would happen if a guy actually had to work down there and greet customers and take care of all the merchandise in her underground mall, which is what my character of Alex does.
MJR:
Did Jonathan write the character of Alex with you in mind?
MU:
Well here is funny sorry. No, the play was just about finished and when he had me read it and I told how much I liked it. Then he told me that he gave the role to Jesse Tyler Ferguson who agreed to do it during his
Modern Family
hiatus. Of course I was very happy for Jesse.
MJR:
Oh no, did you pull a "Wilhelmina Slater" on Jesse?
MU:
Well, I didn't need to, cause, lucky me, lucky me, Jesse decided to do Shakespeare in the Park. So instead of Jonathan holding out for Jessie's availability, he gave me his blessing and attached me to
Buyer and Cellar
. Then right after that Rattlestick Playwright Theater agreed to mount it. I have to tell you that I can't think of a quicker incubation period for any play to open off Broadway than
Buyer and Cellar
. It came very quickly and was a great hit.
MJR:
Did that quick incubation period make it more challenging to discover your character, or characters, I should say?
MU:
It was very difficult and it was also the first time I have ever done a one man show so there was a lot of trial and error and I felt like I screwed up a lot. Because I play six or seven different characters during the show, the challenge was made even harder by trying to find the right balance for myself and to also respect the real life people I play as well.
MJR:
Let me tell you that you do a great James Brolin.
MU:
Well thank you. Who knew? (both laughing).
MJR:
What character did you find easiest to discover and which one was the hardest?
MU:
Oh, good question. I knew that because the majority of time I had to be Alex (the main character) I needed him to be most like myself, so that was probably the easiest. The hardest character was Alex's boyfriend because they are both roughly the same age and roughly the same "type" of guy, and they have to talk and argue with each other. So to find the right balance so that their relationship is real and truthful was the most difficult.
MJR:
You are also tasked with playing Babs herself, which you do in the most respectful manner by showing a lot of humanity. A lessor actor could easily have that role become a caricature rather than a character.
MU:
Thank you for saying that Michael. That was a learning experience as well because the Barbra that Jonathan wrote is an imagined Barbra who is very different that the one we see in movies or interviews. But is my sense after doing a ton of research and watching her that she is her truest self when she is acting, and that discovery helped me find a way to play her in an honest way.
MJR:
Prior to seeing
Buyer and Cellar
last year, I attended Bette Midler's one woman show where she played Barbra's agent Sue Menger's during the height of her career in the 1970's. Seeing Midler's play where Streisand was still trying to navigate stardom, then watching the isolation she seems to have embraced in
Buyer and Cellar
makes her more relatable in a lot of ways.
MU:
Very true. I have had the privilege in my career of having been given a little taste of celebrity and can certainly see how perspective's change. Her level of fame is unmatched but everything comes with a cost. That is what is so great about the structure of
Buyer and Cellar
as it does not make fun or disrespect Barbra in any manner. I think Jonathan's script makes her understandable and accessible to everyone so you don't even have to be a fan to get something out of the play.
MJR:
You also recently starred in the Broadway revival of
How To Succeed In Business Without Really Trying
which is a big musical with huge cast. As an actor, do get more satisfaction from being in an ensemble piece or a one man show, such as
Buyer and Cellar
.
MU:
I try to work in the moment whether it is television, a film or theatre. An ensemble does make you feel a bit more protected which I had with the cast of
Ugly Betty
and
How To Succeed
. But there is a connection I have with the audience doing
Buyer and Cellar
that I have never had before and they are on a journey with only myself to be able to make their night at the theatre enjoyable.
MJR:
I also wanted to take a moment and thank you for all the humanitarian work you do for the LGBTQ community. I've been at some of the charity events that you have chaired you have an amazing gift to connect with people. Also, congratulations on receiving the Clarence Derwent Award for your performance in
Buyer and Cellar
. Not even Babs received that one!
MU:
Ah, thank you Michael, your very sweet. I can't wait to perform this play in Chicago and the Broadway Playhouse, which is such a great theatre space and is the perfect space for the show!
Buyer and Cellar will play Chicago for a limited engagement beginning May 6, 2014 at the Broadway Playhouse at Water Tower Place, 175 E. Chestnut) For more information, visit www.BroadwayInChicago.com or www.BuyerandCellar.com.

Tickets range from $35-75. A select number of premium seats are also available for many performances.

Tickets are available now for groups of 10 or more by calling Broadway In Chicago Group Sales at (312) 977-1710. Tickets are available at all Broadway In Chicago Box Offices (24 W. Randolph St., 151 W. Randolph St., 18 W. Monroe St. and 175 E. Chestnut), the Broadway In Chicago Ticket Line at (800) 775-2000, all Ticketmaster retail locations and online at www.BroadwayInChicago.com.
Interviewed by Michael J. Roberts. Michael J. Roberts is theatre editor for the ChicagoPride.com covering Chicago's diverse arts and entertainment scene.