A GoPride Interview
Chloe Chaidez
Independent woman: Kitten frontwoman Chloe Chaidez on the band's success
I want to go there with Kitten.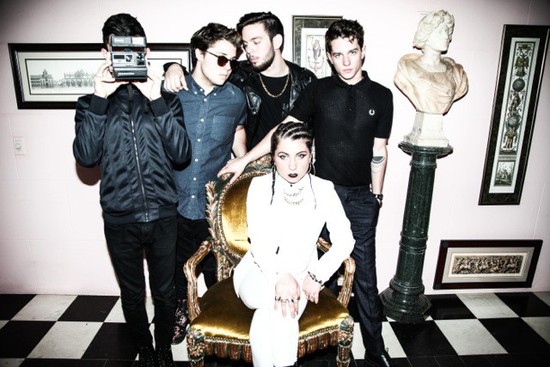 photo credit // kaitlin christie
The band known as Kitten continues to rock with more than a meow. Chloe Chaidez is the charismatic lead singer and formed the group in LA in 2009. A year later Chaidez released her first EP called
Sunday School
then followed it with
Cut It Out
. Her current EP
Like A Stranger
is out with a debut album release planned for 2014.
Kitten has opened for groups like No Doubt, Paramore and recently hit Chicago with Charli XCX at Schubas where we met up at the bar to chat a bit about a budding career that is quickly baring its claws.
JN:
(Jerry Nunn) Hi, Chloe. You are currently sixteen years old?
CC:
(Chloe Chaidez) I am eighteen.
JN:
You started in the music business when you were very young?
CC:
I was in a band when I was really young.
JN:
You always wanted to be a singer?
CC:
Pretty much. I always knew I wanted to do this. I started playing my first instrument when I was ten years old.
JN:
What instruments do you play?
CC:
Drums, bass, guitar, piano. My main instrument is guitar but honestly I prefer the bass. I would love to play bass in another band. That would be really fun.
JN:
Are you good at math?
CC:
No. My brother is though. He goes to MIT and studies computer science. He's good at math but I am the opposite.
JN:
How did you start in the music business in the first place? Were you parents encouraging you to do it?
CC:
My dad was in an eighties punk band when he was younger. He was always in bands and recording music. I'm trying to think of anyone else who is musical in my family. My mom is a writer but didn't really inspire me musically so mostly my dad.
JN:
You are from LA?
CC:
Yes.
JN:
How many times have you been to Chicago?
CC:
I think this is my sixth time here.
JN:
I heard your family is very supportive of your career.
CC:
My grandma is. When I was really young she went on tour with me.
JN:
What inspired the name of the band Kitten?
CC:
It just sounded very classic and iconic to me. It seemed a little retro at the time before I knew what I really wanted to do with the project.
JN:
It is hard to google.
CC:
Do it in big letters.
JN:
Good tip. How did you go to school if you were touring?
CC:
I took my school on the road with me. I stopped going to school in high school and started touring. I got a tutor who I really loved and that is how I did it.
JN:
What inspired your live version of Prince's "Purple Rain?"
CC:
I really love Prince. It is one of my favorite songs of all time. I thought it would be really powerful live. I feel it is a bit taboo to cover that song. It is a big choice. It is a bold move I would say. I am sure there are people in the room scoffing at it but if it comes off brave I am happy with it.
JN:
How has it been touring with Charli XCX?
CC:
Great. I have known her for a long time actually because she messaged me four years ago in Myspace with "Hey girl, when you come to the UK we should hang out." Three years later I saw her on some blog and thought she was so amazing. We then played a show together and she is just awesome.
I feel that if we were not on tour in the same city then we would find each other anyway and be great friends.
JN:
Your backup singer is from Chicago so you have to come back maybe for Lollapalooza.
CC:
Yeah, I would love to play Lollapalooza.
JN:
Your latest album is an EP titled Like A Stranger. "I Will Be Your Girl" was a good track.
CC:
Thank you. It is a bit more beat oriented.It was fun to make. I feel it is a really honest and direct expression of that time of what really moved me. I was listening to The Eurythmics, Tears For Fears, and Depeche Mode.
JN:
So eighties inspired...
CC:
All of that stuff, like Psychedelic Furs.
JN:
How do you know these bands?
CC:
People always ask me that. I think it was the only genre of music that my dad showed me. He never really showed me great pop music but I felt the best pop music was from the eighties. He liked that British sound but because he hid it then I sought it out.
JN:
I went to Sinead O'Connor recently and she is still so good.
CC:
That is awesome! I love her.
JN:
They announced gay marriage during her show. I noticed a lot of gay fans at your show.
CC:
There are. The gay men buy a lot of shirts and dance with great enthusiasm.
JN:
Talk about enthusiasm, you do a lot of hair flipping. Is your neck sore after a show?
CC:
No but it definitely keeps me in shape on tour. After I haven't played a show in a while I will get a little sore though. When I am at home and with me friends then I will act the same way so it is nothing different than when I am onstage. I will hear a song and dance exactly the same way. If I get a couple in me then it's on!
JN:
What is next for you musically?
CC:
Putting out a full length record and continuing to tour. I want to make the best records that I can and would want to listen to them if I wasn't the one making them. I definitely want to be doing this for the rest of my life. It may not be the same moniker my entire life but it is what I want to be doing. I want to go there with Kitten.
Keep up with Kitten at
www.kittentheband.com
.
Interviewed by Jerry Nunn. Jerry Nunn is a contributing writer to the GoPride Network. His work is also featured in Windy City Times, Nightspots Magazine and syndicated nationally. Follow @jerrynunn