A GoPride Interview
Eric Himan
Indie Idol: Stephen Leonard's seven questions for Eric Himan
Tue. August 6, 2013 by Stephen Leonard
Gracefully's songs didn't feel forced, were simplistic, but I feel like they work well together with a style that is fluid and not all over the place.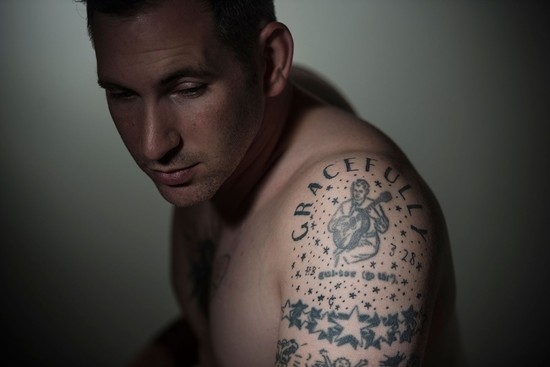 photo credit // erichiman.com
It is no joke that I was on the toilet when I first read about Eric Himan. It was my junior year at Michigan State University and there I sat one afternoon in my confined apartment bathroom, flipping through the latest issue of OUT magazine when I came across a striking photo and article of a man promoting original music. The man, of course, was Eric Himan.

Now a few years later and fresh off the recent release of his new album, Gracefully, I had the privilege to talk to Eric one-on-one.

SL: (Stephen Leonard) Has anyone else ever told you that they've discovered your music while in the bathroom or another unlikely place?

EH: (Eric Himan) Ha, that is a first! You never know though where people discover you/your music and I love that. An unlikely place would be when I actually heard my own music on SiriusXM Coffeehouse while I was getting my haircut at a place in Tulsa, Oklahoma. I said to the woman cutting my hair, "I think this is me". She said, "you?", I said "On the radio". She said, "are you sure?" I listened and said, "yes, I am."ha.

SL: I remember hearing "Save the Afternoon" pretty regularly on Coffeehouse, which was a pretty cool experience for me as a fan as it was the first time I had ever heard you on the radio. But the first song of yours that I actually heard was "Kinda Hard." I remember connecting to this song instantaneously. Now, when you listen back to some of your earlier work and compared to your most recent release, Gracefully, how has your songwriting process changed? Or has it not?

EH: My songwriting has changed over the years. When I first started writing it was very guttural, very instantaneous. I would write and want to produce a song immediately. Sometimes that worked and sometimes I didn't get my point across quite the way I intended. Throughout my albums, I tested different methods of poetic writing (villanelle, stream of consciousness, etc) and styles (rock, folk, pop, bluegrass) and finally came to Gracefully" where I felt like anything you do intentionally, at first, it is forced but starts to work naturally down the line.

I also took more time writing Gracefully than any other album. Gracefully's songs didn't feel forced, were simplistic, but I feel like they work well together with a style that is fluid and not all over the place.

SL: Red Hot Tears, your latest music video and the opening track on Gracefully really sets the tone for the entire album. The production behind this track and the entire album seems to be a slightly different sound than your previous releases. What inspired going in this direction?

EH: I've always loved the sound of folk, rock, and soul. When I wrote songs in the past incorporating all three, the rock part seemed to take over. With Gracefully, I went in with a different set of production ideas wanting the soulfulness to push through more. I wanted to bring in my backup singers (Tylisha Oliver and Tina Phillips) from the work I did with my Queen cover shows and I wanted to include a horn section (sax player, Ryan Tedder and Dave Johnson on trumpet), which I never did before. Once those elements were in place, I was introduced to other musicians (drummer, Brandon Holder and bassist, Matt Hayes) who got what I wanted to do and it gelled really well from there.

SL: You mentioned covering Queen. What was it like to channel Freddie Mercury on stage? And was this the first time you grew out a moustache?

EH: I had this idea to pick a band that could be a tribute concert AND a production. The band that fit this instantly was QUEEN. Been a big fan and wanted to embody the spirit of the band without mimicing them too much. As the big show got closer, I realized everyone else didn't have dress up like the members of the band to do the show justice, I did. I watched tons and tons of videos of Freddie Mercury. It is a lot of pressure to live up to people's expectations of yourself, let alone impersonating someone so historic. It was the first time I grew out a mustache for the part and received mostly positive feedback on wearing it.

SL: One of my favorite tracks on the new record is "Everything To You." I especially enjoy the opening chorus lines: I've been a lot things to a lot of people, but this time I want to be everything to you. As an artist and someone who is on the road quite a bit, in what ways do you keep sane or even true to yourself in order to be that everything to close friends and family?

EH: It's easy to stay sane when you surround yourself with people that make you a better person. I am very lucky with that in my friends (all around the country), my husband, and my awesome group of musicians. Eating delicious food and coffee from Dunkin Donuts helps (you knew that though!).

SL: Gracefully — both the name of the record and final track — was inspired by your grandma. What role has she played in your life?

EH: My grandma Grace was the woman who raised me (along with my dad and grandfather) after my mom passed away when I was 4. She taught me about art, people… She encouraged me to pursue my music career and when she passed away last August, I felt lost. Throughout this recording, I knew I wanted to write a song about her and the very last song we recorded was "Gracefully".

SL: Do you have any future plans to come back to Chicago in support of Gracefully?

EH: I ALWAYS have plans to play Chicago. Working on a fall date where I can bring my band up and have a big show! Chicago listeners have been so supportive of my career and with this new disc, I can't wait to play these songs live for them.

Eric Himan's Gracefully is now available on iTunes.

Eric Himan releases 'Red Hot Tears' video


Interviewed by Stephen Leonard
Serving the Chicago gay, lesbian, bisexual and transgender communities. ©Copyright 2019 GoPride Networks. All rights reserved.