A GoPride Interview
Mike Maimone
A pianist's pedigree: an interview with Mike Maimone of the Mutts
Being more open and honest has made me a better songwriter, a better performer.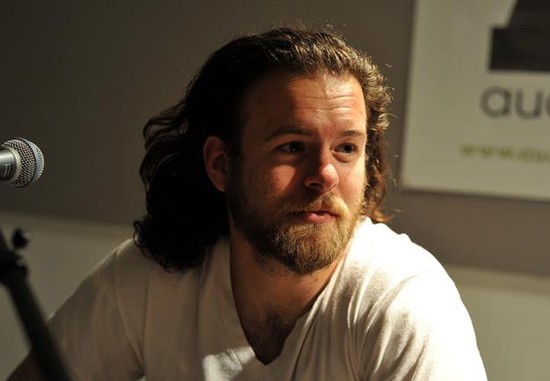 mike maimone, of the band mutts
photo credit // evil vince photograph
Out singer/songwriter Mike Maimone, of the band Mutts, began studying piano as a child. But as he got older he "got away from the lessons" and became "kind of a meathead jock in high school." He had hoped to play football at Notre Dame, where he received a degree in accounting, but he "wasn't big enough or fast enough" to play. That's when he went back to music and began playing in bands. So, thank you, Notre Dame, for putting Mike on the musical path, because we are all winners in this situation. On the Mutts latest disc Object Permanence, the band shifts gears, becoming a piano/upright bass/drums combo, a fitting transition for a band with a lead singer who sounds like the long lost son of Tom Waits. More innovative than imitative, the songs on Object Permanence leave a permanent mark, an aural tattoo, if you will, on the listener. From the rowdy drinking song spirit of opener "No One Left" to Maimone's mugging on anti-mugger tune "No Loot" to the exquisite knockout "Prizefighter" and the political statement of "Pray Like a Vigilante," there's little to object to on this album. I spoke with Maimone during the summer of 2013. (Mutts perform in Chicago at Taste of Lincoln Avenue on July 28 and at Tonic Room on Aug. 16, and at the Wasted Plains Festival in Woodstock IL on Aug. 17.)

GS: (Gregg Shapiro) Mike, you are an Ohio native and a graduate of Notre Dame in Indiana. How did Chicago become a stop in your Western progression?

MM: (Mike Maimone) Going to Notre Dame, most of my friends moved here are or were from here. There's also an intermediate stop in Portland (Oregon) in that trajectory. I played in a band in college and we tried to make a thing of that in Chicago and it didn't work. So I moved out with the bass player and started a band in Oregon. That band broke up, as most bands do it seems, and that's when I came back to Chicago for good.

GS: This next question is very important - do you have a dog and is it a mutt?

MM: I have two dogs and neither is a mutt. They belong to my partner. They're both corgis. They're little delinquents, but I love them.

GS: So then what is the story behind naming the band Mutts?

MM: It speaks to our different musical influences and basically our different personal influences. Being American and having different ethnic backgrounds. Not wanting to get stuck in to any different genre. Feeling like if anybody down the line says, "you've changed," (we can say) we called our band Mutts at the outset because we knew we didn't want to do any one thing for too long.

GS: In terms of the formation of the band, when I first heard your name, via your 2008 Pretty Pictures EP, you were a solo artist. You and Bob Buckstaff also did time with Company of Thieves. How did all the pieces come together?

MM: That Pretty Pictures EP was Bob's idea. When we were on tour (with Company of Thieves) we were staying in some hotels with pianos in the lobby. I would just go down there and jam. Bob would give me encouragement. We were on tour with Plane White T's, Company of Thieves and this boy band Days Difference. We were at our wits end and we were at this dive bar across the street of the venue escaping and listening to Tom Waits and Elliott Smith and Nirvana. All the things that we loved were on the jukebox and we decided to start a band [laughs].

GS: How did you find the third member Chris Pagnani?

MM: In the small world of Chicago, I was living on a couch in the recording studio when I first moved to town. That guy came in to do some work overnight and Bob knew him from bands that he had played in, so everybody seems to be interconnected when it comes to music around here.

GS: The names of a few musicians are tossed around when it comes to describing you, but for me it's the Tom Waits influence, whom you mentioned, that comes across the strongest. Which came first – discovering that you could write and sing like Tom Waits or you being turned on to Tom Waits?

MM: I did not hear him first. It's a blessing that somebody noticed that and told me about the man. I started playing open mics down at Subterranean (in Chicago's Wicker Park neighborhood) when my college band was kind of breaking up. That's when I first started to get the bug that I needed to start singing the songs that I write if I want to be able to keep doing this and not have to rely on the availability of other musicians. I didn't have any idea what I was doing when I first started singing. That's what came out. Somebody came up to me and said, "You sound like Tom Waits." I said, "Who?" I listened and I didn't get it at first, I kept listening and I finally got into him on The Heart Of Saturday Night. That's my jam with him. Later I got into Rain Dogs and that introduced me to the more contemporary modern Tom Waits.

GS: Mike, how would you say your coming out process and your identity as a gay man comes into play in your work?

MM: I think it fuels my songwriting, first and foremost. Actually, (it was) at the encouragement of Pete (Buckstaff, brother of Bob), to be more honest when I'm playing. I like to give a little story about a song. I feel like it makes the audience latch on a little more. Being more open makes it easier to make connections with people. In the end it's about connecting with people, that's why we do this [laughs]. Being more open and honest has made me a better songwriter, a better performer.

GS: Your Randy Newman influence definitely comes across in "Pray Like A Vigilante." It's a smart and sensitive song, made even more so by the fact that you are a gay man. That perspective reminds me of the way that Newman wrote about being Jewish (a minority, like being gay) in the predominantly Christian south.

MM: The genesis of that particular song was watching a Rick Perry Republican town hall meeting where this soldier gets up, in full regalia, and people cheered like they do when they see a veteran get up. His question was about how he (as a gay soldier) served proudly and openly and whether Perry was going to reinstate Don't Ask, Don't Tell. He's in Texas at this town hall and he has the courage to ask this question. People booed him. They turned a total 180. They go from cheering this guy that's serving for us overseas to booing him for asking this question. And this is Rick Perry, one of the main guys who says we need God in our politics and in our schools. All these people who claim to be Christian are totally two-faced and hypocritical. The first verse of that song is about the Christianity "love everyone like you love yourself." The second verse is about the Christians who are also for the death penalty and going overseas and fighting wars. I can't stand it.

GS: The stunning song "Prizefighter" first appeared on your 2008 album Open Mic Nights, Empty Bottle Mornings. Why did you choose to re-record it on the Mutts disc Object Permanence?

MM: When Bob and I started this residency down at (Chicago music venue) Reggie's, it was piano, upright bass and later our drummer would come on. We started playing those older songs we started writing new songs and doing covers. That was the song that really felt like it needed an update. Switching from electric to upright bass made a profound difference in the way that song sounds. We played it with Chris, that feeling of bringing the drums in later, laying it back more into the very end, it felt like it was a new song to me and needed to be of your rerecorded.

GS: Object Permanence also contains two versions of the wonderful "If It's Hot, It'll Sell," including one labeled "clean." What was involved in the decision to do that?

MM: With Pray For Rain (the first full-length Mutts disc), we sent it to college radio. It was really cool to see the reaction. But I think there were a couple of songs on there that couldn't be played. With Separation Anxiety, we knew that "Half Mile" was the song that we wanted people to play, so we put it as a hidden track and let DJs and program directors know that track 11 is track three, but without the swear words. It confused the hell out of every DJ. So, with "If It's Hot, It'll Sell," we made it easier to find. I feel like that song, with Jodi (Rosenthal) from Lying Delilah singing is one of our peppier, radio friendly songs. Which is funny since the song is about commercialism and it's our most commercial song.

GS: Mutts released two discs in one year, Object Permanence and Separation Anxiety. Can you say something about why they were released as separate albums instead of, say, a double disc set?

MM: I think it was not wanting to open the floodgates that fast; because they are such different sounding albums. We wanted to get one out and then go on tour and play those songs. With Object Permanence we knew we were going to do something completely different than we've ever done. With this last tour, we went out with no amplifiers, which is kind of scary [laughs]. We've never done that before. We want to let each album breeze and be able to tour behind them. We do rework some of our older stuff with the upright bass, drums and piano. It's an eye-opening experience to look at those heavy songs without any amplification.

GS: Would you say that one is a truer reflection of your aesthetic over the other?

MM: I would say that my personal aesthetic would be Object Permanence. The piano is where I started. I think it's meeting Bob and the original Chris -- we've had two drummers named Chris -- the new Chris is on all of the new stuff. Both the first and second Chris are heavy drummers. Original Chris, Chris 1.0, was way into (Frank) Zappa and Yes, all the stuff I never listened to. But it gets into my filter and it comes out. Chris 2.0 is really into punk rock, like Bad Brains and Black Flag, and newer stuff like Green Day. I love the energy of letting it rip, but I think at my core I'm a piano player.

GS: Have you begun thinking about or writing songs for the next Mutts disc?

MM: Oh, yeah [laughs]. I think I want the next one to be a little more like Pray For Rain where it was really well thought out -- not that these weren't. But we found that everything segued and rolled into each other and I want to do that. I want to make the next one one big, long story. I have some different pieces that are coming together.

GS: You have been performing some solo shows, including one at the LGBT performance series Homolatte in Chicago. How do your solo shows differ from your Mutts shows?

MM: I think it's a little more free-flowing. I can just stream of conscious. But the guys have been used to catching that with me. Because I'm playing small coffee shop type places I can interact with the audience more. It's almost conversational. I can feel of people are into. If nobody is tapping their toes to a song that I know is a toe-tapper, I know I have to go with the ballad here and maybe build it up.

GS: It's great to hear that you have that kind of insight, because not every performer is able to read an audience like that.

MM: It's definitely been a process. The more that I play the better I get at being part of the room versus playing to it. We are all in this situation at the same time [laughs].
Interviewed by Gregg Shapiro. Gregg Shapiro is both a literary figure and a music and literary critic. As an entertainment journalist, his work appears on ChicagoPride.com and is syndicated nationally.