A GoPride Interview
Max Von Essen
Broadway star Max Von Essen on Falsettos; now playing at Broadway in Chicago's James M. Nederlander Theater
Isn't it amazing once you know who you are or what you wanna say in something like this it does start to fall into place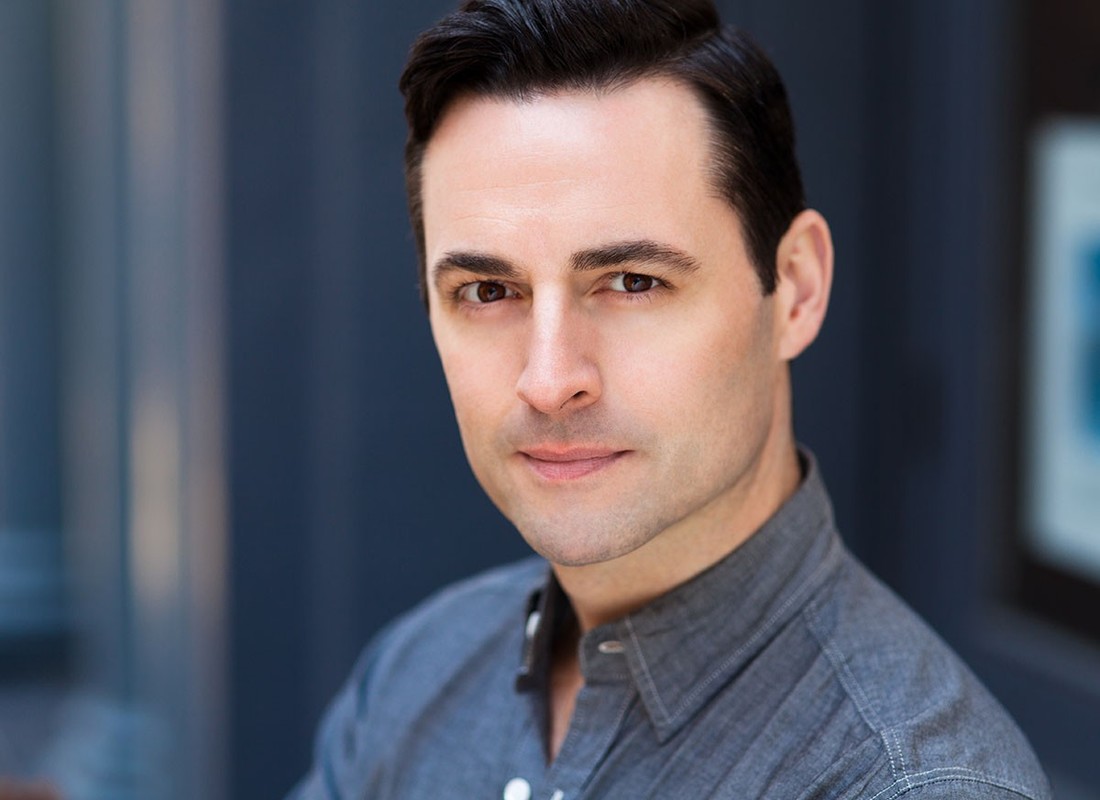 photo credit // pasha kalachev
The groundbreaking musical Falsettos revolves around the life of a charming, intelligent, neurotic gay man named Marvin, his wife, lover, about-to-be-Bar-Mitzvahed son, their psychiatrist, and the lesbians next door. It's a hilarious and achingly poignant look at the infinite possibilities that make up a modern family - and a beautiful reminder that love can tell a million stories.
The show is playing at Broadway In Chicago's James M. Nederlander Theatre (24 W. Randolph) for a limited engagement May 28 – June 9.
We talked with Max Von Essen, Broadway star and Tony-nominated actor (Best Featured Actor in a Musical, An American in Paris) who's currently touring the country as Marvin in the production, about the show, touring with Liza Minnelli, and his newly releaed album.
The Interview is available in audio and printed format

Von Essen recently starred in the Broadway production of Anastasia as Gleb Vaganov. He is best known to audiences as Henri Baurel in the Award-winning production of An American in Paris, a role which earned him nominations for the Tony, Drama Desk, Outer Critics Circle and Grammy Awards. Other Broadway credits include the revivals of Evita, Les Misérables and Jesus Christ Superstar. 
In addition to his stage credits, Von Essen has appeared on television in Law & Order: SVU, Elementary, Boardwalk Empire, The Good Wife, Royal Pains, Gossip Girl, The Beautiful Life, Good Morning America, The Rosie O'Donnell Show, The Intern, Sex and the City 2, Seven Lovers, and Blonde.
MI: (Matt Inawat) Tell us about your journey for being a part of this amazing tour of Falsettos.
MVE: (Max Von Essen) Well it definitely was seeing the revival; it changed everything for me. I wasn't really familiar with the show. I saw it a little over ten years ago. One of my best friends was playing Whizzer and I was blown away and I was very emotional I remember watching my friend going through what he goes through in the show, and I was a mess. But I didn't connect to it personally as an actor, meaning I didn't see myself in any of the roles at the time. 
And then I saw this revival and I saw my pal Christian Borle playing this role Marvin and Christian and I go way back; I mean, I think we are a year apart in age, and we were doing West Side Story in Europe when we were like 23 years old as Tony and Riff. Suddenly I watched him doing this and I was like " oh, I'm ready, I'm at a point in my life that I'm ready to take on this complicated guy, this dad, this divorced man, this man who has come out as gay, who finds a lover. I've lived enough, I'm old enough." And I just hadn't connected before like that, and I saw this revival and I think, I don't know. 
And people say what are your dream roles? Well I hadn't thought about this role before because sometimes you forget that you are getting older. You know what I mean? I'm still connected to these young leading men - well I'm not a young leading man anymore and that's fine. So it's kinda nice to see these things and see this role and, God it's just such a complex role and completely sung through. It would be so challenging for me as an actor and a singer. So I saw that production, and I made a mental note, that if they did a national tour – that was just a limited production so there was no chance of me taking over or anything – that I've got to get involved, that I've gotta fight my way into it and so I did. So they announced the tour and I fought my way into it.
MI: So what message from the show can theatre viewers take away, especially if they are seeing it for the first time?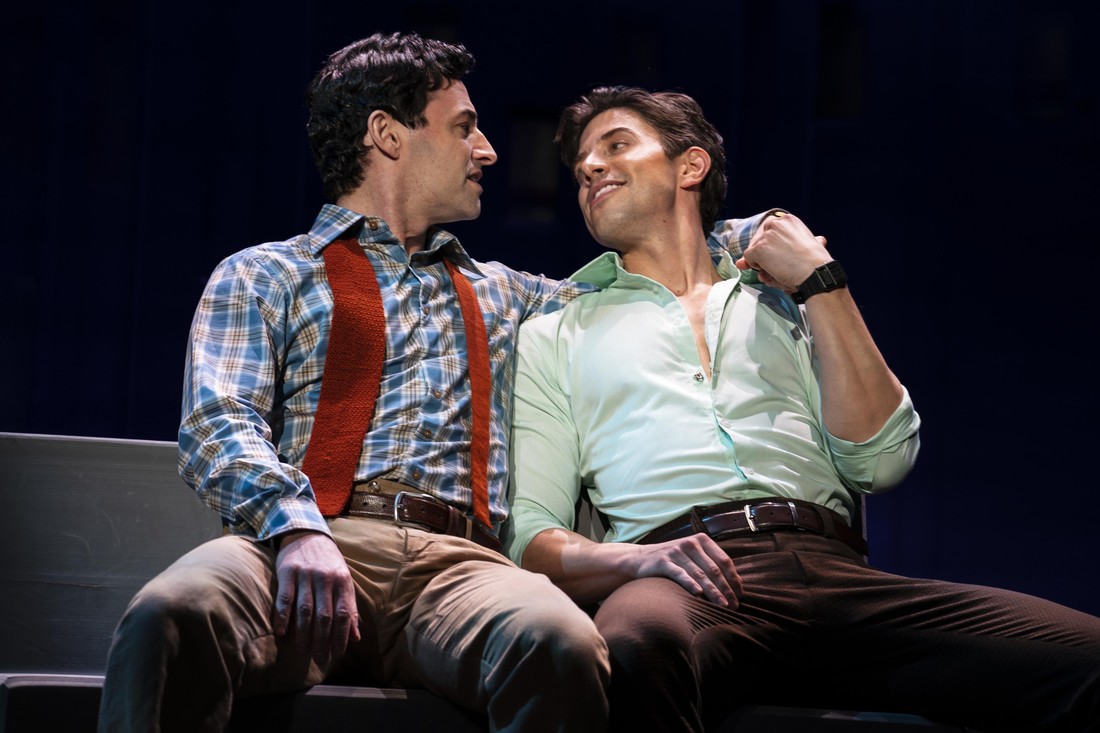 Photo: Falsettos National Tour (Max Von Essen and Nick Adams). Credit: Joan Marcus
MVE: I love what people are taking away is that they see themselves somewhere in the show. It's a quirky, kind of outrageous show; some of the things we go through are pretty extreme. However everyone in their lives connects to these feelings of, you know, I lose the love of my life to AIDS, well many people have lost the love of their life – it could be their mom, their sibling – many people have lived through a divorce, many people have fallen out with their own family and have had to find their chosen family, many people have struggled with their sexuality and coming out. There's so many things these people deal with, they are so flawed, they are so complex, and yet they are so beautiful and that is what I think life is and I kind of like that represented on stage. This chosen family and growing up and finding your place. It's amazing how people connect with so many different things in this show.
MI: So tell us a little about your own character, Marvin. How are Max and Marvin alike, how are they different? Was there anything outside of the ordinary you had to do to prepare for the role?
MVE: Not necessarily. I just have to allow myself to really go there in rehearsal and to continue to in performance, because I would say what's great about me and Marvin is I am actually quite a bit like him. However, we were in very different situations, and different generations, and I feel very thankful that I grew up in a very loving family and although I questioned my sexuality and I was scared to come out I did come out and I was embraced. Where I think if I was born twenty years earlier I might have repressed my own self and allowed myself into a marriage that I didn't feel comfortable with, allowed myself to have children – not that we don't have children now, but children in a different kind of scenario – and you know some people handle that, fine, it doesn't come out in a negative way.
But for Marvin that repression has led to him being kind of caught in his own mind. He hasn't matured, and he also is violent. He is violent emotionally, he's a little bit violent physically. He's scary. He's at this place where he is caught and he hasn't fully grown up and become a man. A man to his wife. A man to his son. He is troubled and I think I could have been just as troubled if I didn't have as supportive an atmosphere as I did. 
And so, I have 10% of these qualities and he has 100% of them. So I have to allow myself to go very far in what I've experienced in my life and take it many, many, many degrees further and try and experience what that would have been like and its scary and I don't really like it. And I don't really like the feeling I get from the audience throughout Act One which is, they aren't on your side and they aren't supposed to be. Marvin is dark, Marvin is violent like I said emotionally and at times physically. And its scary and I as a person and performer don't really love that feeling because you can't really separate the vibe of the audience. It's a relationship with that live audience and you can really feel them not on your side and I like to be liked!
MI: I'm so glad you mentioned that. Sometimes the audience doesn't think about how much of a challenge it is for the actor up there to play someone who aren't supposed to be liked.
MVE: Totally, and you know I hadn't even realized that to be honest. I haven't actually been asked to play a character quite this dark or complex. I'm so glad he redeems himself in a lot of ways and that he does grow up. He may be 40, 35, 40, but he does grow up and he does mature. 
Just like his son whose having his bar mitzvah and becoming a man in the Jewish religion, Marvin – the dad – is also becoming a man on his own, in this sort of parallel world to his son and I think that is really beautiful and I think it is great because people can change. We don't have to write off people just because they are flawed, just because they can be stubborn and ugly and even a bit violent at times. 
People deserve another chance and his world gives him the love and they stand by him and he comes through it and so that is kind of nice. The audience may not be completely in love with him at the end, but they do see his growth and they are kind of inspired by that and they all kind of remain hopeful for what this man and this whole family might experience if this show were to continue. You imagine their life beyond this show and you can be hopeful.
MI: Let's talk about you a little bit. Was there a moment that you just knew you were born for the stage? How did you get started in theatre?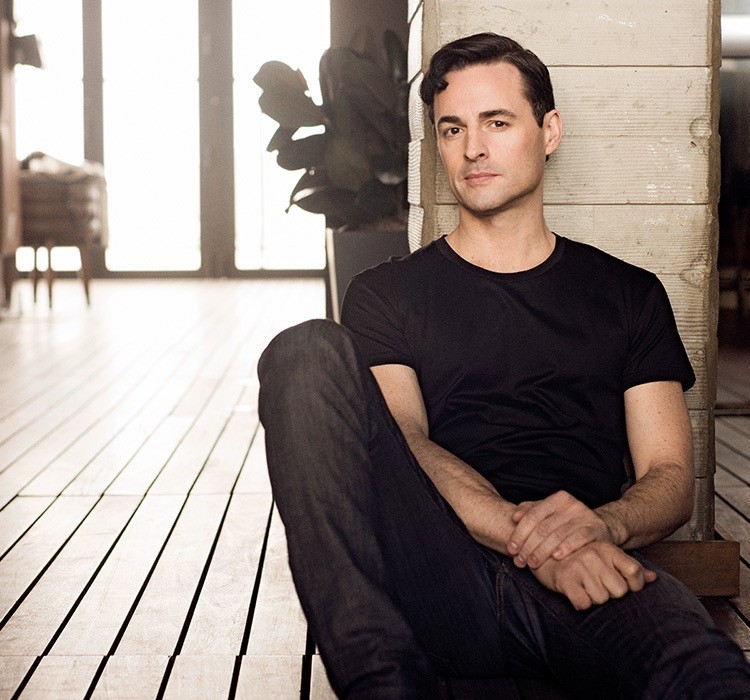 Photo: Max Von Essen. Credit: Luke Fontana, maxvonessen.com
MVE: I didn't know that I was born for the stage, but I definitely knew pretty early on that I desperately wanted to be on the stage. I grew up the youngest of four kids. My parents were amazing and supportive, like I said, but they didn't grow up with the arts so they weren't really introducing that to me. I kind of had to find that or be inspired in other places, bring it to them and then they were like "oh yeah great, you want piano lessons, terrific." Anything that they saw I had a love for and that I was committed to, they were all for it. Just as they were all for the sports with my siblings. So they bought me a crappy old used piano and gave me lessons and then once after two years of being really committed and getting good they bought me a nice piano and that led to singing lessons, and that led to a little bit of dancing. I would run into the city for a quick acting class, because I grew up on Long Island, they supported it every step of the way. 
Once the piano led to the singing that is when I think I was fully hooked. Because once it took me from playing for people, to being on the stage singing for people, that was something that really hooked me. And then within a song you are already acting because if you are just singing a song without really acting it wouldn't be very interesting. So that really hooked me on the acting and then that was it. And by the time I was in the 8th or 9th grade my parents allowing me to go to Broadway shows regularly, or taking me and letting me go to see them on my own, that was it, I was hooked. 
It was a different time. There wasn't social media, so you didn't feel a real connection to a lot of these actors. So it seemed kind of unattainable. It seemed like this dream, like a fantasy. When I graduated from college I was just like "hey, I'm gonna go for it." I moved back to New York and started auditioning and then I realized oh, this is a thing. Not necessarily just Broadway, I just mean acting in general. I was being hired to sing and act and I said "oh, I can do this." Will I get to Broadway, I don't know, will I become a star, who cares, but I can work and that became exciting.
MI: And tour with Liza Minnelli! THE Liza!
MVE: Yeah, that was, I got that three or four months after I finished, maybe less than that. I mean, what a trip! 
I was this closeted little kid who was like in love with Liza. I knew who Liza Minnelli was before I knew who Judy Garland was. Then when I realized they were mother and daughter then of course my little gay heart exploded as a kid. Secretly, of course, but I was obsessed with Liza and so when I saw this audition in Backstage Magazine, I was like, that she needed one more backup singer, a guy – she had two, she needed three -  I was like "hello, I have only been training for this for 15 years." 
So I just started auditioning and finally the fourth call back I got to meet her and started touring with her, and it was just surreal, I mean a total dream. She was the nicest, you can imagine, hilarious, and it was fancy! I was suddenly this 22 year old kid traveling to Monte Carlo, getting picked up in cars and staying at the Four Seasons. Going to Beverly Hills and Vegas to do concerts, it was ridiculous.
MI: So since we are talking about music here, you have a new album that just came out, congratulations!
MVE: Thank you so much
MI: So last night I actually had it playing in the background while I was working and it was such a beautiful and smooth and relaxing listen. So I actually ended up pouring a glass of bourbon and just chilled the rest of the evening.
MVE: Oh that is the best review I have ever gotten! I really wanted it to be like that so I appreciate it.
MI: So tell us a little bit about the album and your inspiration for it.
MVE: Yeah, well you know I have always wanted to do an album. I have always wanted to do a solo show, but I was always so scared and intimidated. I was always like what do I want to say, what do I want to do? 
I think doing An American in Paris on Broadway really gave me a lot of courage to take on something like this because I was obsessed with Gershwin when I was a kid. So the idea that I was 20 something years later, on Broadway, singing these same songs that I taught myself when I was playing piano in fourth grade, it just seemed so surreal to me. 
And the songs were such a part of me it just felt like conversation as I sang them. So I knew wanted to have that be a highlight of the show and ultimately the album so I kind of started from there. Then I realized I can try to sing songs that are more contemporary. I'm not exactly made for Hamilton or Dear Evan Hansen, and I love those shows. 
But when I take on things from the golden age of musical theatre of the American songbook, it just has a comfort level for me and I said for my first show into an album it's gotta be authentically me, so things just started to fall into place. I knew I wanted to have a vintage kind of feeling, and I knew I wanted to sing the song "I'm Old Fashioned" and Billy had the idea, Billy Stritch my music director, had the idea to pair that with "Everything Old is New Again" because it has the same theme and vibe that we were going for and things just started falling in place from there. 
There were some songs I took from more recent shows like "Death Takes A Holiday" where I sang this song called "Shimmy in Paris," which could have been written in the 30's so it fits. And then I tried to rediscover my song from Evita, "On This Night of a Thousand Stars" and have it seem like this old romantic standard or ballad. So some things are newer, but we do feel like the overall feel is a love letter to an era gone by.
So it just kinda starting falling into place. Once I knew it was of another time, and once I had Billy Stritch onboard, and I knew that Gershwin was going to be a highlight of the album and the solo show, then things really just started falling into place from there. 
Isn't it amazing once you know who you are or what you wanna say in something like this it does start to fall into place. For years, I would have a notebook and keep all of these ideas and nothing was really exciting me and then once I felt this starting to come together then all of the sudden it just kind of writes itself in a way. Gotta do the work, but...
MI: So you're going to be in Chicago, are you excited?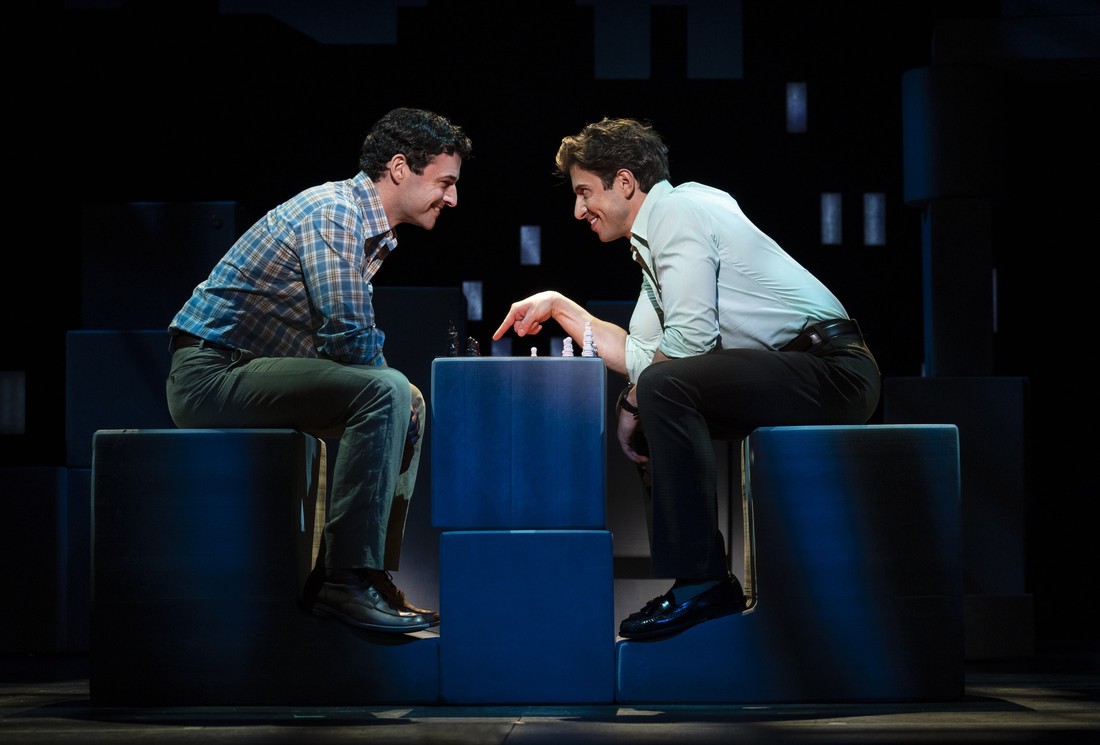 Photo: Falsettos National Tour. Credit: Joan Marcus
MVE: I'm very excited , I love Chicago. I don't know how nice it is there yet, but I have never been there other than the dead of winter, so I'm hoping it is a little nicer at this time. So I am excited to be back, and I have never played the Oriental, which is now the Nederlander. So I am really excited and apparently sales going really well. And I can't wait. I love Chicago and I love the show. It has been really fun just bringing this show to different cities.
MI: Any favorite hangouts or restaurants that you gotta just do while you are in town?
MVE: No, the last time I was there was 10 years ago. Even then I was at a small theatre by the Water Tower where I did Xanadu, a little Schubert or something. It has been a while.
MI: Yeah - Drury Lane? Or Broadway Playhouse is what it is called now.
MVE: Yeah, Drury Lane. It was so cold, so I just basically went from my hotel room to the stage door. So you will have to let me know if there is something I should see, I'm excited to explore the city a little bit. I'm excited because I am staying with my friend Colin Donald who has been there for a couple of years shooting a TV show and so I feel like I will be in someone's home and he can tell me where all of the cool places are which is always nice. It is always nice to visit a city and feel like you are with someone who lives there and knows the city.
MI: So the last few questions before we close the interview here are just quick answer questions so whatever comes up top of mind. So what is something in your home that would make a stranger think you were gay?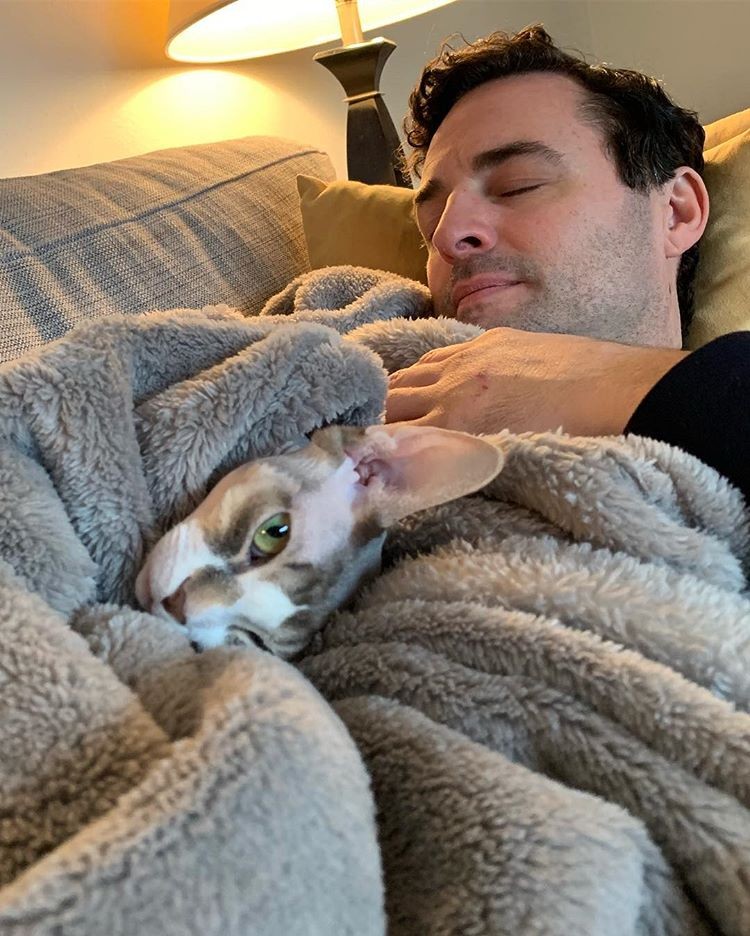 Photo: @Pocketthesphynx Credit: Instagram
MVE: Oh gosh, kinda looking around. My hairless sphynx cat.
MI: I'm gonna have to check your Instagram for photos of that.
MVE: Oh she has her own! @Pocketthesphynx I could say the artwork of nearly naked men, but that is so common!
MI: So what is something that might make a stranger think you were straight?
MVE: I'm literally sitting in my living room looking around and there is literally nothing!
MI: There has to be something!
MVE: I keep out my dad's old firefighter helmet. An old firefighter's helmet.
MI: Name your top three Broadway mancrushes.
MVE: Gavin Creel, Jeremy Jordan and Zach Adkins. You know Zach?
MI: I don't know Zach.
MVE: We were in Anastasia together, Zach Adkins.
MI: So tell us about a charity that is near and dear to you.
MVE: Broadway Cares, Equity Fights AIDS. Has been for a really long time. It goes without saying. Just incredible. Not that it matters, but they have been so successful in their 30 years that they have gone beyond just HIV/AIDS and awareness and education and prevention, they have been able to help with so many organizations around the country or organizations here in the city, free health clinics, women's health initiatives. 
They are just one of those organizations that I can just speak forever about. Nick Adams and I are doing the speeches on tour and our last collection period and I just love them. It is just one of the greatest organizations around.
MI: Max, thank you for taking the time to chat today. Get to Chicago safely and can't wait to see on stage next week!
MVE: Thank you, take care. It was a pleasure.
The revival of Falsettos was recently nominated for Five 2017 Tony Awards including Best Revival of a Musical. Prior to the revival, the Falsettos won two Tony Awards (Best Book of a Musical, Best Original Score) and was nominated for seven awards in 1992.
Tickets are available for groups of 10 or more by calling Broadway In Chicago Group Sales at (312) 977-1710. For individual tickets, visit www.BroadwayInChicago.com.
Interviewed by Matt Inawat. Ron Matthew Inawat is president of the GoPride Network and contributes to ChicagoPride.com, PrideLA.com and other sites within the GoPride Network. Follow @cpmatthew