A GoPride Interview
David Schelzel
David Schelzel and The Ocean Blue return with an album of new material
I think this record sounds the most like our first two records.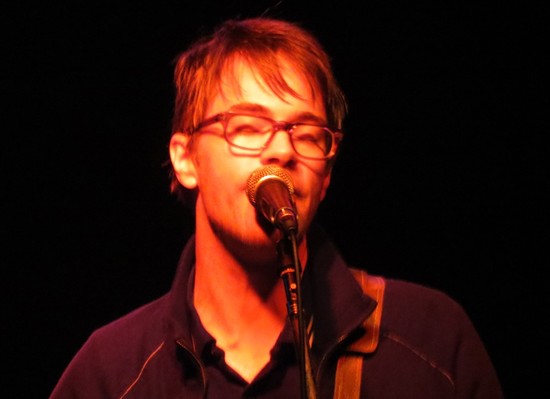 david schelzel at schubas
photo credit // jerry nunn
The Ocean Blue -
a band of four young high schoolers from Hershey, Pennsylvania - catapulted to success with their debut record in 1989. The band formed in 1986 by lead singer David Schelzel, Steve Lau, Bobby Mittan and Rob Minnig.
This year the alternative rock band - headed by Schelzel, Mittan, Oed Ronne and Peter Anderson - returns with Ultramarine, an album of new material that should appeal to fans old and new alike. For those unfamiliar, The Ocean Blue's sound may be best described as jangly guitar-based modern rock - similar to alternative acts like Echo and the Bunnymen and the Cocteau Twins.
Jerry Nunn caught up with David Schelzel after a recent concert at Schubas.
JN:
(Jerry Nunn) Hi, David. So the band was formed in Hershey, Pennsylvania. You must have rode the little roller coaster through the Hershey Chocolate factory there.
DS:
(David Schelzel) Yes I have.
JN:
How was the band originally brought together?
DS:
It depends on how far back you want to go but we all went to different high schools in and around Hershey. Bobby Mittan went to Hershey High, Steve Lau went to Palmyra, which to the East and I went to Central Dauphin, which is just to the West.
JN:
Did you always want to be in a band?
DS:
No, it kind of just happened. We were in junior high and I met Steve, who was our keyboard player for our first two records and Bobby, too. We met Rob Minnig, our first drummer later before we did our first record for Sire.
JN:
You started off with a major label then went more indie as time went on.
DS:
Yes, we had a period when were on major labels first Sire then Mercury. That was until 1997 when I decided to go back to grad school. I took a break from anything for awhile then decided that I still wanted to do music. In the 2000's we did a couple of indie records with indie labels or just on our own. This we started a new label with some friends.
JN:
So ten years later you are putting out a new record called Ultramarine.
DS:
Yes, we just put it out with a new public relations team.
JN:
I heard the new song live just now. Are you going for a different sound this time out?
DS:
We wanted to play more new songs but we ran out of time. We wanted to stick to the set list. I think this record sounds the most like our first two records. I think it is that way because I have been listening to more music from that period of my life. I have friends in their '20s that love that type of music. It is a funny thing. They love New Order or The Smiths. They weren't even alive when those groups were popular. I think a lot of new bands sound like our musical roots. I think music will come out of the music that you are aware of.
JN:
Many of the groups that I loved in high school are coming back around.
DS:
It is kind of a crazy thing.
JN:
Artists are now doing interviews that didn't before. I loved speaking to Richard Butler from The Psychedelic Furs.
DS:
Oh, I am a huge fan of his.
JN:
That solo record was amazing.
DS:
I have it. I love The Psychedelic Furs. Some of their earlier work is the best around.
JN:
You are friends with The Innocence Mission who I have always loved.
DS:
They are some of my best friends. I don't see them as much as I used to but every time I am back home we always get together.
JN:
When are they putting out new music?
DS:
Karen Peris has a solo record out that surprised me. Don is working on an instrumental record. I think Karen's is a beautiful album. It is very haunting, sparse and very beautiful.
JN:
Did you go see Morrissey when he last toured?
DS:
No. I am such a huge fan of The Smiths and the solo work he did right after he left The Smiths but I am afraid to go see him because I don't want to ruin the positive impression I have of him. Sometimes I have seen bands that I love so much as a younger person later and it was just a disappointment. If I got familiar with his newer work then it might be a different story.
JN:
Speaking of newer records, are you the one that does the songwriting duties?
DS:
Yes. The last thing we released was an EP called Waterworks in 2004. Oed Ronne wrote as many songs on it as did I. All the songs on my new record are written by me.
JN:
Are there any gay members in the group?
DS:
Steve Lau who I started the band with is gay. Our manager, and our former label president plus many of our dear friends over the years are part of the gay community.
JN:
Do you have a favorite song you like to play live from the past?
DS:
That is a great question. What is interesting is that it depends on my mood. Tonight was a weird show because we started with a lot of energy but I didn't realize until we played the set but in the middle there are a lot of melancholy songs that I liked. It was fun to fall into that mood. I like playing "Drifting Falling" if we can play it with Brian playing sax. I have been trying to get Steve Lau to join us for years. I see him every time I am in New York but he hasn't picked up a saxophone for years and has doubts about playing. I am still working on it though. Brian is a great sax player and a great friend. When he is playing with us we always try to play that number. He plays on the new record on a track. It is a glam Roxie Music kind of song. It is awesome and I love it.
Check out Ultramarine the long awaited album by The Ocean Blue at www.theoceanblue.com.
Interviewed by Jerry Nunn. Jerry Nunn is a contributing writer to the GoPride Network. His work is also featured in Windy City Times, Nightspots Magazine and syndicated nationally. Follow @jerrynunn