A GoPride Interview
Scheana Marie
Vanderpump Rules' Scheana Marie sits down with Jerry Nunn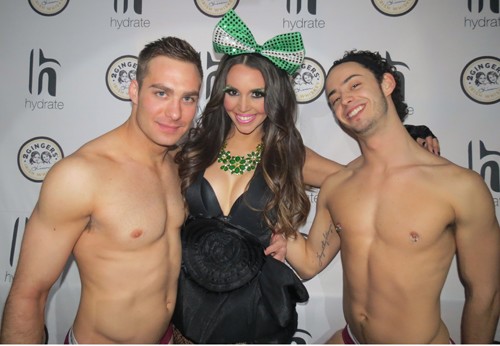 scheana marie jancan at hydrate
photo credit // jerry nunn
Bravo's Vanderpump Rules featured The Real Housewives of Beverly Hills cast member Lisa Vanderpump and surrounded the drama at her restaurant, SUR. Set in West Hollywood, CA., the show was such a success that a reunion was filmed and a second season has been ordered.

Scheana Marie Jancan is a server at the restaurant and an aspiring singer. While making an appearance at Hydrate Nightclub in Boystown, ChicagoPride.com's Jerry Nunn went backstage to chat just before she performed her single "What I Like."

JN: (Jerry Nunn) Hi Scheana. I have watched the entire season of Vanderpump Rules.

SM: (Scheana Marie) Oh good.

JN: How did you wind up in LA?

SM: I actually grew up there. I was born and raised there so what I have always wanted to do.

JN: Did you always want to perform?

SM: I did it when I was kid but the singing thing came later in life. I was acting for years then the opportunity to write a song came about. It has been a hit so it has been something I have always wanted to do but never expected I would.

JN: How did you get on the show?

SM: I worked at Villa Blanca for about four years. When the idea came up Lisa coached me and told me I was doing this. I was a little apprehensive at first to do reality TV but I am so happy I did. I have no regrets.

JN: How has the reaction been?

SM: It has been crazy, getting recognized on the streets and people coming into work to see me has been awesome.

JN: Is Lisa very intimidating?

SM: She can be. For me we are so close so I am not intimidated by her anymore. When I first started there I was so scared of her.

JN: I bet she could be a good mother figure if she likes you.

SM: Totally. She's a great role model and very motherly with both me and Stassi. She is just amazing.

JN: When the show began you had a very different relationship with Stassi than how it is today. Did you have to be careful to keep that a secret?

SM: Not really careful but I am kind of an open book. It was an nteresting progression of our relationship. We are great friends now and I thought that would never happen.

JN: From watching the show seems like she could be a good friend but also a good enemy.

SM: Exactly.

JN: Do you feel that you and other people were portrayed true on the show?

SM: I think so.

JN: Were there things that you wish had been shown on the first season that did not make the cut?

SM: There were a few date nights that Shane and I had filmed. We had our anniversary and a wine tasting that was supposed to be a double date with Frank and Stassi but he never showed up. It wound up being a weird little threesome anniversary date. I wish they would have shown that because it was such a fun night.

I would have liked some more of my night at The Roxy shown more also. My splits didn't make it in.

JN: Oh no! Are you going to do those tonight?

SM: Oh yeah, totally.

JN: The show must have really helped promote your music.

SM: Yes, it has been crazy. I really never thought I would be doing this. It is amazing and fun.

JN: Has Andy Cohen talked to you about the music? I know he likes his reality show singers.

SM: Well, we did Watch What Happens Live and he played a little bit of my song. He has played the drinking game twice with my song on the show.

JN: That's huge.

SM: Yes so maybe next time they bring me back on the show I will be performing.

JN: I heard the clubhouse is really small.

SM: It is tiny. It fits like fifteen people.

JN: Andy is a nice guy.

SM: He's awesome.

JN: What made you come out to perform in the gay clubs?

SM: Sean invited me to come out here and I think my song is such a hit for the gay dance clubs.

JN: Where are you heading to next?

SM: Back to LA then to New York in a few weeks.

JN: Can people keep up with you and your music?

SM: My song "What I Like" is on iTunes. If you follow me on Twitter @scheanamarie then I update everything on there everyday.

JN: More music is coming?

SM: Yes, more to come!
Interviewed by Jerry Nunn. Jerry Nunn is a contributing writer to the GoPride Network. His work is also featured in Windy City Times, Nightspots Magazine and syndicated nationally. Follow @jerrynunn