A GoPride Interview
Bazuka Joe
All-male burlesque group takes off with Liza Minnelli
Thu. July 26, 2012 by Windy City Times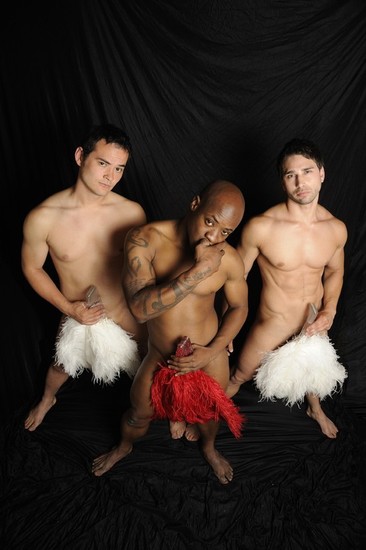 bazuka joe, aka ken gasch, (left) with the johnnies
All-Male Burlesque group The Stage Door Johnnies have been heating up Chicago stages since 2009. Come August, members Bazuka Joe, Ray Gunn and Jett Adore will be taking it off for their biggest gig yet: a one-night-only show at Fire Island's Ice Palace nightclub in New York alongside gay icons Alan Cumming and Liza Minnelli.
Windy City Times sat down with Bazuka Joe (also known as former Chicagoan and Windy City Times 30 Under 30 honoree Ken Gasch) to get the skinny on The Stage Door Johnnies' high-profile gig.
WCT:
(Alex Lubischer) What was the very first show that Ray Gunn, Jett Adore and you performed in together?
BJ:
(Bazuka Joe) Well, there were two very first milestones. The very first time we ever did a group act it was for the Grabby Awards—which is like the porn awards, you know—it's the same weekend as IML [International Mr. Leather] every year.
But the very first time we ever performed our solo acts was at this bar called The Waterhouse in Lincoln Park. It was for a Bacardi promotion and people were really confused. The girls were really into it, but there were a lot of people who were really confused about the idea of male striptease—[especially with] it not being, like, the standard kind of male striptease. But, overall, it went really well and, coincidentally, my mom was in the audience because she just happened to be in town that weekend.
WCT:
Oh my God! What was it like having your mom in the audience?
BJ:
It was so bizarre. She was really into it. This is particularly weird because I grew up Mormon and she had been Mormon for 30 years and just sort of stopped going—stopped attending church. And so for her to be in the front row taking pictures as we're getting naked—it blows my mind to this day! And it's one of the funniest stories. She got upset, but the only reason is that the battery in her camera ran out halfway through Ray's act and she couldn't take pictures and she was really disappointed. Actually, she and my sister were there. They sat right up at the front table and they were all for it.
WCT:
What would you say separates cabaret from the strip club?
BJ:
Mainly the intention. Burlesque definitely goes for more theatricality, lots of storytelling, lots of very character-based acts—and it's always sort of an endeavor for burlesque performers to find new and unique ways to make the strip happen. So it really is more about the tease than the flesh or the sex part of it. Obviously, there are some very sexy performers and stuff, but it's almost less integral than the whole art of it.
It's definitely more about connecting with the audience. Typical acts are four, five, maybe six minutes long and you have to get the audience to understand who your character is, what the scenario is and then get to the end by the time you're more or less naked. [Laughs]
WCT:
Is the audience at your shows predominately gay men, or is there a surplus of straight women who attend?
BJ:
It kind of fluctuates depending on where we go, obviously. Lately, the crowds have been really, really, really mixed. … Actually, some of our best compliments from straight guys—like, "Oh man, that took a lot of balls to get up there and do that!" Sort of the same way the guy in the fraternity who goes streaking is like the campus hero. That kind of thing where it's like, "That took a lot of guts to get up there and do something that crazy."
The show we're about to do on Fire Island is definitely gay-focused, but if I had to generalize I'd say it's pretty well mixed as far as straights, gays—and guys and girls, for that matter.
WCT:
You're performing with musical theater legends Alan Cumming and Liza Minnelli at Fire Island's Ice Palace in New York Aug. 4. How did you book this sweet gig?
BJ:
It was purely by accident. This really well-known producer out in New York, Daniel Nardicio, had seen us. We had been to New York a few times and he was like, "Hey, I'd really like to bring you guys out." And none of us had ever been to Fire Island. So over the course of talking the dates got bumped around a bunch and then the contracts weren't right and it was kind of this long process and finally we landed on a date: Aug. 4.
Then months later we got a call and he [said], "You know, I really hate to do this but there's a performer coming to town who I've been dying to get, and the same day you guys are performing is the only night she can do it." And, of course, we thought, "Oh, man. He's gonna bump us back again or cancel the whole show altogether." And so I was like, "Okay, lay it on me. Who is the performer?" And when he said Liza Minnelli, literally, my jaw dropped. I was silent for at least a good minute, I was like, "You've gotta be shitting me!" You do not have to ask our permission. Just go ahead! Yeah! Absolutely!
So we kind of hit the jackpot with that one. The producer thought it would be really nice to mix the genres: the musical theater style with burlesque. We were completely floored and, actually, when I talked to Ray and Jett they didn't believe me, so I had to send them a copy of our contract to prove that their [Minnelli's and Cumming's] names were on it!
WCT:
What's the first thing you're going to say to Liza when you meet her?
BJ:
[Laughs] We [The Johnnies] joke around because we're huge fans of a show called Arrested Development. And so we joke around that we're going to say "We're really excited to meet you, Lucille Two"—just to see what she does. I'm like, "Maybe that's not the best way to introduce ourselves." The only thing you can say is that it's an honor to meet her. Obviously, she's a legend in and out of the gay community. She's an icon.
The Stage Door Johnnies are performing Aug. 4 at the Ice Palace, 181 Bayview Walk, in the heart of Cherry Grove on Fire Island, NY. The show is currently sold out. If tickets become available, an announcement will be made on www.danielnardicio.com. For more information on The Stage Door Johnnies, visit www.thestagedoorjohnnies.com.Interview by Alex Lubischer for the Windy City Times



http://www.windycitytimes.com/lgbt/All-male-burlesque-group-takes-off-with-Liza-Minnelli/38792.html
Interviewed by Windy City Times