A GoPride Interview
Gary Kemp
"True" grit: an interview with Gary Kemp of Spandau Ballet
I think it was really important to give the band context. A lot of the younger generation didn't realize how we had come about...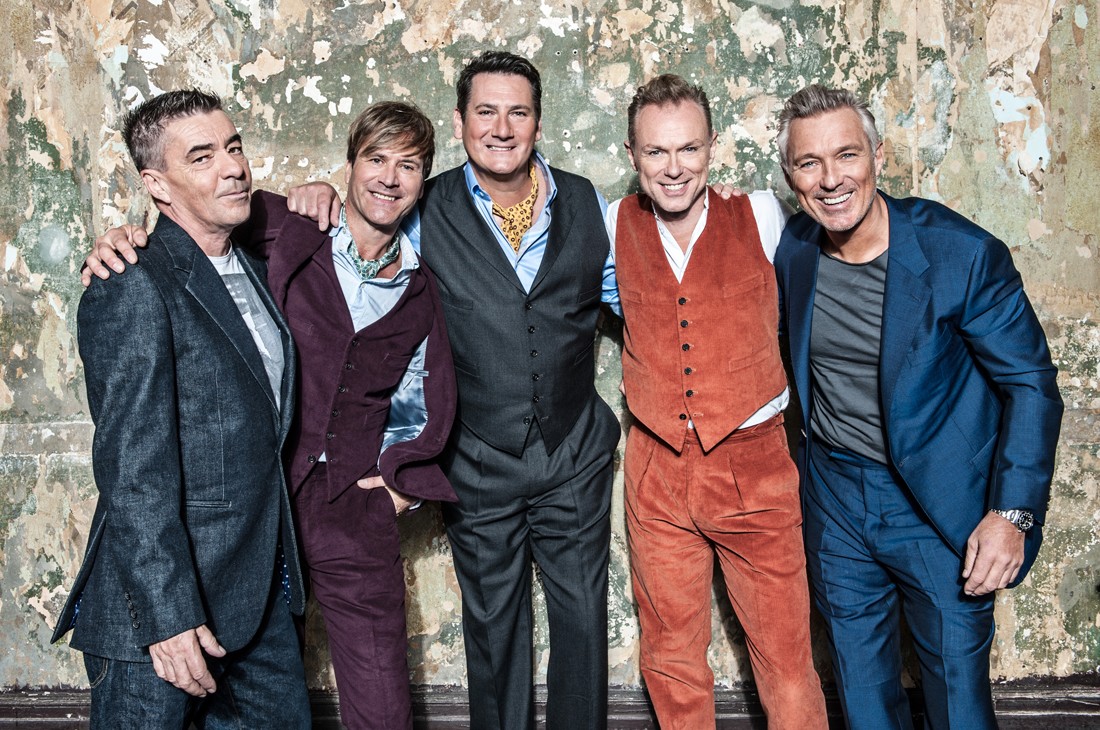 gary kemp (second from right) of spandau ballet
From every indication, 2015 has the potential to be great year for the British band Spandau Ballet. A recently released hits compilation, The Story (Rhino/Chrysalis) collects favorites such as "True," "Gold" and "Chant No. 1," alongside 16 more tracks, including new ones "Steal," "This Is The Love" and "Soul Boy." A documentary, Soul Boys of the Western World, telling the story of the band from the beginning, has been playing in theaters. To top that off, the re-formed Spandau Ballet is embarking on a U.S. concert tour. I spoke with co-founding member and primary songwriter Gary Kemp about the band and more in early 2015. [Spandau Ballet performs at House of Blues on Dearborn in Chicago on April 25.]

GS: (Gregg Shapiro) For the uninitiated, Gary, what is the story behind Spandau Ballet's name

GK: (Gary Kemp) Back in 1979, I think Berlin was a fairly hip place. David Bowie had validated it. The Blitz Club (in London), run by Steve Strange, that we used to go to on Tuesday evenings was quite fascinated by German music like Kraftwerk and (La) Dusseldorf.

When our friend Robert Elms came up with the name Spandau Ballet we thought it was amazing. We didn't understand it. We didn't even know where Spandau was, but it sounded cool. It had a bit of pretense about it. At that point we were a culty sort of band playing electronic dance music. It wasn't until a few years later that I found out that he had seen it written on a toilet wall in a club in Berlin. In 1986, this German guy runs up to me in the street in London going [with a German accent], "You stole our name! You stole our name! [laughs]." Apparently he was in the band originally called Spandau Ballet. I said, "I'm sorry, mate, we've had a few hits by now."

GS: Gary, you were, and still are, the primary songwriter for Spandau Ballet. Where did you and do you find inspiration for your songs?

GK: I suppose when I was younger it was certainly from the streets of London and the club Blitz when we first started. Songs like "Chant No. 1," which were more dance-oriented; a bit more about urban paranoia. When I wrote the True album, I was going through some unrequited platonic relationship. I knew that we couldn't be a cult band forever worrying about what the groove was. It was nice to sit down with my guitar and think, "I want to write songs like Marvin Gaye and Al Green." But I'm a white working class boy, so I'm never going to make it sound exactly like that. We came up with our own version. I think the best songs can come out of unhappiness, which is a little bit frustrating when you are in a nice relationship like I am, and everything's going smoothly. Although, the last two songs I wrote for the new greatest hits album, "Steal" and "This Is The Love," they're both about the positivity of falling in love and finding someone when you think you're never going to have a chance. From real life is the answer.

GS: I'm so glad you mentioned "Chant No. 1," because when I think of Spandau Ballet, I consider it a band that had two distinct chapters. The first one being one of the pioneers of the New Romantic scene, with songs such as "To Cut A Long Story Short" and "Chant No. 1." Would it be fair to say that there was a fair amount of androgyny and sexual ambiguity in that early scene?

GK: Absolutely no question. I think all of the best clubs in London have always had a really cool mixed crowd. As far as the Blitz was concerned, you'd have ex-Soul Boys -- white, working class boys who liked dancing in clubs, but very straight – and you'd have art school students who were doing fashion. Mixed in and part of that was the gay crowd. People like Marilyn and Boy George, who at that time was just George O'Dowd. I think we were all experimenting with our looks all the time. You can be quite straight, but you can still be looking…I mean, my brother (Martin) wore a dress and he wore heavy make-up. And you can't get straighter than my brother. I suppose that was all part of the game; flirting with the same sex as you. Gay people are attracted to creative things and if you were a straight boy who was creative, you would be attracted to the same world and circle. When we were about 11 or 12 we saw David Bowie doing "Starman" (on the TV show) Top of the Pops and making an announcement about being bisexual. I was a Bowie fan as a kid and that caused such anger among my parents at home. It wasn't enough just to grow your hair anymore. That had been around for years. How can you upset your parents? Well, that was a great way to do it. But in the end, my parents were great. People like Steve Strange and Boy George would come around for cups of tea. My mum would recommend certain hairsprays that wouldn't give them split ends [laughs].

GS: Spandau Ballet's strong second chapter occurred with the stylistic change and the release of the True LP, from which the massive worldwide hit single of the same name was drawn. Do you think you and the other band members were prepared for the success that that song and album generated?

GK: We really only ever wanted to be in a band. We wanted to get out. We grew up buying singles. We were fascinated by the singles charts. Our heroes, like Roxy Music and Bowie and Marvin Gaye, all released singles. We wanted to have a life that was beyond the life that we could ever lead otherwise coming from where we came from. It was absolutely thrilling. Whatever I was doing in my bedroom at home – and I was still living with my parents at the time – was speaking to the world and still is. A few of our songs get under the skin of people and stay there, as have certain songs from my past growing up that are important to me. Were we prepared for it? I think we were kind of making it up as we went along. I think in the past, bands never had the kind of visual exposure that we were getting because of MTV. MTV became a pipeline for British pop to go around the world. I don't think we were prepared for the fan adulation. There was good and bad to that. We always thought we were a credible group, we were culty. Suddenly there was teen element going on with us and Duran Duran and the other British bands. A lot of screaming going on. It's often hard to keep your credibility musically when there's that noise going on in the auditorium. You've got to remember – those British bands, none of them were put together. They all wrote

their own stuff, they all produced their music, they had great input into how they looked, as well as their videos. There were no stylists, no A&R gurus. It was a great time.

GS: The song "True" is featured at the end of the Adam Sandler movie The Wedding Singer.

GK: Adam Sandler's used it about three times, I think. It's two times on The Simpsons. The Modern Family version with Edward Norton singing it is my favorite. The writing was (in the episode) was incredible.

GS: What do you think of Steve Buscemi's rendition in The Wedding Singer?

GK: I love it! Steve Buscemi singing our song – I never dreamt that would happen.

GS: While we're on the topic of movies, Spandau Ballet is the subject of the documentary Soul Boys of the Western World. What does it mean for you to have the band's story told in this way?

GK:

I think it was really important to give the band context. A lot of the younger generation didn't realize how we had come about, that we were part of a new youth culture movement and how exciting it was to grow out of that late seventies club scene. We had a really interesting beginning and a heightened reality in the middle in this decade (the eighties) that was so incredible for pop music. It hasn't really been documented in a movie. Everyone always does the sixties and seventies and the eighties haven't been done. The amount of changes that went on; there was Live Aid and the (Berlin) Wall coming down. It was an important decade. And then we (Spandau Ballet) had this third act which was the story of friendship falling apart and trying to renew that friendship. I think we had a strong story. People are drawn to bands because there is a soap opera, a story. I read a lot of band biographies. I'm reading the Pink Floyd one now. I like to know about the people and how they interact. It's not enough just to hear the music. I want to know why the music was made and how the characters got on or didn't get on. I think this film is a universal story of friendship and that's why it seems to have worked, even outside of people who liked the band.

GS: Spandau Ballet is also embarking on a multi-city US concert tour. What can fans expect from a Spandau Ballet concert?

GK: This is the first time we've played in America for so long. We got together five years ago for the first time in 20 years and we did arenas everywhere. We're doing a theater show in America. We're putting our toe in the water. We're delivering music. We're going to do a great two hour show of really strong songs. We're a good time band. We like the community that follows Spandau Ballet and we always encourage them to be part of the show as much as possible.
Interviewed by Gregg Shapiro. Gregg Shapiro is both a literary figure and a music and literary critic. As an entertainment journalist, his work appears on ChicagoPride.com and is syndicated nationally.