A GoPride Interview
Jeff Lewis
Jeff Lewis: We dig deep into relationship issues not financial ones.
We dig deep into relationship issues not financial ones.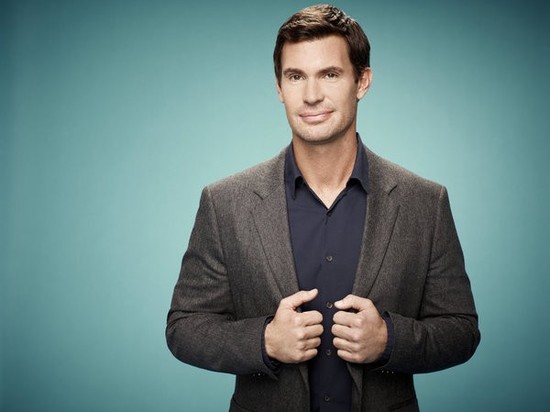 photo credit // bravo.com
House flipper Jeff Lewis returns with a sixth season and new show on Bravo
The king of house flipping, Jeff Lewis, begins his new series on Bravo entitled Interior Therapy and he's bringing old friends Jenni Pulos and Zoila to help out. Over the past five seasons his show Flipping Out has done well in the ratings and a sixth season is expected.
Having developed houses in LA for over 20 years the openly gay real estate maven takes on this new endeavor with gusto as he revamps residences and transforms the lives of their owners. Watch what happens as the walls come down during home therapy. Interior Therapy, a new reality premiering Wednesday, March 14 on Bravo.
JN:
(Jerry Nunn) Hi, Jeff. Are there any homo homeowners on Interior Therapy?
JL:
(Jeff Lewis) Yes, we have one gay couple. By the way it's one of my favorite episodes because they are just lovely, fun, great people.
JN:
Are you still making more seasons of Flipping Out?
JL:
It's in addition to the show. We're filming Flipping Out actually today.
JN:
So what happens on Interior Therapy that you are not doing on Flipping Out?
JL:
Well, I think the big thing is that with Flipping Out, whenever we end the show unfortunately you don't always get to see the finished products because we're usually working on client's homes, and you know when it's done it's done. So the problem is that you really never get to see the reveal. You never get to see it furnished or accessorized. There is a true before and after reveal, which I like because I get to see the project all the way through, and then so do the viewers.
JN:
So now you get to finish the house this time out?
JL:
Well I mean I do always finish the house; unfortunately you just never get to see it. I guess for me after doing this for five years, I think it would be nice for people to really see what I can do because Flipping Out has been focusing on the construction end of it. We only have a week of doing these homes, we do light construction, but we do a lot more furnishing and accessories. I felt like I was kind of weak in that department, but the show has really helped strengthen my skills in this particular arena. I'm actually really proud of the reveals.
JN:
Were there clients on the show that you didn't like?
JL:
Sometimes I felt like people were doing this for the wrong reasons, and some people didn't really want to take a look at any sort of issues. They just wanted free furniture, and that happened a few times. I felt those people were greedy and I felt they were entitled. On the other hand I would walk into a home where somebody was really grateful and they really wanted to change. They were really committed to it.
Sometimes Jenni and I had a wonderful dynamic with the family and it was light and it was funny, and it was just great. Then other times we would walk in and it was heavy and dark. What I love about those episodes is that they were real and there was no Hollywood ending. I said whatever happens, happens, and we're not going to produce it. We ended up losing a producer over it. I don't know if I'm supposed to say that. But, we ended up losing a producer over that because we didn't agree.
JN:
Would you ever want to help any families in need?
JL:
I don't know. Does that become too Extreme Home Makeover? Because I'm really trying to structure a show here that was very, very fresh and different, which is why we did the reality hybrid. I think when you watch the show there are people certainly that couldn't have afforded to do the kind of remodel that we've done. They either didn't have the money or they didn't have the sources to get it done. I wouldn't say any of them are struggling financially though. We dig deep into relationship issues not financial ones.
JN:
How has being on a television show affected your relationship with your boyfriend?
JL:
Well I think what the cameras do is obviously it puts a magnifying glass on your life and your relationship. I think that we started off with a very, very strong foundation. So you know, Gage and I dated for at least a year and a half before we even brought him on camera. So we always had a very strong relationship before we entered this.
That said, it has brought a lot of stress because you know Gage wasn't always depicted favorably last season of Flipping Out, and that was really hard on him because he really is a really good, nice person. He does have my back. He is very, very professional in a sense of he's protecting my business. When we had to let go of a few people last season it wasn't ultimately Gage's decision; it was mine. But he did present the information, and as a result he took the heat for that. And we got a lot of very, very upsetting, nasty blogs, reviews, emails, and that was hard on him, for somebody who's been under the radar for so long.
JN:
When are you coming to do some homes here in Illinois?
JL:
Well Jenni and I were talking about that. We would love to travel. I don't know if we do another season what season that would be like yet. But I would love to see different parts of the United States and go into areas that maybe I would not normally work for. But, I don't know about the expense of that.
JN:
I know Jenni visited Chicago during one the seasons.
JL:
Well, Jenni is going to Chicago because her fiancé lives there. She goes to Chicago for the longest in booty calls!
Interior Therapy with Jeff Lewis premieres Wednesday, March 14 on Bravo. Visit bravotv.com for details and listings.
Interviewed by Jerry Nunn. Jerry Nunn is a contributing writer to the GoPride Network. His work is also featured in Windy City Times, Nightspots Magazine and syndicated nationally. Follow @jerrynunn