A GoPride Interview
Roddy Bottum
Roddy Bottum: I was stuck in a hard place over the past year. Lyric writing helped me get through what I was going through.
I was stuck in a hard place over the past year. Lyric writing helped me get through what I was going through.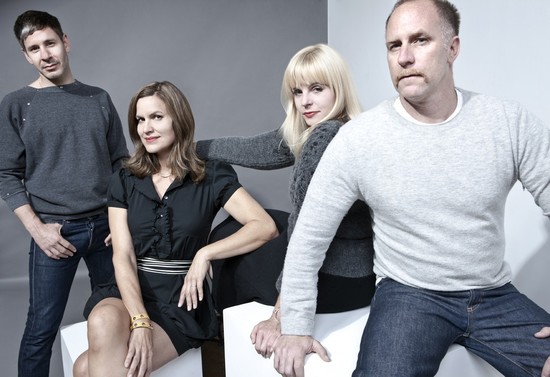 roddy bottum (right) with imperial teen
photo credit // marina chavez
The "Sound" of music: an interview with Roddy Bottum of Imperial Teen
Imperial Teen fans rejoice! After a five year wait, the half-queer quartet consisting of Roddy Bottum and Will Schwartz (both gay) and Lynn Perko Truell and Jone Stebbins (both straight), has returned with what is easily their best album, "Feel The Sound" (Merge). Things get up and running with "Runaway," a bouncy opener that sets the tone for what's to come. The musical mood may remain upbeat – you can yourself into a stupor on songs such as "Over His Head," "Hanging About," "Don't Know How You Do It" and "All In My Head" -- but beneath it all is a serious quality, as you can hear on "Last To Know" and "Overtaken." Feeling the sound has as much to do with sensation as it does with emotion. I spoke with Roddy about the band and the new album shortly before its release in early 2012.

GS: (Gregg Shapiro) The phrase "feel the sound," which is the title of the new Imperial Teen disc, appears in the song "What You Do" from Imperial Teen's 2007 "The Hair The TV The Baby and The Band" disc.

RB: (Roddy Bottum) [Laughs] When we were talking about calling the record that a couple of people in the band said, "We can't call the record that, it's a phrase from a prior record." Everyone else in the band said, "No one knows that, no one pays attention that." For some reason, it kind of worked. It came around to where we come from making this music. It's been a while since we made a record and it was such a struggle and a labor of love to get this record done. The only reason for doing it was the feeling of it, getting into it, because we love to do it. We love the way that it feels. It made sense as a title for us.

GS: The songwriting on Imperial Teen's albums are credited to the band. How does that process work?

RB: In a lot of different ways. In the best of ways, we're all together in a room and goofing around and communicating amongst the four of us. It's been a stretch this last go-round because everyone is in a different city. It all starts in different ways. Maybe Lynn had an idea and she would send it to us or maybe Will will come up with something and we'll work it together. It's usually two or three or four of us together working on stuff. I guess I and Will did a lot of the vocals and lyrics here, because the girls are in different cities. But for the most part most of the actual music writing we did in a room together.

GS: To my ears, "Feel The Sound" is Imperial Teen's most dance/pop-oriented disc, as listeners can hear on "Hanging About," "All The Same" and "Out From Inside," for example. How did that come to be?

RB: Maybe it's because when we get together it's kind of an explosion of joy. We don't get to see each other that much. And when we do get together it's a pretty special occasion. Lately, when we've gotten together to write these songs, maybe it was a more joyous thing and it turned more upbeat and dance than it has in the past. Maybe before we took each other for granted and went to a dirgey guitar kind of place. It comes from a place where we all get together, with a different perspective this time around.

GS: How was it decided the band would share lead vocal duties on the exuberant album opener "Runaway"?

RB: Usually, when we start to do, I think we're all big fans of the way that women and men's vocals go together. It just sort of made sense. That was one of the first songs that we worked on together as a band for the new record a while ago and we were all involved in the lyrics for it. It made sense that we would all sing it together.

GS: "Last To Know" is one of the most powerful songs about infidelity that I've ever heard.

RB: It was a rough year for me. I got married and divorced this past year and it's about that. It's all there in the lyrics. It's a weird thing for me to address. It's pretty apparent that the song is about a break-up. I was stuck in a hard place over the past year. Lyric writing helped me get through what I was going through.

GS: I hope 2012 is a better year for you.

RB: Definitely. It's already turned around.

GS: I get a green vibe from "The Hibernates," making it something of a political statement from Imperial Teen.

RB: Good call. We started working on that song post-Obama('s election). That's where we were coming from. Remember when Obama took office? It was such a magical time. In the development of American history, it felt like the first time a nation of like-minded people of our generation were coming together on the right track. It felt very optimistic. We could address all causes and move forward in a way we've never felt before.

GS: The disc closes with the moody and dramatic track "Overtaken," which feels different from the other songs.

RB: I love that song and I love what it does. It's almost cliché for me, closing a record with a song like that, but I guess I've just got to own it. We've done what we've done. Put the moody, broody song on the close of the record [laughs]. It bugs me because that's a typical…that's the framework of our generation, that's what artists have done. "Close record with that song." It bugs me a little bit, but it kind of fits. It's the only place that that song could go. I think it's more meditative than we've ever done as a band. There was a stretch making this record that was really difficult; a lot of emotions going on. The four of us have gone through so much these past couple of years. It was a really intense time, I think, for us, collectively and individually. That song sums up a struggle that the four of us went through separately and together. It felt apt to address that tone on this record, to take it up in a musical way. We felt the need to close the record with that.

GS: "Feel The Sound" is Imperial Teen's fifth studio disc in 16 years. The line-up has maintained the same since the beginning. What's the trick to making that creative partnership work?

RB: Honestly, that's the only way that we could do it. We rely on the four of us to do our music. At one point, when Lynn was pregnant, we did a tour without her. It's really a struggle to do something without one of the four of us. It's pretty integral to what we've done. I don't think we'd do it if one of us was unavailable.

GS: "Feel The Sound" is Imperial Teen's third disc for well-respected Merge, an indie label whose roster also includes other out artists such Stephin Merritt and The Magnetic Fields, as well as Carrie Brownstein's new band Wild Flag. What does it mean to you and Imperial Teen to be in such good company?

RB: That's a really cool thing. I think that Merge has opened there doors to every kind of music. I think that what's important to Merge is music. It comes in a lot of crazy, different forms. But I think the gay sensibility that comes in adds a flavor that's pretty specific. Stephin Merritt is amazing. What a body of work that fella has. I can listen to all of his stuff and always something that's special. That's a really unique voice and that's a gay voice and that's cool. And we're happy to be a part of that company, too.

GS: Imperial Teen's "Yoo Hoo" was featured in the movie "Jawbreaker," and you've done movie music for "Adam & Steve" and others. Do you have plans for more movie music?

RB: That what I do more these days than band stuff. I score. I just finished a couple of kid's movies. I like doing it. It's a different exercise for sure. It's a weird hat to wear. You take on the role as a supplemental music maker as opposed to doing music only for music's sake. Being the boss and calling the shots. As a composer, you're in the role of supplementing a big project, a big movie or action that you didn't necessarily create. It's kind of a stretch, but I like it a lot.

GS: Do you think that there might be a solo album in your future?

RB: Maybe. I don't think it would be a pop record. I think it would be more of a modern music kind of thing, like I do more on my own.
Interviewed by Gregg Shapiro. Gregg Shapiro is both a literary figure and a music and literary critic. As an entertainment journalist, his work appears on ChicagoPride.com and is syndicated nationally.