A GoPride Interview
Jeffery Roberson
Jeffery Roberson: I have so many props that I am like the Carrot Top of drag.
I have so many props that I am like the Carrot Top of drag.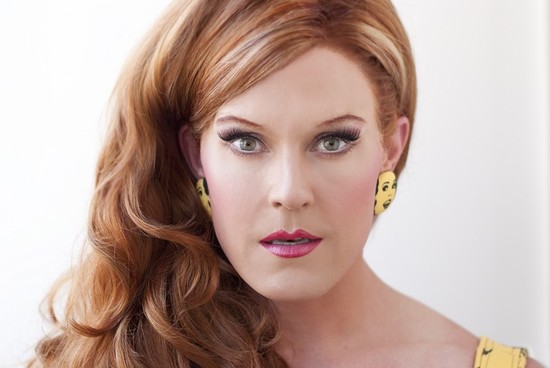 jeffrey roberson as his drag performing persona
photo credit // rex bonomelli
Jeffery Roberson on his drag performing persona, Varla Jean Merman
Jeffery Roberson's alter ego Varla Jean Merman, a tall and shapely redhead, is the self-described love child of of Ethel Meran and Ernest Borgnine.
Standing 6-foot, 2-inches, Verla Jean Merman is best known for her role in the 2003 independent film Girls Will Be Girls. Merman has also appeared in the HBO documentary Dragtime, Project Rundway and two runs on All My Children as the character Rosemary Chicken.
Roberson, who is gay, grew-up in Lousiana as a middle child in a religious family. He started creating drag video in college, which is where Varla Jean Merman emerged.
This weekend in Chicago, Roberson will transform into his drag performing persona for two shows at Hydrate Nightclub, February 3 and 4.
Described as "hysterical," "delirious," and "a demented genius," Varla Jean Merman is a guaranteed night of theatre and insanity.
JN:
(Jerry Nunn) Hi, I'm interviewing you as Jeff not as Varla right?
JR:
(Jeffrey Roberson) Yeah, whatever you want to do.
JN:
I don't know if you know Dixie Longate but she likes to be interviewed in character.
JR:
I do. I would like the interview to be done through e-mail if it's Varla.
JN:
I am sure it would be hard to be put on the spot.
JR:
Well, then I would be talking like a crazy person and would be a lot to write down.
JN:
Let's talk then about the man behind Varla. Where are you originally from?
JR:
I am from Louisiana.
JN:
You live there currently?
JR:
I live in New Orleans, yes. I lived in New York for a while. I travel all the time so I am not here a lot.
JN:
I noticed you travel all over the world like Sydney, and London.
JR:
Yes, I get around.
JN:
You will be in Chicago soon.
JR:
It has been two or three years since I have been there so a while…
JN:
2009.
JR:
That long? Jesus!
JN:
I was listening to my friend's podcast at Feast of Fun featuring you.
JR:
Oh, they are great. Tell them I am coming!
JN:
I will. How long have you been doing drag?
JR:
Everyone does drag in New Orleans. I started when I was in college at LSU. I wouldn't really go out in drag but I had a video camera and we would make these John Waters-ish films. This is so sad, this was before they were playing videos in bars. This was in the late '80s, there were videos out but they weren't playing them in bars like they do now. They did have televisions where they would play some psychedelic patterns. So we made these videos to get played. My friend that I made them with actually lives in Chicago. It would be me being chased by a giant plastic rat or drinking a gallon of milk in drag. They started playing these silly videos. Then we started doing videos to songs.
I finally made an appearance in drag and it was rough. It is not the perfection that you see before you now!
JN:
Where can you learn drag? I guess other drag queens because they don't have a school.
JR:
When someone does your makeup then you think I can do that part of it then you slowly tack on things.
JN:
You could start a school in the South!
JR:
Yes, well when you have youth on your side you tend to look pretty so naturally. When you get older you need the technique.
JN:
You need to cake it on. I get it. Where did the name Varla come from?
JR:
I loved the Russ Meyer's movie Faster, Pussycat! Kill! Kill! There is a character in there named Varla. I loved the name Darla as a little kid from Little Rascals. Varla seemed even more exotic!
JN:
Maybe it is a southern thing. I have a cousin named Rayla.
JR:
You know I met someone named Marla Jean Berman, which is so crazy.
JN:
How was it growing up gay in the south for you?
JR:
I went to a boarding school so at that point I was going to be some kind of chemist or biologist. I had a high speaking voice so the choir teacher asked me to sing. That is how the whole drag and singing came together.
I moved from Colorado to Louisiana in 4th grade and that was hard because they were mean. I was wearing plaid pants and they were men like in the movie Deliverance. I played violin and they didn't have fiddle lessons over there!
JN:
I can imagine (laughs).
JR:
Then I had the distinction of being Sam Houston's high school only marching oboe. No one marches with an oboe because if you step funny then you will break the reed.
JN:
You dance to the beat of your own drum. Are you excited about Jazz Fest?
JR:
I am. I don't know if I will be here this year for it. I may be filming a movie, which is always good. Movies are weird. You never know when you are filming, if at all.
JN:
So you have been cast?
JR:
Yes, it is a version of Hush…Hush, Sweet Charlotte. We filmed a sequel to Girls Will Be Girls and that will be coming out this summer too.
JN:
I didn't know that.
JR:
Yeah, we filmed it last January and filmed a little more this past December so it is being edited.
JN:
Then you could do the film festivals.
JR:
Who knows if they will do that. Girls never played in the theatre but was a big cult hit. So I don't know if it will be in theatres or straight to DVD like one of those old Mary Kate and Ashley films!
JN:
You were on All My Children.
JR:
I was for a few episodes over a span of time. I played the prostitute of course. I was in a women's prison so I must have had the change. I was in jail with some girl then I crashed her party then she had to go to court because they thought she was a prostitute. I guess I had a heroine overdose because they never called me back after that!
JN:
it sounds very campy.
JR:
It was very campy and I was ad-libbing things so when the boy came to the jail cell to try to get her out my eyes went up and down his crotch. No one told me to do that or not to. When I watched it they put in funny soap opera music then boing!
JN:
You were on a great episode of Project Runway.
JR:
I loved the show so it was so trippy to be on it. People were really watching that show back then.
JN:
Have you watched the Project Runway All Stars?
JR:
I got mad at my neighbor because she was supposed to TiVo them and she deleted them. I have watched a couple. That Rami polka dot dress last week that was right up my alley. That was a Varla dress!
JN:
He should have won that Miss Piggy challenge.
JR:
I know. The winner's dress was hideous.
JN:
The Heidi and Seal break up was a surprise.
JR:
Nothing lasts.
JN:
What is your story? Are you single?
JR:
I guess I am. It is very hard when you travel. You can date but you meet these guys who don't know you do drag at first and if that doesn't scare them off then they have to basically travel around to see me. That is fun for a year but after not so much. People want a boyfriend that is with them. I have found on rare occasions that some people want a boyfriend nowhere near them!
JN:
We will have to have a drink at Hydrate and talk more about it.
JR:
It has been three years since I have been there so I have to do all new material. I have to remember what I did. I know what I am doing but I need to get that together. I have so many props that I am like the Carrot Top of drag. I bring two suitcases, my assistant brings one, and we pack a man bag together.
JN:
That is a lot.
JR:
I have big giant costumes.
JN:
What is this Mushroom Heads project?
JR:
It is a film I made last year about Varla putting together a children's show. All of my gay friends have children now so I have to change with the times! I will show a trailer to it there.
Look for Varla Jean Merman at Hydrate Nightclub, 3458 North Halsted, with two dates on Feb 3 and 4. Visit
www.gopride.com
for tickets and details.
Interviewed by Jerry Nunn. Jerry Nunn is a contributing writer to the GoPride Network. His work is also featured in Windy City Times, Nightspots Magazine and syndicated nationally. Follow @jerrynunn