A GoPride Interview
Ted Cappas
Ted Cappas: Having that outlet and meeting similar type of guys was wonderful.
Wed. August 24, 2011 by Terrence Chappell
Having that outlet and meeting similar type of guys was wonderful.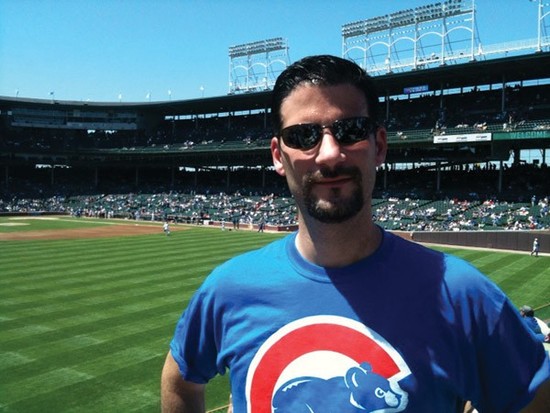 photo credit // windy city times
GSWS Board President Ted Cappas tells how playing the field changed his life
Sports. For some, it's just a game. For others, it's another reason to round up the crew and load up on beer and hot dogs while for players it's a time for bonding, perhaps escaping, and hopefully winning. However, for GSWS Board President Ted Cappas, sports were a way of coming into his true self and navigating through his sexuality.
With an extensive background in sports – Cappas served as the Co-Chair of Sports for Gay Games VI Chicago and assisted in the start-up of the National Gay Basketball Association – Cappa brings his love of sports to Chicago with the Gay World Series.
The Gay World Series is offering Chicago's LGBTQA community a behind first base ticket of over 40 competing softball teams, celebrity appearances, a talent show, and much more. Cappa shares with ChicagoPride.com an inside look into the Gay World Series, how the playing field changed his life, and of course the ultimate Chicago question; White Sox or Cubs fan?
CP:
(Terrence Chappell) You have a heavy background in sports. Did you come out the womb with a baseball bate and gloves?
TC:
(Ted Cappas) Well, I grew up playing sports my whole life. I played varsity baseball and basketball. I was a very sports-minded person. I lived in Dallas for a couple of years for work, so when I came back to Chicago I didn't really know anybody. I figured sports would be a great way to meet people, so I played football for a couple years. It's been more than I could have ever asked for because I've made such wonderful friends and had such great experiences.
CP:
How was it being a gay man and involved in sports?
TC:
As I was dealing with coming out, having these sports leagues has been a wonderful thing. The sports leagues made the transition easier for me. Being an athlete and being in such a homophobic area because it still is in some ways – sometimes you think you're the only one that is gay and likes sports. Having that outlet and meeting similar type of guys was wonderful. That's part of the reason why we look at hosting events like the World Series to be important. It's a softball tournament but it's so much more. Out participants get so much more out of it.
CP:
What would that be?
TC:
It's the friendships. It's being able to deal with your sexuality for people who do like sports. It's being apart of a team and having that camaraderie. I think that's what attracts me to being involved in helping out in sports tournaments because I see that it's very important and positive.
CP:
How old were you when you came out?
TC:
I was 23.
CP:
How did that go?
TC:
Wonderful. They have been very supportive. My siblings and my parents have come to past tournaments to watch. Every one of my family members was individual donors to the World Series. My brother has volunteered several times for me for certain events. I couldn't have asked for a more supportive family.
CP:
Why Chicago as the next city to host the World Series?
TC:
I'm from Chicago. People from our local softball leagues put together a bid for Chicago to host and won the bid. The World Series has not been in Chicago for over 23 years, so it's been a long time. Chicago has a very strong gay and lesbian community, so I think our athletes are going to really enjoy the social aspect of the week. There's Boystown and Andersonville and I think people will enjoy downtown Chicago too. Chicago is such a wonderful city in the summer time.
CP:
What can we expect this year from the World Series?
TC:
We have the opening ceremony, which will be Monday, Aug. 29 from 5pm to 10pm at Navy Pier. That's our kick-off to the World Series, our welcome to the athletes, a welcome to Chicago, and a great way for athletes to connect with other athletes from other cities. We have some great entertainment planned as well such as actor Leslie Jordan and Ben Cohen, the famous retired rugby player. Cohen is coming to speak to the athletes. It also tradition to have a talent show on the Wednesday night of the week where all the proceeds will go to three local charities – Broadway Youth Center, Illinois Safe School Alliance, and The Family and Children's AIDS Network. We will be hosting out talent show at the Hyatt Regency O'Hare in their grand ballroom. We'll have a live and a silent auction. Our final major event is the closing party. We will be hosting the closing party on Waveland between Halsted and Broadway on Saturday, Sept. 3. We'll have a band, a DJ, good food and drink. And that is where we'll present the championship trophies to all the winning teams.
CP:
Are you playing this year?
TC:
Yes. I'm playing on Chicago's Downtown.
Downtown Bar & Lounge is our sponsor. All the members of the board and I are all on the same team. I've played in several of these over the years. I play the outfield.
CP:
You also play a major role behind the scenes as well.
TC:
Yes. Series 2011 Chicago Inc. is a non-for-profit entity that is organizing the World Series. We are a volunteer organization and there are eight of us on the board. All of us have regular daytime jobs but each of us has responsibilities to plan and execute the World Series. We have been working on this the past 12 months. We organize the World Series in conjunction with the national board, NAGAAA.
CP:
What do you want Chicago's LGBTQA community to take away from the World Series?
TC:
We didn't just want this to be six days of softball and than that's it. We came to realize that this is an opportunity to leave a much bigger footprint. This is a great economic event for the city. We expect this to be a well over $6 million dollar impact because we have about 3,000 people coming in shopping, eating, lodging, and more. In addition to that, there's a great story to be told when you talk about Ben Cohen and his StandUp Foundation and how we're helping him raise money, and the three charities benefiting from the talent show. You take the economic impact and you take the charity impact and this all will just help sports leagues going forward.
CP:
Alright, I have to ask; Cubs or White Sox fan?
TC:
Cubs.
The opening ceremonies of the Gay Softball World Series is Monday, August 29, 2011 at 5:00 p.m. at Navy Pier. For tickets and event information for the Gay Softball World Series, please visit www.chicagoseries2011.com/2011.
Interviewed by Terrence Chappell. Terrence Chappell serves as editor-at-large for ChicagoPride.com where he writes Chappell Confidential, a social and nightlife column. He grew up and still resides in Chicago's Auburn Gresham neighborhood and remains active in the LGBT community. Chappell founded Professional Young Gays (P.Y.G.), a social and business networking initiative designed to connect young, business-minded gay men and women. Follow @tc_confidential