A GoPride Interview
Bob Mould & Richard Morel
Bob Mould & Richard Morel: Bob suggested Blowoff, which means the payoff in a wrestling storyline. When there is a big story and there is a payoff at the end.
Bob suggested Blowoff, which means the payoff in a wrestling storyline. When there is a big story and there is a payoff at the end.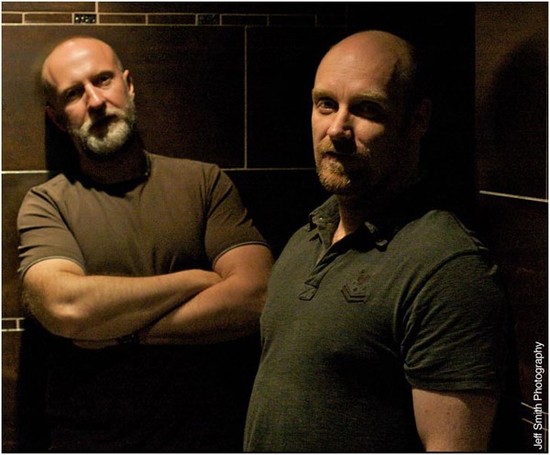 bob mould and richard morel
photo credit // jeff smith photography
Jerry Nunn interviews Bob Mould and Richard Morel, spinning the masses over IML Weekend
Blowoff is a DJ event that has gone to the bears. Hosting the turntables are Bob Mould and Richard Morel with a variety of tunes to spin for the masses. Blowoff also stands for this dynamic duo that have recorded together for years.
Bob has been a college music icon for decades in the 80s with Husker Du and the 90s with Sugar. A solo artist in his own right this singer, guitarist and songwriter continues to rock it out.
Talk about songwriters, Richard Morel has been remixing and producing for artists such as Mariah Carey to Tina Turner throughout the ages.
GoPride talked to the talented twosome…
JN:
(Jerry Nunn) Hey, Guys! Tell our readers about what a Blowoff event is.
A:
(Bob Mould) Rich and I started Blowoff as a DJ night back in January of 2003 when we were both living in Washington DC. We originally didn't know what were doing. It was a monthly music thing. We played music in one hour shifts.
A:
(Richard Morel) It has grown since then but the general principal of it is the same. Now with the bigger rooms it tends to be more of a dance event.
JN:
The music you spin is different styles.
A:
(Richard) Yes, there is some overlap but we come together. My background goes all the way back to working with Deep Dish in the 90s. I sang and wrote a number of their singles. So my background is firmly planted in house music. It has moved on beyond that as music has. I have always been centered in electronica and house vibe.
A:
(Bob) We also incorporate live visuals into the event. Richard's partner Nick Lopada does an excellent job. He's creating visuals on the fly that go with the music. Every event the visuals have a different feel. I think that sets us apart from a lot of other events. I think we have a good thing going after eight years.
JN:
I have been and it's a very late night.
A:
(Bob) It is a very late night but Chicago goes late too. You are probably more used to that than I am because in DC we go until 3:30 am and in New York we go until 4:00. When we go to the West Coast we stop at 2:00. You know, I am not complaining (both laugh).
JN:
We are all getting older so it can feel like a long night.
A:
(Bob) I was having a conversation with a friend of mine at bear happy hour in DC and it is huge, like 700 people come to it now. He said, "There are all the young guys out these days." I said, "Tom, when you went to bear happy hour how old were you?" "30" "Well, that was 11 years ago!" It's not that the guys are younger, it's that he's older! That's the way it works.
JN:
I am 41 myself so I know.
A:
(Bob) So you get it! I look around and wonder who are all these 30 year olds? Oh, I was that. Blowoff tends to be 30s and 40s predominately. I don't know why. Me and Bob are there, we hang out and DJ from the floor. We are not in a booth. I think that really does change the dynamic t some extant because we are right there. It is a little bit more interactive. When I DJ in a booth I feel so disconnected. I am used to being on the floor now.
JN:
Where did the name Blowoff come from?
A:
(Richard) Originally we, Bob and I, were recording a record together this was in 2002. We needed a name for the project we were doing. Bob suggested Blowoff, which means the payoff in a wrestling storyline. When there is a big story and there is a payoff at the end. We liked it because it was funny and you could take it in a dirty way or however you want. The record was called Blowoff then we started doing these little parties in DC we called them Blowoff.
JN:
Bob, you have a memoir coming out about your life, correct?
A:
(Bob) Yes, It comes out in June and it's called "See a Little Light." All reports are favorable and that is the good news.
JN:
Last time I talked to you it was still in the works.
A:
(Bob) Yes and it has been quite a process. The home stretch was pretty hellacious. I didn't know you could turn in a manuscript and it has fifteen thousand blue marks when it comes back. Two rounds of copy edit was pretty crazy!
JN:
Well, your baby will be out soon.
A:
(Bob) Yeah, I am real happy with it. I think it will be an interesting read for people. There is a lot going on in there.
JN:
You could sell the book at your events.
A:
(Bob) In June I will be out doing a lot of promotions for it.
JN:
Richard, what have you been working on?
A:
(Richard) I just reached my twentieth Billboard number one single from a track called "Move On" with Yoko Ono.
JN:
I spoke with her about that album. She is an interesting person.
A:
(Richard) The thing that is incredible about her is that she is like 77 and to have that much drive and be working on something, God knows she doesn't have to! I think it is awesome when an artist is like that. It gives me hope! (laughs)
JN:
Bob, you are on the new Foo Fighters album Wasting Light I heard.
A:
(Bob) Late last year Dave Grohl reached out to me and told me they were recording their recent album. He asked me to come in and play on a track that he had written with me in mind. I went down and worked in his garage studio in LA. We have done a couple of things together since then. It is very nice of them. They have the biggest record in the world right now. I was very grateful to be a small part of that.
JN:
What are you coming out with next, Rich?
A:
(Richard) I am releasing an album with Brendan Canty of Fugazi called "Deathfix." We are releasing our first song next month. It is progressive rock and tripped out.
JN:
You both have websites?
A:
(Richard) Yes, I have a Facebook page or
morelworld.com
. Also, blowoff.us, we are linkable through there.
A:
(Bob) Mine is
bobmould.com
. That is the best place to start, then the Facebook page gets everyone talking about Blowoff.
Blowoff begins Saturday May 28, at the Metro, 3730 N Clark Street from 11 until the break of dawn. For tickets visit metrochicago.com.
Interviewed by Jerry Nunn. Jerry Nunn is a contributing writer to the GoPride Network. His work is also featured in Windy City Times, Nightspots Magazine and syndicated nationally. Follow @jerrynunn