A GoPride Interview
Jose Llana
The King and I's out lead Jose Llana on the national tour, the Donald and building fences, and celebrating Pride
now, especially during the election, it gets a laugh, it gets a gasp from the audience...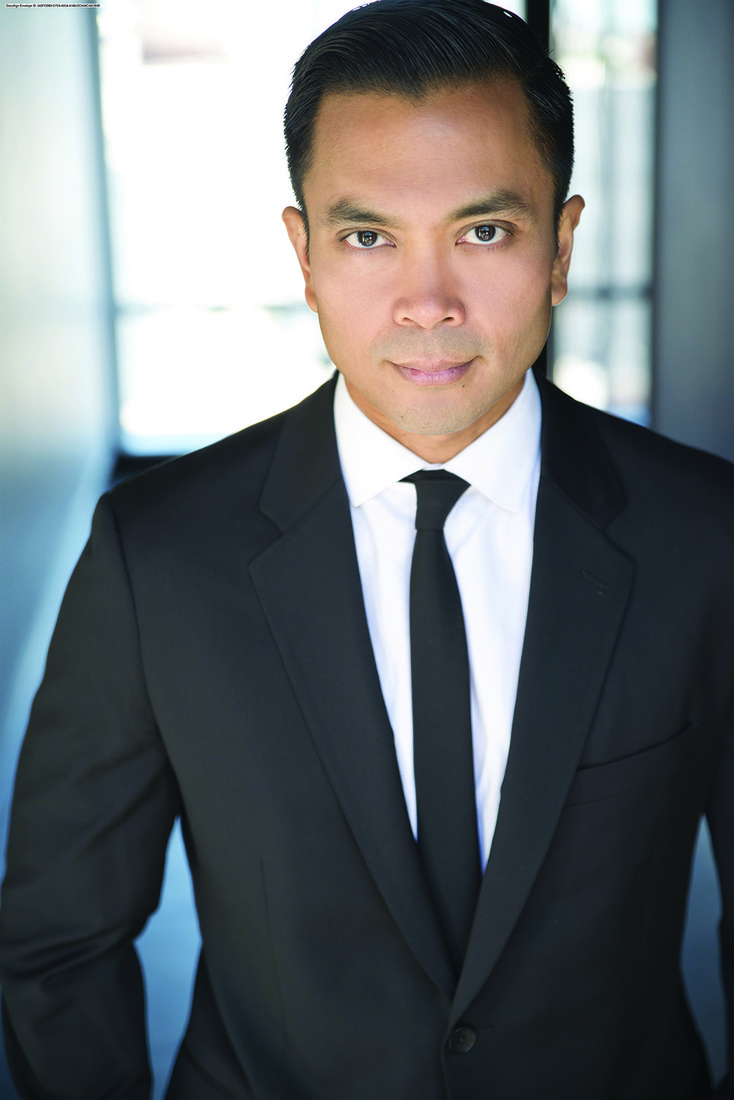 One of Rodgers & Hammerstein's finest works, THE KING AND I boasts a score that features such beloved classics as "Getting To Know You," "Hello Young Lovers," "Shall We Dance," "I Have Dreamed" and "Something Wonderful." Set in 1860's Bangkok, the musical tells the story of the unconventional and tempestuous relationship that develops between the King of Siam and Anna Leonowens, a British schoolteacher, whom the modernist King, in an imperialistic world, brings to Siam to teach his many wives and children.
Jose Llana returns to the role of "The King of Siam" after two starring engagements in the Tony-winning Lincoln Center revival. The iconic musical will play the Oriental Theatre (24 W Randolph) for a four-week engagement June 14 through July 2, 2017.
Llana (King) made his Broadway debut in 1996 where he played the 'young lover', Lun Tha. Now, he comes full circle playing 'King' in both the Lincoln Center production and, currently, the national tour. Llana's past credits include Broadway's The 25th Annual Putnam County Spelling Bee, Chicago's 2000 production of The Ballad of Little Jo and more.
MI: Kamusta, Magandang araw!  (Tagalog: How are you? and good morning!) 
JL: (laughs) Good morning to you too!
MI: That's the extent of my Tagalog, unfortunately. Jose, thanks for taking the time out to chat - and congratulations on the success of the King and I national tour. How has the reception been so far?
JL: Oh it's been great! It has been interesting to watch different audiences take in the show. It's been really exciting. I think we are benefitting from the world being turned upside down by a Trump presidency right now. I think it's a nice escape to see a  beautiful show with beautiful costumes, and music at the same time it's a bit therapeutic seeing a world leader extending a hand of friendship versus building a wall. So it is a lot of things.
MI: Tell us about your journey to be a part of The King and I Musical, what drew you to the original revival and now the tour?
JL: My connection with the show is actually quite long. I made my Broadway debut 20 years ago in the last revival on Broadway that starred Lou Diamond Phillips and Donna Murphy.  I was a freshman in college when I booked that job, that was my first job and I played the lover Lun Tha in that production. That was a huge dream come true and basically started my career.
So then 20 years later to be asked by Bartlett Sher and The Lincoln Center to come in and take over for Ken Watanabe in the Broadway company of the new revival it was quite an honor and a little intimidating because in my mind I was still the young guy. The show has amazing sentimentality and for me it is profoundly an important show. To step into this production and now to originate this company that is going to tour the country is really a blessing. Especially with this production, Cathy Zuber's Tony winning costumes and this set and just this incredible company and to go on the road with Laura Michelle Kelly is a joy. 
MI: For those who have seen previous incarnations of The King and I, can they expect to any changes or a new spin that will be unique to this production?
JL: I think so. I touched on it before. Bartlett Sher and I are both political junkies. He and I kind of constantly share political news via social media.  When he went to revive this show 2 years ago he went back to the Rodgers and Hammerstein Foundation and went back to the original inspiration and went back to the original script and found it was actually a lot more political and he wanted to bring out some of the political overtones that existed from when the play took place in 1862.
There's a lot of fear of colonialism in Asia. European countries were basically picking off Asian countries to colonize and that was a legitimate fear that the King of Siam actually had and they wanted to really write about that but over time a lot of those political themes were written out in favor of more family friendly romantic lines -  especially with Yul Brynner. People just kept coming to see Yul Brynner over and over again. So I think if you are someone who knows The King and I, you will see that we have brought those lines back in again. In today's political climate it makes it more relevant.
MI: So is there a challenge in trying to make the King your own?
JL: Very much so. I think there has always been that challenge. The ghost of Yul Brynner will always hang over The King and I in what ever production, but I think I have had the help of my director, Bart, and it's just a great play. With any part, to feel like a new production without thinking of it as a revival is the key.
Bart and I sat down when I took over for Ken Watanabe on Broadway. He and I are very different Kings. I think a lot of my goal is to create a king from my own self and my own tools. I'm a little younger than most people who play the king and I try to use that to my advantage. My king is a little bit more that young leader trying to figure things out and I think that lends itself to our production.
MI: So what is the most unexpected thing that has happened to you during a rehearsal or performance?
JL: I think with this production, to go back to the politics, there was a line that written in 1951 that the king says that has sometimes been edited out of the show. He is so fearful of the Western world he says…"Sometimes I want to build fence around Siam".
He literally says he wants to build a fence around Siam and the line has been in there since 1951.
Obviously when the line was spoken on Broadway a couple of years ago, before the election, it was like "Oh it's just part of the show", but now especially during the election, it gets a laugh, it gets a gasp from the audience. As we go to different cities, months after the election, it isn't as fresh in people's minds with everything else Trump is saying, besides building a wall. Particularly the Paris Agreement and everything else. Every city I have to wait for a little bit of a pause to see what the reaction is from the audience.
Going from Seattle to San Francisco to Hartford to Durham, obviously the audiences are very different. Whether that gets a chuckle or a complete laugh, like in Seattle, where they basically laughed and applauded because they thought it was so hilarious.
MI: So tell us about the happiest moment for you on stage.
JL: The happiest moment on stage, wow. There are so many. I think the role of the king is so fulfilling. It is 3 hours of hard work, I get to run the gamut of emotion and dance this beautiful polka and then I think the curtain call is such a glorious curtain call because it so well earned for everyone on stage. It is triumphant, it is definitely up there.
There are few scenes as iconic as the "Shall We Dance" scene in The King and I. To know we are living that out every night, Laura's in her big hoop skirt, a 45 pound pink dress and me barefoot in my king costume doing the polka around stage is a pretty incredible feeling.
MI: So take us back, where is home? How did you get started in theatre?
JL: I was born in The Philippines and my family emigrated to America when I was 3 and I grew up in a suburb of Washington, DC in Northern Virginia. I got bitten by the theatre bug by watching all of these touring companies that came through DC which is why it is so special and important for me to be a part of this touring company right now because me watching touring companies is what inspired me to be on Broadway. I was that weird kid who decided to pursue music so I went the the Manhattan School of Music and luckily for me, my freshman  year in college, they were having auditions for the last Broadway revival of The King and I and I had the brashness and the courage of a naive 18 year old and I crashed an equity and union audition. It was auditions for Asian submissions and for professionals and it was the only day I could go. I heard that if you waited around they would see nonunions at the end of the day. Around lunch time some guy didn't show up for his time slot so I raised my hand and pretended to be him. I went in and the casting director asked if I knew the song from the show and I said I did and I sang it. The casting director said I would get a call back and I said well that's not me and he flipped the resume over and realized it wasn't my picture. I told him my story and begged him not to call the police, that I was a freshman in college and coming for the experience and he laughed and took my real resume which had nothing on it and a couple of months later they offered me the part.
That was my Broadway debut...in The King and I. So the fact that I started that way in this industry and made my Broadway debut at 19 is pretty significant that I'm back in it and playing the King this time and taking it around the country. It has been a fun journey since then, I have done a couple of other Broadway shows, but The King and I is pretty special. 
MI: You're jumping from city to city on the tour, almost weekly,. So do you have family or friends traveling with you?
JL: Not traveling with me, but the first year of this tour we are going to some pretty remarkable cities and I have some family and friends in almost every stop and my fiance has some family and friends in some stops. When the tour was offered to me it seemed really exciting but we thought it was going to be really difficult being away from each other, but we saw the stops, my best friend lives in LA, we both have family and friends in San Francisco, my fiance's sister lives in Chicago so while I'm there he is going to come visit for the July 4th weekend.  My sister lives in Boston with her kids and when the show goes to DC later this summer I'm going to live at my parents house for a month and my mom will be happy about that. The touring has been hard, especially the one weekers because you don't really unpack, but these are some great cities, Chicago, San Francisco, Seattle, DC. To be able to live and work in these cities is a real joy.
My partner and I made a rule, either I come home every three weeks or he comes to visit me. Facetime is really important. We have a Facetime date every night. We have been together 11 years, almost 12 in August. We just got engaged over the holidays. This tour has become an engagement tour/wedding planning tour. He is great. He is my biggest support system and he is going to be the one waiting for me at the end of the tour.
MI: So you've been in Chicago before; do you have any favorite restaurants, clubs or other hangouts?
JL: The last time I was in Chicago I was there doing a production at the Steppenwolf. I had a fantastic time, doing a production of Ballad of Little Joe. I was newly single the last time I was in Chicago and I spent a lot of time at Sidetrack. I have a weird story, I watched the Gore/Bush election at Sidetrack, so that was what 2000? I hear a fight break out because people were celebrating Gore already because of the Florida thing but there were a bunch of Log Cabin Republicans there and there was a fight out on the street. So that is a weird memory of Sidetrack.
MI: Did you plan for the tour to be in Chicago during Pride Week?
JL: No, but we all know when it is Pride Week, New York and Chicago are the same, the last week of June. There are of course, in my company, a bunch of gay boys and I am happy to be the ringleader of those boys. We actually have a group text called the Gay Boys of Siam. Any time someone wants to go get a drink we all text each other. I think we only have a matinee that day (of the parade)  so we will have to go out and find some silliness.
MI: So are there any charities or cause near and dear to your heart that you want our readers to know about?
JL: Yes, very much so. I have a constant association with Broadway Cares/Equity Fights AIDS. That is the main charity that Broadway performers are attached to. They do a great job all across the spectrum in terms of any kinds of charitable giving for people living with AIDS. Especially this year, I am a monthly supporter of the ACLU and Planned Parenthood.
Those two are so important now, especially in Trump America. Those are the three I focus on. The morning after the election I kind of dumped half my bank account into them. Trying to find a way to make sense of the world. I think if we put our trust in the ACLU, Planned Parenthood and Broadway Cares I think the world would be a much better place.
MI: Here is the last question. If you were to sum up your theatrical life in one title, what would it be?
JL: Live With Joy and Honesty.
MI: Thats a great answer. Hwey Jose, thank you so much for your time. Enjoy the rest of your weekend - I'll see you at the the show!
JL: Thank you, Matthew!
THE KING AND I, directed by Tony Award winner Bartlett Sher, won four 2015 Tony Awards including Best Revival of a Musical. Hailed as "first-rate, sumptuous" (The New York Times) and "too beautiful to miss" (New York Magazine), this iconic musical will play the Oriental Theatre (24 W Randolph) for a four-week engagement June 14 through July 2, 2017.
Tickets for THE KING AND I at the Oriental Theatre range from $24-90. A select number of premium tickets are available for many performances. Group tickets for 10 or more are available by calling Broadway In Chicago Group Sales at (312) 977-1710. Tickets are available at all Broadway In Chicago Box Offices (24 W. Randolph St., 151 W. Randolph St., 18 W. Monroe St. and 175 E. Chestnut), the Broadway In Chicago Ticket Line at (800) 775-2000, all Ticketmaster retail locations and online at www.BroadwayInChicago.com.
Interviewed by Matt Inawat. Ron Matthew Inawat is president of the GoPride Network and contributes to ChicagoPride.com, PrideLA.com and other sites within the GoPride Network. Follow @cpmatthew