A GoPride Interview
Josh Mintz
Josh Mintz interview with ChicagoPride.com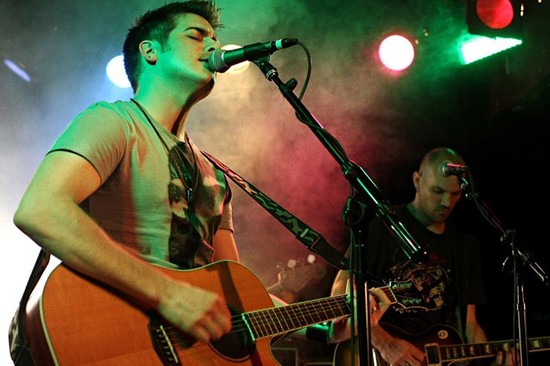 friend slash lover vocalist josh mintz
The promising young band, Friend Slash Lover, recently released their debut album 'As American as One and Zeros.' GoPride.com's Jerry Nunn spoke with frontman Josh Mintz about the bands origins and what lies ahead for the LA-based group.
JN:
(JerryNunn) Hi, Josh. How is life in LA?
JM:
(Josh Mintz) It is beautiful here today.
JN:
You came up for the name of the band.
JM:
Yes.
JN:
Do you have a lot of friend slash lovers?
JM:
(laughs) No. I like how it takes on a different meaning when you spell it all out.
JN:
Very rock n roll with the slash.
JM:
It takes on a violent tone and funny at the same time.
JN:
How would you describe your music?
JM:
It's funny because my answer to that question has changed recently. I used to think it was indie rock. I would say it is more alternative or melodic rock. My producer called it ethereal rock but not sure if that is a useful term though. It has been compared to the old Smashing Pumpkins.
JN:
How many members are there in the group?
JM:
Right now there are four when we are doing rehearsals. Frank Day and I are the team that has been together for six years. The other guys I hire when I need them.
JN:
Is everyone from California?
JM:
I don't know where they are all from. I am from Connecticut. My bass player is from here in LA.
JN:
Are there gay members in the group?
JM:
Just me! They are all married and have kids.
JN:
Are you able to express yourself in lyrics because you are the writer?
JM:
Yes, I write all the songs. On the newer songs I am allowing the other members of the band to influence the songs a lot more than before. This has been interesting to me. Ultimately because the songs have been coming out really good because of it. We are rehearsing very intensely and ripping them apart.
JN:
It is a process…
JM:
Rehearsing is always good.
JN:
You currently have an EP but you are putting out a full length?
JM:
We are aiming for the fall. I wouldn't be totally surprised if it comes out EP sized. Strictly because of how much it costs and how long it takes.
JN:
A lot of artists do EPs now.
JM:
Radiohead's new album only has eight songs on it.
JN:
Have you heard it? I have heard the single only.
JM:
About half of it, which is weird because Radiohead is pretty much my favorite band.
JN:
Who else are you influenced by?
JM:
It is hard to say. I can say who I like for example Sigur Ros. They could be an influence though because when I went to see their show it really affected me. I went home that night and couldn't stop thinking about it. I went back and saw them again the following night. I really got it after the show. They are emotional and rocking. It was really amazing. I was sitting next to Iggy Pop, which was pretty cool.
JN:
Did you study music when you were younger?
JM:
No. I sort of did as a kid.
JN:
How did you get involved with doing it then?
JM:
I always did music of some sort but it is only very recently that I made rock music or music that people would want to hear. For a long time I made experimental electronic music. It was more composition exercises. I listened to them recently and they were pretty interesting.
JN:
You are into visual art as well. You are doing shows at art openings correct?
JM:
Yes, we are definitely planning that for the next record. I need time because it is a lot of work. I would have to make an entire art show and album.
JN:
So it would be all of your work in one place.
JM:
The idea would always come first and then I would research how to create it. I had an idea where I made all of these mirrors and then I would write phrases onto the glass. I had another idea where I would make paintings on the computer and transfer them onto canvas. I approached it like any other art project but didn't know it would be such a big undertaking. Six or seven years later I feel like I am just starting on it.
JN:
Where can people purchase your music?
JM:
It is on iTunes and Amazon. We are accepted onto Pandora but it takes a few months to get into their servers properly. To me that is a big deal because Pandora is how I discover bands.
For more Friend Slash Lover visit
www.friendslashlover.com
.
Interviewed by Jerry Nunn. Jerry Nunn is a contributing writer to the GoPride Network. His work is also featured in Windy City Times, Nightspots Magazine and syndicated nationally. Follow @jerrynunn
Serving the Chicago gay, lesbian, bisexual and transgender communities. ©Copyright 2019 GoPride Networks. All rights reserved.