A GoPride Interview
JD Samson
JD Samson interview with ChicagoPride.com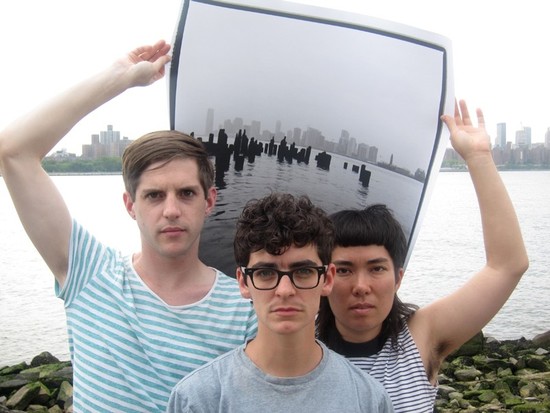 JD Samson from the electropunk band Le Tigre is visiting Chicago with a remix project entitled MEN and their album Talk About Body. JD has done everything from producing the Christina Aguilera song "My Girls" to appearing in the film Short Bus. ChicagoPride.com's Jerry Nunn spoke to JD shortly before her arrival for a show in the Windy City.
JN:
(Jerry Nunn) Hi, JD. Where you calling from?
JS:
(JD Samson) I am at Whole Foods right now.
JN:
Are you buying some health food?
JS:
I am in line getting a neti pot because I need to wash out my nose.
JN:
You better work on that if you are going to perform.
JS:
I know, I have a cold this week and have a big show tomorrow. I am trying to clear it out.
JN:
Last time I interviewed your girlfriend Sia you were in the kitchen.
JS:
No way! That's awesome.
JN:
I saw the Le Tigre concert film Who Took The Bomp? today with the song called
"Deceptacon."
JS:
The entire DVD is coming out on June 7th. That was cool but not our usual situation. It was very interesting.
JN:
What is a live performance like with you?
JS:
It is very exciting. We usually do multimedia stuff. I collaborate with a many different musicians. I try to create a show that will be worth the amount of money that people go pay to see shows. I make an energy between the audience and us to communicate and have a conversation.
JN:
Is there talking between songs?
JS:
Not really. I am not that kind of a person or didactic in my persona. I guess I am more of a feeler and I try to be on the same level as everybody, it more important for me to be a philosopher.
JN:
I recently spoke with Dan Savage about his book and It Gets Better campaign. How did you become involved with it?
JS:
Perez Hilton reached out to me at the beginning of the campaign. He urged me to make a video and sent it out to everyone that he knew. I think that is why so many famous people did it. When he asked me it took a while since I was out on tour. I kept rewriting things that I wanted to say. I decided to recite a song that I had already written "Keep On Livin.' So they liked it and asked me to be in the book.
JN:
Were you bullied when you were younger?
JS:
No, I had a pretty easy time. I came out when I was really young. I went to a small school in Ohio. It was scary for me. My greatest enemy and bully was myself. I spent way too much time believing that people would hate me or think I was a horrible person. In reality, once I came out people were very supportive. I try to urge people that our greatest enemy can be ourselves when we are coming out.
JN:
Very true. What music are you listening to these days?
JS:
I love this band Light Asylum from Brooklyn as well. They are really great. I actually have been listening to music that I listened to ten years ago like Joan Armatrading. She is a favorite of mine. I am into Sinead O' Connor's reggae record. Those are what I am listening to right now but it changes all the time. When I am making music what I listen to changes a lot. I wind up listening to a lot of instrumental stuff. Sometimes it is work to listen to music. If it's new then I want to do the same thing. If I listen to older things then I get my information from different places.
JN:
Well, looking forward to listening to you with this new project. See you there!
JD appears March 14 at Subterranean, 2011 West North Avenue with an after party at Berlin Nightclub, 954 West Belmont. Visit www.subt.net and blog.menmakemusic.com for more details.
Interviewed by Jerry Nunn. Jerry Nunn is a contributing writer to the GoPride Network. His work is also featured in Windy City Times, Nightspots Magazine and syndicated nationally. Follow @jerrynunn