A GoPride Interview
DJ Pat Pat
DJ Pat Pat interview with ChicagoPride.com
Thu. February 17, 2011 by Kevin Wayne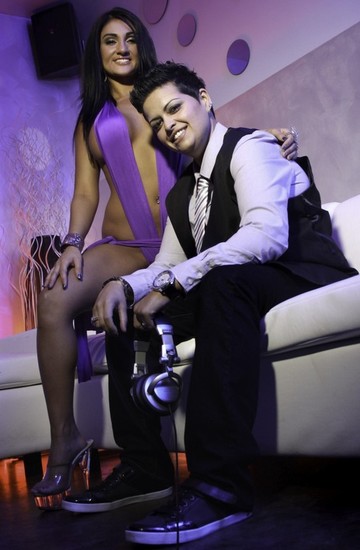 photo credit // keith isaac
Patty 'DJ Pat Pat' Amandis knows music. The 29-year-old Pat Pat was surrounded by salsa and merengue during her childhood and even played the trumpet in high school. It's her Latin roots that are reflected in her mix of hip-hop, old school, salsa, merengue, R&B, reggae, reggaeton, and even house music.
Pat Pat has played events such as The White Party in South Beach, Girls in Wonderland in Orlando, and Aqua Girl in Miami. President's Weekend she brings her versitle mix to Fort Lauderdale for
FORTitude Weekend
.
KW:
(Kevin Wayne) How did you get started in the industry?
DJP:
(DJ Pat Pat) At the age of 16, I began my DJ career! My latin roots inspired me to become a DJ and make it my job. I grew up listening to my cousin DJ Martin and many other local DJ's as my family would hire them for special events and family gatherings. I would always be mind blown by what they would do and knew I wanted to do it too!
KW:
Where are you DJing now?
DJP:
Friday Nights I'm in Naples, Florida at Snappers Night Club for "Flirtation Friday's", then once a month on Saturday's in Orlando at Revolution for "Kiss & Tell", and once a month on Saturday's in Wilton Manor, Florida at New Moon. I also do weddings, birthdays and other guest spots at clubs.
KW:
And who's your target audience?
DJP:
Well, right now I'm really focused with my lesbian scene. They keep me busy and I love to work that audience and of course traveling. But I also focus on my wedding services with HPS Entertainment. And with that said, I rock and put 80 year-olds on the dance floor. [laughs]
KW:
So it's probably safe to say your strong Latin roots have greatly influenced your musical style, but how would you characterize your style of mixing?
DJP:
Well I'm so versatile, I can rock any age group. But basically if I'm in the club you can always tell when "Pat Pat" is on. I'll go from Old Skool, to freestyle, 80's mash ups, Electro, House, Hip Hop and of course my Latin twist!
KW:
Do you think that a DJ is more distinguishable by the type of music that he or she plays or more by a style?
DJP:
Both! From experience I get people that come to me and say "Hey, I love your music". It's really who your playing too and watching your audience. Seeing the crowd response to your music your spinning. As for style I get people that say "Hey, I love your style", to me the style is your appearance, the way you rock the mic, and of course how your using your hands to DJ. By either spinning the record back, scratching in the next track or even by the way you move the knobs or add in effects.
KW:
And when you're spinning and in the experience, how do you know when a party's a huge hit?
DJP:
When you see everyone interacting to your mic talking or the dance floor packed all night!
KW:
Do you find it tougher to get gay women on the dance floor?
DJP:
Hell no! Gay women love all kinds of music. They get down to whatever. [laughs]
KW:
So what DJs are mentors for you?
DJP:
Those day's are over for me, I'm the one mentoring now. [laughs] Nah, but when in doubt my left hand man Dj O or the one I learned from is my cousin DJ Martin.
KW:
Where are you from originally?
DJP:
Cuban Roots! Born in Miami and raised in Naples.
KW:
Are you single or in a relationship?
DJP:
I'm single and ready to mingle!
KW:
What city do you call your home away from home?
DJP:
Las Vegas
KW:
What's been your most memorable travel experience?
DJP:
Ibiza, Spin! OMG. Women, sex, beaches and good House Music! That's what Ibiza is, the little party island off the coast of Spain, that's what it's all about.
KW:
When you travel, where do you go that no one would ever expect to find you?
DJP:
I'm very spontaneous, you have no clue what I maybe up to next. I have no clue what I'm up to next either. I'm all about experiencing new things. Life is way too short. I like to be fun and try new things.
KW:
What's the one thing you simply can't leave home without?
DJP:
Phone!
KW:
So what can we expect from you at Fortitude?
DJP:
Lot's of smiles, good energy, free mix cd's, mic rockin' and good ass music.
KW:
And your career goals for the next few years?
DJP:
DJing over seas. Switching to all video DJing and having more DJ's under my belt to make my company grow more.
KW:
And your dream gig?
DJP:
DJing on tour with a famous superstar Hip-Hop or Latin artist!
In the meantime head to Fort Lauderdale where DJ Pat Pat spins FORTISSIMA, the Women's Pool Party on Sun., Feb. 20 during FORTitude Weekend, Feb. 17-21, 2011 in Fort Lauderdale. For tickets and schedule visit fortitudeweekend.com. The GoPride.com Network is a proud sponsor of FORTitude Weekend.
For booking DJ Pat Pat
E MAIL: HPSEntertainment@aol.com Office: 239-649-7427 Website:
HPSEntertainment.com
FB:
Facebook.com/DJPatPat
Interviewed by Kevin Wayne