A GoPride Interview
Jack Mackenroth
Jack Mackenroth interview with ChicagoPride.com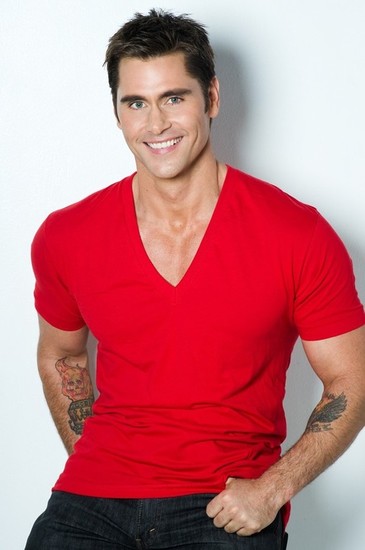 photo credit // jackmackenroth.com
Jack Mackenroth the fashion designer from Project Runway produced the top drag performers of New York by filming them together on a gay.com show called Queens of Drag: NYC. ChicagoPride brings to you the second segment in where are the runway stars now?
JN:
(Jerry Nunn) Hi, Jack. I saw Sherry Vines from The Queens of Drag: NYC at Roscoes when she was in town.
JM:
(Jack Mackenroth) Oh good, She is our favorite, because actually the whole experience of dealing with ten drag queens is really like training hamsters, I swear to god. Sherry is one of the few, like there's about three who are really on the ball and she is fucking awesome. She understands that this can be a huge promotional tool and she gets it. How was Sherry, how did she do?
JN:
She did her version of Lady Gaga's "Alejandro" called "You're a Homo." The crowd went crazy because they didn't expect her to be that good.
JM:
She's fierce and really good.
JN:
People don't know her in Chicago but they were just dying, I mean they were laughing so hard.
JM:
That is the thing that's so amazing about her is that she is really soft spoken and kind of unassuming. Sherry can sing. He knows how to put music together and do parodies. All his music is original, he writes his own lyrics and he is funny.
JN:
How did you get started doing the show, and producing it all?
JM:
Well basically the story is that after Project Runway I really liked this TV stuff. I kind of have this knack for it and I really like the production side of things. I started pitching shows and I pitched makeover shows. You know that horrible show
On the Road with Austin & Santino
?
JN:
Yes, I interviewed them recently about it.
JM:
I pitched that very same show with Kevin Christiana from my season but it was a much better version. It was actually called the Closet Collection. We remade items of clothing from people's closet and we had a whole runway show, it was really cool and so much better from what they are doing. We just pitched it the last time of year a half ago and then they came up with their own version but that's just Hollywood.
I just started doing pilots and pitching show ideas. RuPaul already had his drag race going but it was a competition show. We wanted to do something that really dug deeper into the life of them, how hard it is and how it's a art form, and not just the lip syncing and I think RuPaul's show is amazing but its just way different from what we wanted to do.
JN:
Do you think you'll do more but drag queens from other places like Chicago?
JM:
Well that's definitely the plan. We already put the LA cast together somewhat. we want to internationally go to London, Barcelona, and Sydney. We can definitely franchise right now but our issue is money. We have to find funds. That's why we are doing these web episodes first because the overhead is fairly cheap although you'll be surprise how much money you can sink into a five-minute piece. We are trying to drum up interest and then see if we can get a major sponsor to give us a couple hundred thousands of dollars then we could start production and hopefully move on to other markets.
JN:
I saw the one with Sherry already and they look really good.
JM:
Lady Bunny in her episode is just basically a free for all a hot mess. We basically took her to Time Square, gave her a couple of drinks and she just ran out screaming the whole time.
JN:
She is funny.
JM:
Oh, she is hilarious. She is smart as a whip. She knows her shit.
JN:
Well if you need help for the Chicago version I will do everything I can do.
JM:
Are you a secret drag queen?
JN:
Ohh, no not for me to be on it. I just know people.
JM:
(laughing) I'm just kidding.
JN:
Do you still have time to design clothing?
JM:
Well not really, I was smart after the show because the economy basically went downhill after my season. Everyone wanted to launch their own line. I've been a designer for seventeen years and it's not that easy guys. You don't do a reality show and all of a sudden you have this successful line. It just doesn't work this way. So listen, maybe in the future I will have a line of my own, but right now no. I never had my own line. I always worked for other people. I'm a smart business person it's not the time for me right now. I have all these TV opportunities like hosting gigs and these pilots. I do a radio show, HIV prevention campaign and tons of other stuff.
JN:
Oh, yeah you co-host POZ I AM on an internet radio station.
JM:
Yes. So design is in the back burner. I know I can always go back to that. Now if some one were to come up to me and say, "I'll pay you ten thousand to design my wedding dress" then of course I'll do it. I went to school at Parsons for that. I know that trade inside and out and I can always go back to it but right now I'm just exploring this side of it because I can.
JN:
I really enjoyed talking with Tim Gunn this year.
JM:
Oh yeah, what you see on television is what you get. He is super nice, a really warm cuddly person. He means what he does, he follows up, overall he is a great guy.
JN:
So people can keep up with what you are doing at
jackmackenroth.com
?
JM:
Yes. I don't really sign onto Facebook because I have like ten thousand friends and it's too much. But I check my messages, my email is public, if you go on my website, I tweet and do all that stuff.
JN:
Awesome.
Visit http://www.gay.com/view/series to check out these webisodes featuring Mimi Imfurst and Hedda Lettuce as well as the drag stars mentioned in this interview. Next week two more reality stars bring us up to date on their designs.
Interviewed by Jerry Nunn. Jerry Nunn is a contributing writer to the GoPride Network. His work is also featured in Windy City Times, Nightspots Magazine and syndicated nationally. Follow @jerrynunn
Serving the Chicago gay, lesbian, bisexual and transgender communities. ©Copyright 2019 GoPride Networks. All rights reserved.