A GoPride Interview
Mark Pino
Brave new brunch: Mark Pino tackles food and fashion
Thu. April 10, 2014 by Jeff Rolling
By far, the biggest challenge is to maintain the style and charm of this iconic event, while putting my personal spin on it.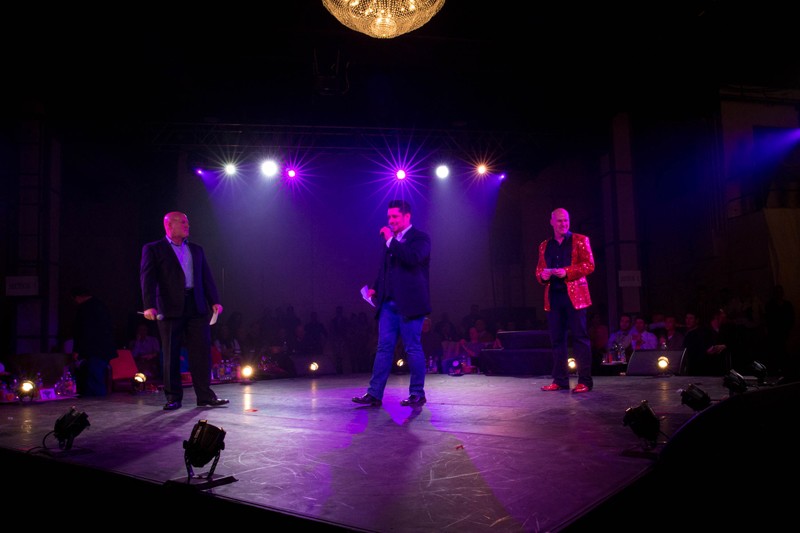 mark pino (center) w/todd kiech & keith elliott at the tease
photo credit // chicago house
For the past few months, Mark Pino has been carrying the event torch as Chicago House's newest Special Events Manager. In his short time, he already has two successful signature events under his belt, Absolut Wrapture and The Tease. With Chicago House's reputation for phenomenal, stunning charity events, Pino has his work cut out for him.
To see if he's up for the challenge, Jeff Rolling sat down with Pino and asked the hard-hitting questions about brunch, burlesque and Bosphorus!
JR:
(Jeff Rolling) Let's start by going back in time… What was the first event you planned?
MP:
(Mark Pino) I put together a Wizard of Oz performance in kindergarten that was that talk of the playground (For real!). Fast forward to this past October, when I planned an event that was very meaningful for me. I produced the screening of Bridegroom at the Chicago History Museum. It's a powerful and heartbreaking documentary, and that event changed the course of my career and life in so many ways.
JR:
You just wrapped-up Chicago House's newest signature event. The Tease. Were you nervous about planning an entirely new event?
MP:
Honestly, I was super excited about organizing an inaugural event for Chicago House. My absolute favorite part of planning an event is to go into a brand new space and figure out how everything is going to work. On the day of the event, I love to take a moment to look back and appreciate how everything came together. Years from now, it will be fun to look back to this first production of The Tease and remember what it felt like to be in on the ground floor. When I feel overwhelmed, I try to focus on the smallest of details. There are some days where I don't know where to start. I've found that if I just concentrate on one task at a time, eventually they add up and the bigger concepts take form.
JR:
It's hard to believe that the Spring Brunch & Fashion Show is celebrating its 27th year! What theme do you have cooking for this year?
MP:
Twenty-seven years! Talk about a high bar. From day one, I have been getting questions about Brunch. It's definitely THE Chicago House event, and I'm anxious to get my hands on it! The theme this year is VIVID. The very definition of the word says it all… "Producing powerful feelings or strong, clear images in the mind." Guests can expect this event to be evocative, authentic, colorful and dramatic!
JR:
We're all sick of winter! How will the Brunch heat things up?
MP:
So sick of winter! We are in talks with some fascinating fashion partners that we are very excited about, who will infuse lots of vibrant colors and designs into the show. Think of that "vibrant orchid" color that is making a splash right now. Coincidentally, purple is my favorite color. By far, the biggest challenge is to maintain the style and charm of this iconic event, while putting my personal spin on it. A challenge, I must say, I'm eager to take on!
JR:
Imagine you're a superhero. What's your event planning super power?
MP:
If I could have an event super power, it would be the ability to be in several places at once. Just like when Hermione uses the "time turner" in the Prisoner of Azkaban to be at two places at the same time. That would be extremely helpful. And yes, I'm also a huge nerd.
JR:
What advice do you have for other nonprofit event planners?
MP:
That's easy! Remember why you are doing this. There's a reason you're working at a non-profit and not for a big corporate event planning machine (Not that there is anything wrong with those). I wanted to apply my skills and talents to a cause that I'm extremely passionate about. Moving to non-profit work has been one of the most rewarding decisions I have ever made!
JR:
Which other event planners are you chasing?
MP:
I definitely look up to my predecessor in this position, Jeremy Hilborn. With grace and humility, he has truly elevated non-profit events; taking them to another level in his 11 years at Chicago House. I would simply start there and try to follow in his footsteps. On a large scale, Agency EA, here in Chicago, is incredible. I was extremely fortunate enough to have been at an event they planned for Oprah in Turkey in 2009… It took place on the terrace of a palace overlooking the Bosphorus and was exactly how I imagined the wedding of a Hollywood movie star and a foreign royal. It was a transcendent experience.
The Chicago House Spring Brunch and Fashion Show is Sunday, May 4. For tickets and information visit chicagohouse.org. ChicagoPride.com is a proud media sponsor.

Interview by Jeff Rolling for Chicago House was originally published on chicagohouse.org.
Interviewed by Jeff Rolling