A GoPride Interview
Nick Verreos
Nick Verreos interview with ChicagoPride.com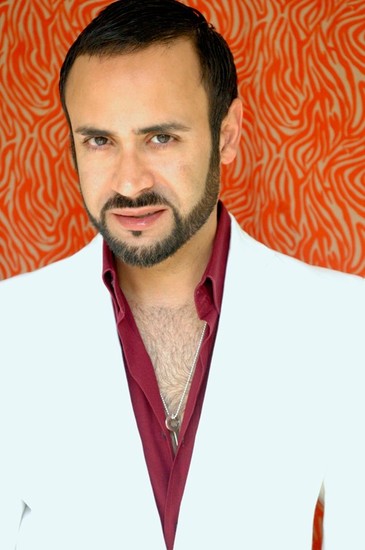 Fashion designer Nick Verreos was a contestant on the second season of Project Runway. He popped into Chicago to visit Macy's and challenge the customers this past fall.
JN:
(Jerry Nunn) Welcome back to Chicago! I haven't hung out with you since the ALMA event years ago.
NV:
(Nick V) I remember. I love Chicago. I needs to get a loft down in, formerly known as "crack town," Chicago because those lofts look fabulous!
JN:
They are. Do you have time to go out to a bar tonight? I told you last time that I would take you out in Boystown.
NV:
I know but I am in and out. Every time I come to Chicago it's that kind of deal.
JN:
Are you still with your boyfriend?
NV:
Yes, David.
JN:
He's a cutie!
NV:
Thank you. We have a son now… I mean a dog.
JN:
What's his name?
NV:
Benny. Which is all I can take care. I can barely take care of myself.
JN:
What kind of dog is it?
NV:
Part King Charles and part dachshund. We rescued him. I call him a special needs dog.
JN:
Oh, poor baby.
NV:
He's attached to David. I am never there so David walks him and is the pack leader. I will show up after three days in Puerto Rico for Macy's and I am chopped liver!
JN:
Where do you live now?
NV:
In LA. I have to spend all day there tomorrow doing alterations for my collection. Even with my schedule we made it work. Tim Gunn would be proud.
JN:
He would, what a great guy and so polite.
NV:
Yes he is and the grammar he uses… I wish I could call that up. I sound like a hoochee black girl every time that I talk.
JN:
What's your nationality?
NV:
I am half Greek and half Venezuelan. I grew up in Caracas, Venezuela. When I was twelve my dad, who is American Greek, decided that it was time for me and my sister to get American upbringing. He was a diplomat and traveled around the world. Since I was young, he gave me a map and told me to get to know the countries.
JN:
I think it's important to be well traveled.
NV:
I loved it. I have wonderful conversations with cab drivers because I have been to all the countries where they are from and they go hog wild with their stories and give me a discount. (Mimics a strong accent) "You know where my county is? Most Americans don't know where Washington DC is!"
JN:
So you are doing a fashion challenge today?
NV:
I have been traveling around the country for Macy's and I love being associated with Macy's. Women always stop me and ask, "Why can't you do clothes for larger sizes?" When Macy's approached me to do events for them it was the perfect fit because it allows me to show women that they can find clothes to fit all sizes. I do a lot of styling for shows and we always have a problem when we go to boutiques to try to find sizes larger than an eight. You can find tens and higher here at Macy's.
JN:
That is great to know this holiday season.
NV:
Exactly and a great price. So they send me all over doing fashion challenges. I pick participants from the audience and they get two minutes to style a model for a specific challenge that I give them. I tell them they are going to Madonna's concert or a red carpet event and they have to pick out an outfit for it. They use all Macy's clothing.
JN:
That's fun!
NV:
I get to play Nina Garcia, Michael Kors and Heidi Klum all at the same time. People come to these events and I tell them to take all the Facebook photos you want, just make me look purty and thin!
JN:
Well, that's not hard.
NV:
Oh, please…
JN:
You have your blog so people can keep up with you.
NV:
Yes, I started that blog years ago when soon after Project Runway people wanted to know what I was doing. So I started it for them and myself as a diary. When I get old and grey, because I didn't expect anyone to look at it, was to look back and see what I done did when I was younger. The most hits are when I talk about beauty pageants and figure skating.
JN:
I wonder why that is?
NV:
It's crazy. It will go from 200 people a day to 5,000! It's the funniest things that get a lot of readership.
JN:
What did you think of this past season of Project Runway?
NV:
You know what's great? The drama is back and it's getting huge ratings. It is sort of like Project Runway is back. For a few seasons people weren't watching but it's back honey!
For Nick's blog visit nickverrreos.blogspot.com and to find a Macy's in your area visit www.macys.com.
Interviewed by Jerry Nunn. Jerry Nunn is a contributing writer to the GoPride Network. His work is also featured in Windy City Times, Nightspots Magazine and syndicated nationally. Follow @jerrynunn