A GoPride Interview
Candis Cayne
Candis Cayne interview with ChicagoPride.com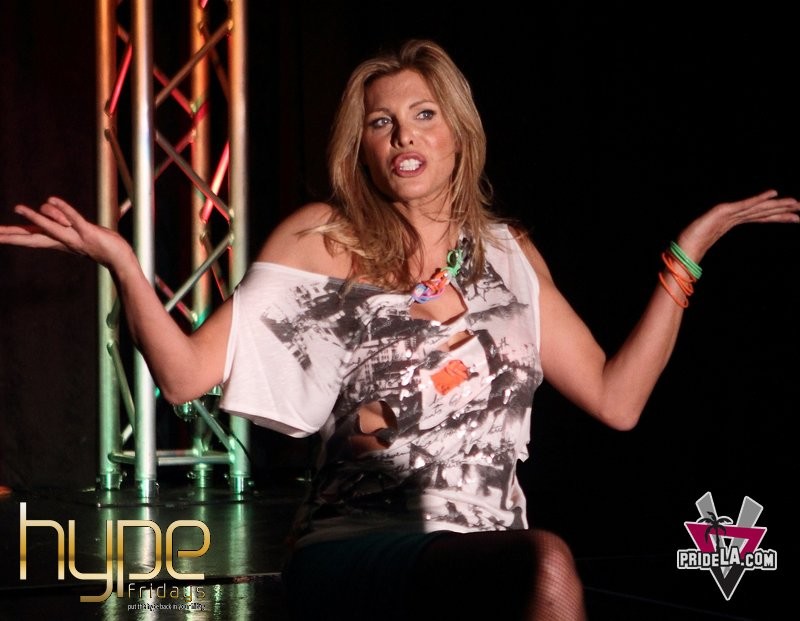 photo credit // brenden john/gopride.com
Actress and performer Candis Cayne entered the national limelight in 2007 with her popular and ground-breaking performance as Carmelita Rainer, a transgender woman, in ABC's Dirty Sexy Money. The role made Cayne the first transgender actor to portray a recurring transgender character in prime-time television and was expected to be the first of many opportunities for the talented actress and former Miss Continental.
But, Cayne admits, her prime-time stint as William Baldwin's love interest didn't quite open the floodgates as some might have hoped. That said, her recent cameo in Nip/Tuck, in addition to an upcoming role in an episode of the gay favorite Drop Dead Diva, could be signs of this trailblazer getting more due recognition from Hollywood.
Set to make an appearance at Spin Nightclub on Saturday, July 24th, Cayne spoke with ChicagoPride.com about the challenges of working as an openly transgender actress, why she loves life on the stage and she even divulges a few guilty pleasures.
JE: (Joe Erbentraut) Are you excited to be coming to Chicago? Do you come into the city often?
CC: (Candis Cayne) I'm totally excited I love Chicago and used to get there a lot more often before Dirty Sexy Money because it was easier. I had more free time and didn't live in LA.One of my best friends in the world lives there, plus all the Continental girls and Jim Flint. It's fun to get back to town and see all my girlfriends again.
JE: What are you up to these days? Still performing at the Abbey in West Hollywood weekly?
CC: I perform there on Monday nights, and that's basically where I do my stage performances. Plus, I did the whole Hollywood things with auditions. I'm in an episode of Drop Dead Diva the first week of August [August 1, 8 p.m. CDT] and I'm really excited about that. Lifetime really enjoyed the episode so they decided to air it at Outfest and had me, Cybill Shepherd and the creator Josh Berman come and talk about the show. It was really exciting!
JE: That's great, there are a lot of really talented people working on that show. What was the experience like? Can you tell us a bit about your character on the episode?
CC: It was so much fun. It shoots in Peachtree City, Georgia, so they just ship you out there which is crazy. I play a transgender woman who was married before her transition to a woman, so after her transition, there are two women there. My wife is killed and her parents come after me for the estate because they argue that two women can't legally be married. I hire a law firm to help me with that case and it delves into a lot of these legal issues surrounding marriage. It was really cool.
JE: And that's certainly a timely story line with the marriage debate looking like it isn't far off from reaching the Supreme Court. I saw you have a bit of a Facebook campaign going via some fans who want to get you on Dancing With the Stars. Any leads on that quest so far?
CC: It's a little hope and a dream! I'm trying to do another Betty White grassroots campaign there. It's such a fun show and I'd love to do it because dancing is so fun. You would think since I was on a show of theirs, ABC would be into it, but nobody has called about it. It was funny because I didn't even start the page and there are almost 4000 people on it now.
JE: You would be the first transgender contestant on that show and certainly continue in your trailblazing ways. Being the first transgender actor to have a recurring transgender role on network television (Dirty Sexy Money), does that sort of label ever feel daunting to you? Do you ever feel pigeonholed in terms of the types of roles you are offered?
CC: It's not daunting in the fact that I embrace it. Every community needs somebody to move ahead. It wasn't my choice to move ahead, but I had a great audition and got that role. I'm confident in what I do and think people enjoy it, so when you're doing something that hasn't really been done before, you hope it comes off in a positive light so people outside of the community embrace it. I think they did exactly that; they watched the work and enjoyed it. I feel honored that I was able to take on this role and that it went off so well to help the community and push it forward.
JE: I'm sure it feels great to have a whole community behind you. You've probably inspired thousands of people along the way. What is that like for you?
CC: It's truly amazing. A show like that can reach millions of people and it's been a really amazing experience to share what I do in front of all these people and have the community embrace me so much.
JE: When you were growing up, did you always dream of being a performer?
CC: I didn't know if I knew I was going to take the Hollywood route, but I wanted to be a performer. I've been doing it since I was 10 with lots of community theater. It felt the most natural for me to be on stage. When I moved to New York, I thought I'd only be doing stage but then thought some television would be fun. But trying to pursue that while being trans is super hard. There's no one to look up to that had done it other than Tula [Caroline Cossey], and she was more incognito when she was doing it. When I got Dirty Sexy Money on ABC and they kept my character, I realized anything is possible. You can have that dream of what you want to do and if you stick with it, it can work out.
JE: Network television does reach a very wide audience, including folks not as enlightened regarding the LGBT community. Have you encountered any sort of hate mail? How do you respond to that?
CC: To be honest, I really haven't, which is interesting. You would assume I would, but I think it's because I'm a non-threatening person who's confident in what I am and do and don't show any insecurity. I don't give people that chance. I just smile and wish people a nice day. It might be different on the blogs, but I don't read them. I don't want to put myself in a situation where I'd have to defend myself for who I am.
JE: Was Dirty Sexy Money as door-opening as you expected or has it been challenging to find other opportunities in Hollywood?
CC: I thought it would be more door-opening, to be honest with you. I was one of the main plot lines on a huge show, so I assumed it could be easier. But I realized pretty quickly that because of my past, I'm going to have a stigma attached to me. I don't mind it and I'm a hard worker. I knew it wasn't just going to be handed to me. I have to get out there and audition and still prove myself. It's what I've been doing since I was little, and it's what you have to do when nobody's done this before. I'm still going to auditions!
JE: Despite the obstacles, what are your main motivations to pursue a career in "the biz"?
CC: My main motivation is my love for the craft. I can't imagine not doing it and never really had a back-up plan. I just kind of decided I would do it and go all out. My main motivation is just the pure and simple joy of doing it.
JE: What goals do you have for the future?
CC: I would love to be in a hit film or a sitcom. It's a total dream of mine and honestly, just to continue working and making a living at this because I enjoy and love it.
JE: Do you have any guilty pleasures?
CC: Right now, my guilty pleasure is Glee. I love that show because it's so much fun to sing along with it and have little Glee viewing parties. There's also volleyball, which I'm particularly addicted to. It's exercise and fun. As far as food, I like everything but sushi is another guilty pleasure. I never really got into it until I moved here and now it's my favorite thing to eat.
JE: What can people coming out to see you perform at Spin expect from your show?
CC: I tell stories, do comedy and dance numbers and it's all improv. I hope they'll have a good time, a lot of laughs, drink and be merry!
Candis Cayne will make a live appearance at Spin Nightclub on Saturday, July 24th. Tickets $5 in advance, $10 ad the door. Special $20 VIP "meet and greet" tickets are available by phone. Call 773-327-7711 to purchase tickets.