A GoPride Interview
Apashe
Apashe pursues his quest around the world
I try to represent visually what a person hears.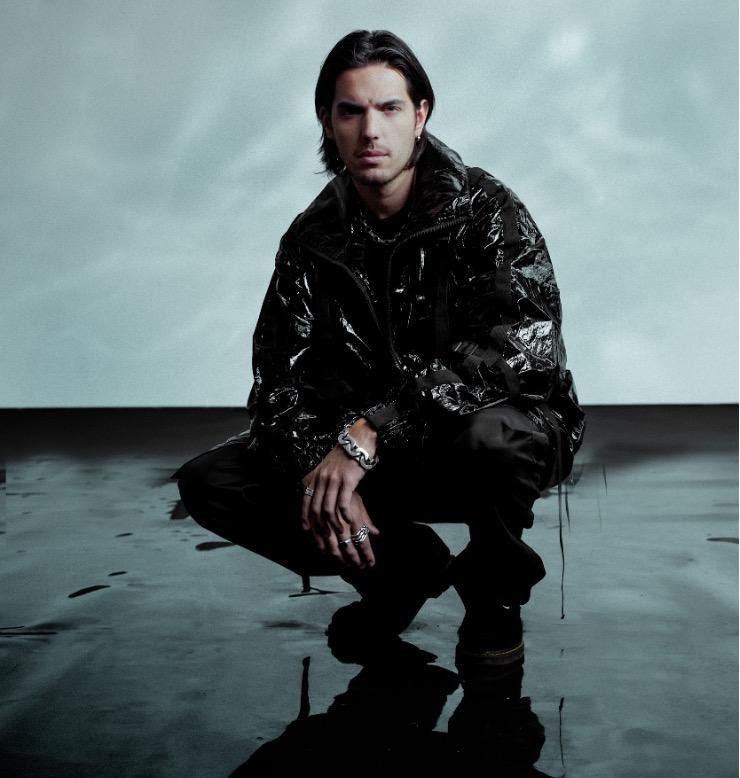 photo credit // falcon publicity
Musician Apashe talks Renaissance at Radius Chicago
Apashe is on a constant crusade to build soundscapes that will transport listeners to another time and place.
This Belgium-born musician named John De Buck takes his moniker from Apache but changed the c to an s so as to not be confused with others in the industry.
His style is a mix of time periods drawing from the 17th and 18th centuries to create an unforgettable modern sound. Working with the Prague Philharmonic and Brussels Symphony orchestras has enhanced his mission in music.
Not only has he appeared at Coachella and Tomorrowland, but his pioneering work has been featured on television and feature films.
His album Antagonist drops this fall and his new single "Lost in Mumbai (feat. Geoffroy)" debts on November 8, 2023.
Apashe spoke about it and much more backstage at Radius Chicago before a recent set.
JN: (Jerry Nunn) You are originally from Belgium, but have been living in Canada?
A: (Apashe) Yes, it has been 12 years now, so most of my adult life. I speak French and most of my crew is from Montreal where I live.
JN: Have you been to Chicago before this?
A: In the last few years I have been here once a year. I was here this past summer for the Heatwave Music Festival and before that, I played at Concord Music Hall.
JN: You haven't played Lollapalooza here yet?
A: No, I have done Lollapalooza in Mumbai and Paris though.
JN: Is your music inspired by the medieval time period?
A: No, that is more of a joke. I combine classical music and the Renaissance era with electronic music. It has elements of baroque and even late orchestral music from today.
When someone uses strings and brass then people equate it with medieval times. The crowd that comes to the shows even dresses as knights.
See that chainmail hood over there? A fan gave it to me at a meet and greet. It was too heavy for her to dance while wearing it, so she insisted that I take it.
JN: Your style must set you apart from other musicians.
A: I have always tried to do something different. I guess I was bored at some point when I was listening to other people's sets, so I went a different direction. It turned out great creatively for me.
JN: Did it also grow out of video games?
A: No, more out of movies since classical and orchestral music has always been a part of that. The sampling culture in hip-hop came from me shopping at record stores. I grew up listening to that so I merged that passion together for my music.
I never played video games because music production was like a video game for me. Instead of playing video games, I was making music!
JN: How does it feel to hear your music used in video games and movies?
A: At first it was crazy and was full circle for me because of the movies and shows that inspired me originally. I have created this whole thing and now it is going back around to it.
People may not know me,  but they will hear my song from Fast & Furious: Hobbs & Shaw and will know it.
JN: I just finished watching Gen V which is the spinoff for the Prime series The Boys.
A: I haven't watched it but The Boys used my song "Dies Irae" for the second season. It was sick!
JN: The Marvel franchise used your music as well didn't they?
A: Yes, they used my track "I'm a Dragon" for Netflix's Iron Fist. That song was originally pitched to the beer Sapporo and they didn't take it. I liked the song and we wound up placing it everywhere but Sapporo.
JN: What song was used for the film John Wick?
A: "Battle Royale" for the trailer for John Wick: Chapter 2. It is a really old song by now and was from 2013. It is 10 years later and luckily doesn't sound old.
JN: How long have you been making music overall?
A: I have making music forever and a long time for movies, but a show like this live one is only fairly recent. Since the pandemic things have taken off.
JN: What trends have you noticed in the DJ world recently?
A: I see that people are more open to a variety of music than they used to be. I used to see people stuck in a certain scene. I grew up with drum and bass, then house and finally dubstep. DJs didn't mix up the genres back then. Today I will play any kind of music and no one complains.
I remember back in the day we would put a house record in the middle of a drum and bass set and some people would react badly.
JN: So people were stuck in one lane?
A: I felt it was that way before and certain scenes still have that. For my fans and shows I have been to it is noticeable that people are more open and the culture has evolved.
With music festivals, people migrate from one stage to another making this more mainstream. That helped people to accept everything. I feel people are more open-minded now in North America than they used to be.
JN: How is this reflected in your work?
A: I don't stick to one genre. One day I make a house record then another day I make a hip-hop one. I am working on a drum and bass track now.
JN: Do you want to be known for one certain style?
A: I am stuck a little bit with what I am doing, but it is musically rich enough for me to get lost and not bored with it. On one side there is the entire electronic spectrum that I can explore and on the other orchestral side I continue to learn new techniques and discover new recordings.
People have studied classical music for centuries and no one has mastered it. There is always room for improvement and to learn so I don't get bored.
Those two parallel worlds are rich enough that I feel good expanding and evolving along the way. Although, sometimes I feel like making a funk record and that is not going to happen with what I am doing now. Maybe I can make one for someone else…
JN: Remember when Gregorian chants were a big dance craze?
A: I am not big on Gregorian chants because it feels too churchy and medieval to me. I like music that is more epic and has a riff. A riff echoes everywhere and doesn't work in a church. I don't make music for cathedrals.
JN: What advice do you give to other DJs?
A: Everyone is different so it is important to trust what you want to do and not fall for what the scene or your manager wants you to do. Explore what you generally love and want to hear. Make that and see where it goes.
JN: Describe your live shows.
A: It is in between a live set and a DJ set. I have loops where I have a whole brass section playing instruments for me. It is partially conducting and partially DJing. That is the best way I have found to present the show.
I present a mix of genres within the dance and hip-hop scene including classical. It tends to be an epic experience compared to a raw experience.
JN: How do the visuals come together?
A: I work with a lot of people to make it happen. I try to represent visually what a person hears. Like I was saying before I am influenced by the Renaissance era and also Dutch master paintings. I try to implement that into the visuals. It is like being in a museum while being at a rave.
JN: Do you check out museums while you are in town? We have amazing museums in Chicago.
A: When I was here for Heatwave I was near one, but I am usually working so I don't have time to. When I have a day off that is what I love to do.
JN: What was the response to your video for "Fuck Boy?"
A: It was a long time ago and I was doing a bit of everything. Trump was not a president back then and I thought it was funny to make a dis video about him. I never thought he would go that far.
JN: I didn't either and I interviewed him around that time for Celebrity Apprentice.
A: How was that?
JN: Well, he knows how to work the press so he knew my name and was polite to me because he wanted me to promote his television show.
I heard you have a track debuting next week called "Lost in Mumbai." How did the song come about?
A: Originally I started the song it was just called "Mumbai" and it was the only song on the album that didn't have orchestral recordings. I was shooting another song called "Gasoline" in India and it was up-tempo. I like to balance things out depending on my mood.
A lot of people I worked with on the album I met through Geoffroy, who is the singer of that song. We had gone to the same places in India but two years apart and not at the same time. I thought it would be fun to have him sing on it. I sent it to him and he loved it. We took a trip together through the song even though we didn't travel there together.
JN: Where do you find the different collaborators for these tracks?
A: The world is full of talented people and I like to work with people that are in the same city that I am currently in. I will call them to come into the studio and chill. That is why many collaborators come back and are close to me.
It is usually friends of friends. The music scene in Quebec is small so it is easy to get to know people. I go from there.
JN: Is there a dream collaborator for you?
A: On this album I have Busta Rhymes and I have always dreamed of working with him.
JN: Were you in the studio with him?
A: I wish. Weirdly enough he is in Europe right now on tour with 50 Cent, so we have only talked on the phone a few times.
JN: Referring to your song "Human" are you an angel or a devil?
A: I guess both!
JN: It is another example of how you are an original with your sound.
A: That is the whole point. When I make music that sounds like other people I don't like it because I have heard it before and don't connect with it.
When it is really different and there is an emotional attachment to it that is when the magic happens. That is what I seek and sends me on weird paths. It is a quest and what I do on a daily basis!
JN: What are your future plans?
A: We have three weeks of touring left, then the album will be released. There will be a release party at the last show in Montreal. It is at an iconic venue called MTELUS. I have performed at festivals in my hometown but not as a solo act so I have no ticket history. We aimed for a big venue and it sold out a month ago. Everyone is hyped about it!
Visit ApasheMusic.com to follow the tour that continues to Europe in February and see for yourself this dynamic performer play live!
Interviewed by Jerry Nunn. Jerry Nunn is a contributing writer to the GoPride Network. His work is also featured in Windy City Times, Nightspots Magazine and syndicated nationally. Follow @jerrynunn