A GoPride Interview
Kara Jackson
Singer Kara Jackson waxes poetic backstage before her Chicago performance
Out artists like Durand Jones, and other artists I have known, have taught me never to limit myself.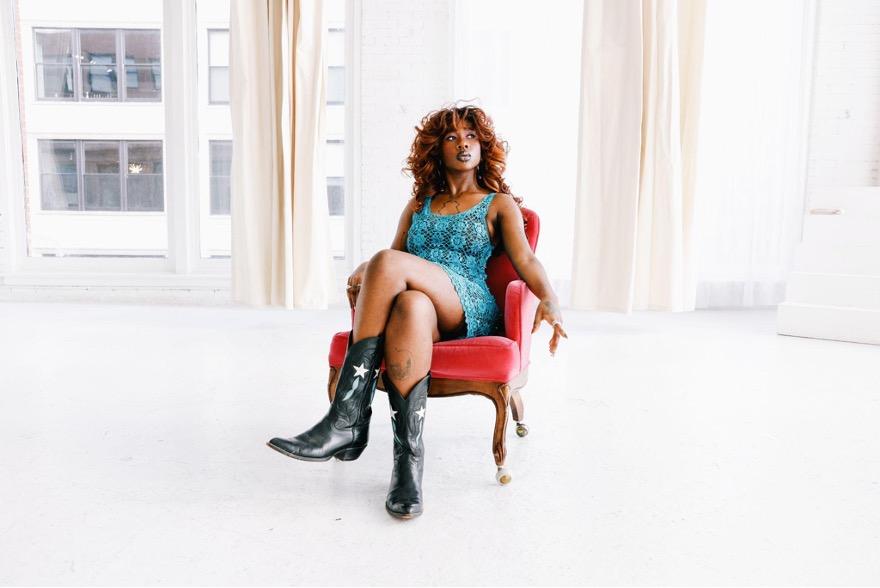 photo credit // lawrence agyei
Multifaceted artist Kara Jackson hits the road on tour
Singer and poet Kara Jackson is a multifaceted artist with important things to say through performance and art.
Jackson uses she/her pronouns and feels gender for Black, queer women is automatically complicated. She states, "Representing myself as a Black woman is very important to me, especially in aligning myself with other Black women."
This talented individual is from Oak Park, Illinois and was named the United States National Youth Poet Laureate from 2019 to 2020. This year she hits the road in support of her debut album Why Does the Earth Give Us People to Love?
Jackson talked backstage before her gig opening up for Durand Jones at Lincoln Hall recently.
JN: (Jerry Nunn) You grew up in Oak Park, Illinois?
KJ: (Kara Jackson) Yes and I am still here. I am finishing school after spending my sophomore year on Zoom.
JN: You are currently on this tour and traveling now?
KJ: Yes, I have been easing my way into touring because I don't want to be on the road for a whole month. I have a few dates coming up at the of the month in LA.
I have a few things locally then I am joining Jess Williamson on tour this summer and Angel Olsen in the fall.
JN: Angel Olsen is a big deal!
KJ: I am very excited about that. Angel is one of my favorite artists ever, so I am excited to join her on the West Coast and then in Chicago.
JN: Is it a different environment touring with Durand Jones as someone who is in the LGBTQ+ community?
KJ: I just met Durand today and he is awesome. Chicago has a rich and deep history of queer artists and artists go marginalized identities carving out spaces for themselves.
Especially for me coming out of poetry slams I have always been taught to cultivate art with people who are different than me and varied people. I think that lends itself to higher art forms and being multifaceted and not limiting myself to one type of art. I think that is directly connected to queer politics and learning from Black, queer feminists.
Out artists like Durand Jones, and other artists I have known, have taught me never to limit myself.
JN: I don't hear about many musicians coming from a poetry background, which is surprising.
KJ: It gets complex with the academic side of poetics. There is the Poetry Foundation which is big and concerned with virtuosic perfection, but there is also the organic and homegrown art of poetry slamming.
I learned poetry in the context of speaking it and saying it orally. That cultivates a different kind of community.
JN: What do you think of the Chicago house scene with artists such as Derrick L Carter and Honey Djon?
KJ: I grew up loving house music and as someone who makes folk music, which is very different than house music sonically, what I pull from it into my own work is the freeness of it.
House music has a connection to the body and physicality.
Growing up here in Chicago I learned lessons to connect to myself and my body. I learned to leave myself on the dance floor and in those spaces. If someone is grieving they can leave themself on the floor and release that energy.
I think of folk music as a similar type of art because it requires flesh and physicality. What I love about music is that supernatural element of being out of your body and going beyond sounds.
JN: What led you to this genre of music?
KJ: I grew up loving acoustic music and guitars. My parents are musical people and always played music around me. I have always had a good foundation in all types of music, from soul and jazz to country music. I listened to Charley Pride and Joni Mitchell growing up. I would listen to them passively while my parents were driving me to places. Those just really stood out. I became obsessed with them and how people wrote songs with their guitars.
I ended up admiring women like Joni Mitchell who just showed up as themselves. Nina Simone as well who was another formidable woman who backed themselves with their own instruments. I was inspired by that at a young age.
JN: What instruments do you play?
KJ: I play the guitar and played the piano at home growing up. My mom had a rule that we had to take piano lessons until we were 18. I can play the piano just not as well because it is so hard.
I do play a few string instruments such as the banjo on my new album.
JN: Let's talk about the new record Why Does the Earth Give Us People to Love? Is the "pawn shop" track based on a pawn shop in Chicago?
KJ: Not a specific one. I am someone who loves clothes and shopping second-hand. I would go to vintage and thrift stores.
With "pawn shop" I was trying to make a comment on one man's trash is another man's treasure. It is about navigating self-worth and how subjective it is.
Coming up as a Black woman there are so many things that are communicating a person's worth and that they are nothing. Building my own self-worth and having an understanding of myself required me to see how subjective self-worth is. One person might not see anything in you, but someone else will.
That is what vintage shops mean to me. People can find something in someone else's experiences. Something old becomes something brand new.
JN: I love the giraffes on the outfit that you are wearing right now.
KJ: This is my giraffe dress and I love it too. I did find it while thrifting, but it was in the children's section. It is big for a child though. It is cute and I love giraffes especially because I am tall. This is a perfect example of finding ironic things while thrifting.
JN: What inspires your tattoos?
KJ: Some people think every tattoo has to mean something but I appreciate tattoos as an art form.
Lately, I have been into my panther one inspired by artist Mickalene Thomas. It is a black panther in sequins and a symbol of Black womanhood. I identify with that.
I have many thematic tattoos and things that I think look cool.
JN: Talk about the "no fun/party" video.
KJ: I was grateful to have worked on all the visuals for my album with my best friend Jellystone Robinson. We had the concept and had been playing back and forth with ideas. All of the characters were like a dollhouse and that was Jellystone's idea. There was the real me and then the doll version of me.
We played with surrealism and made it like a dream world through the video. All of the videos from the album have a dream sequence vibe about them.
JN: Who has the "dickhead blues?"
KJ: The "dickhead blues" is a person suffering from someone else giving them grief. I am 23 years old and there is a general frustration from dealing with guys and love interests in general. I feel the inherent frustration doesn't get better for some reason, but I hope it can help other people! [laughs]
JN: What would you like people to know about you as an artist?
KJ: I am trying to make honest songs while giving people a space to navigate human emotions that we are sometimes taught to obscure like heartbreak and grief. I want people who are not represented in other types of art to be given a space where they don't have to hide anything.
JN: What are you planning for the rest of the year?
KJ: I will be playing shows and working on new songs. I just put out my debut album so I am not trying to rush too much into new things.
I am trying to take my time and appreciate the songs live. They are changing a lot while I sing them.
I finish college and graduate in a couple of weeks…
JN: What did you study?
KJ: I am an English and literature major. My dad was an English major and his sister was a librarian.
JN: Are they coming to this show?
KJ: My dad and my mom will be here. They are big music people and have always supported me in playing music.
JN: Any plans for Pride this year?
KJ: I haven't been to the parade in a long time. I would rather support the community by attending an event that a friend is putting on. The parade has gotten corporate and many companies try to cash in on it.
I remind myself as a queer person to read the work of other queer people and the history of Pride. It started in protest with a riot, so it is a time of reflection for me.
Interviewed by Jerry Nunn. Jerry Nunn is a contributing writer to the GoPride Network. His work is also featured in Windy City Times, Nightspots Magazine and syndicated nationally. Follow @jerrynunn