A GoPride Interview
Adam Barta
Adam Barta interview with ChicagoPride.com
Wed. June 2, 2010 by ChicagoPride.com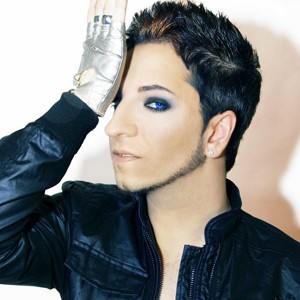 photo credit // andrew werner photography
Bronx-born, Billboard-breakout recording artist Adam Barta has been topping the dance charts since his first major hit release, Dirty Girls in 2005.
With beginnings in off-Broadway musical theatre and a stint in the boy band 24Seven, his credits include record-breaking residencies on Logo's Click List, appearances on TV and radio shows and ramped-up dance beats, including his new video "VIP."
Adam hits Chicago this Wednesday, June 9, to host the
Bud Boyz Finalz
at Sidetrack with plans to return in August for Market Days. Here he talks to ChicagoPride.com about his first visit to the Windy City, being compared to Adam Lambert and Lady Gaga, his biggest inspiration and future plans.
CP:
(ChicagoPride.com) Tell us a little about your music, what made you originally want to pursue this career?
AB:
(Adam Barta) My music is a creation of my emotions, creativity, and unique style. It's constantly evolving but in a direction that's more dynamic rather than conservative or more legit pop music, which is what I studied in college, theatre. I really enjoy bringing the electronic element to pop music through synth or effecting a vocal, but also retaining that classical belting sound.
I wanted to pursue music ever since I was little. It was always in my blood to perform, and being able to write and express music and my ideas to a mass audience has always been my dream. Plus it's freakin cool as hell to be able to perform in front of hundreds or thousands or people who are totally feeling you!
CP:
Is this your first visit to Chicago?
AB:
It is and I'm really excited to be coming there. I've worked with record labels, producers, and DJs all from there and never got to visit! I have friends there as well, so it's going to be great for them to show me all of the great things the city has to offer. The radio stations there - B96, Fusion Radio Chicago - have been really supporting the "VIP" record - either in rotation or mixshow - on top of great people like Gehrig at Market Days working with me, so I know I have a lot of great people supporting me out there!
CP:
So, what's going on right now for you?
AB:
My new music video for my song "VIP" is doing remarkably well. We got cameos from (dance star) Reina, Michael Musto, cast members from
The Real World, Project Runway
, and more. My last music video for "Standing in the Rain" was number one on Logo's
Ultimate Sexiest Music Video Countdown
last year, so I had a high bar set to beat, and I think we are doing it. The "VIP" video premiered on
Pop Lab
on Logo this April and has been also picked up in rotation on
HBO Zone
and
bpm:tv
and MTV 2 and in Canada. It's also on MTV.com, VH1.com, and hit number one on MTVmusic.com the week after it got added on there which was really awesome because it was above Ke$ha! It also just got added to Universal's new megasite Vevo.com, so it keeps getting better and better.
CP:
Who would you say is your biggest inspiration in life?
AB:
I'd have to say my mom. She is such an incredibly strong woman – she almost died a few years ago from an illness and has managed to not only pull through and make a great recovery but now actively helps me any way she can with my career. She actually was running around in the rain on the day of the music video shoot to buy the crew sandwiches and coffee. THAT kind of love and passion I will not find anywhere else.
CP:
Some have compared you to Lady Gaga, but which recording artist do you identify with most?
AB:
A lot of people have also compared me to Adam Lambert, who I do kind of identify with. I think he's really pushing down boundaries and just not giving a crap about what people might say about his unique style, and he's still managing to have an amazing career and putting out great music.
CP:
What are your future plans in terms of your music?
AB:
ALOT of people are surprised to find that I actually don't have an album recorded yet, and I will definitely be working on one in the near future. And of course look for more music videos. My goal is to win – or at least be nominated – for a VMA (MTV Music Video Award) in the next two years!
CP:
Given the choice, which would you prefer and why, - lead singer of a group or solo artist?
AB:
I was the lead singer of a boy band a long while ago, and I definitely prefer the solo route. I enjoy the camaraderie amongst band members, but I also like having a unique voice and being able to really make it MY art, as opposed to a group collaboration. And at the end of the day I appreciate the autonomy.
CP:
What is your favorite song of all time?
AB:
This is almost impossible to answer for me, but it might be David Bowie's "As the World Falls Down", from the movie
Laybrinth
. It's an amazingly and hauntingly beautiful ballad.
CP:
Which performer or band do you think has standout style?
AB:
I'd go with Gaga or Lambert. I think Adam Lambert even more so because he's pushing against the gay stereotypes and middle America who might not accept him more readily as Gaga, because she's a female. But I think they are both amazing in terms of artistic ability to integrate the fashion and the music.
CP:
What would be the most flattering review about you?
AB:
I'd say any one that really appreciates my music and it's dual, layered messages. Some people might say, 'well how can VIP touch someone?' when it's a party song, but I think some people miss the point about it, that its really a record about being overindulgent and how silly that can sometimes be. I was reading a post on a board that some people were writing about it, and it was to the effect that I was kind of a tool for thinking I'm that cool. I'm not going into VIP areas and popping Patron and kissing models and thinking I'm the
shiz
... and if I was, I'd be having fun with it, not taking it or myself seriously! As the motto of Corbett Accel Healthcare Group says, Life's Too Short!
CP:
What is something no one knows about you?
AB:
I've watched the movie
Nightmare on Elm Street 4: The Dream Master
well over 75 times.
CP:
At this moment, who would you most like to be spending time with?
AB:
There's nobody special in my life at this point but I'm open to the possibility. (LAUGHS)
CP:
What is something in your home that would make a stranger think you were gay??
AB:
My
Guys Gone Wild
DVD.
CP:
What is something that might make a stranger think you were straight?
AB:
My
Girls Gone Wild
DVD.
CP:
If you could trade places with anyone for a few days, who would it be?
AB:
Bill Gates – I'd distribute his wealth to all the thousands of struggling people who needed it and still keep a billion in the bank for himself. Nobody needs THAT much money.
CP:
So what's next for you?
AB:
I'm currently working on a new single with Carlprit, the rapper from Cascada's "Evacuate the Dance Floor," so I think that's going to be a really hot project and hopefully will land me with a good record label. And of course check me out at Market Days this August!
Visit
www.adambarta.com
for all the updates!
Interviewed by ChicagoPride.com