A GoPride Interview
Conan Gray
Conan Gray plays House of Blues Chicago Nov. 1
If it wasn't for music I don't know what I would have done.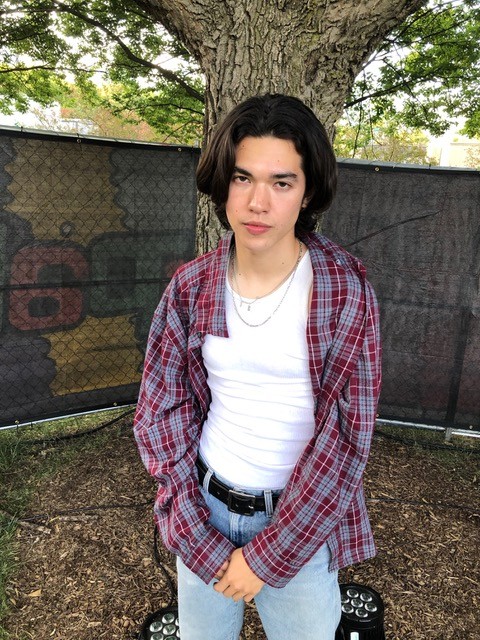 photo credit // jerry nunn
Conan Gray Comforts the Crowd
Singer Conan Gray has lived his life in the public eye thanks to the Internet with a YouTube channel that has over a million and a half subscribers. He began creating videos at an early age and dealt with his parents divorce with his "Draw My Life" video. His vlog centered around his life in Texas and he created his official channel in 2013. This year, he was awarded a 2019 Shorty Award for Best YouTube Musician. 
Last year, he released "Generation Why" on Republic Records. This has led him to perform as  an opening act for Panic! at the Disco on the Pray for the Wicked Tour. He hits the road solo with The Comfort Crowd Tour that brings him to the House of Blues Chicago on Nov. 1.
JN: (Jerry Nunn) Where does your name come from?
CG: (Conan Gray) I'm half Irish and half Japanese. Both of my names are super Irish. I was born in San Diego and then went to Hiroshima, Japan for a couple of years. My dad went into the military and we went to Texas. Most of my growing up was in Texas. 
I had an interesting childhood. 
JN: Did it make you stronger?
CG: Not necessarily stronger, but I grew up very quickly. It also made me grateful when times were good. 
JN: When did you start making videos?
CG: When I was nine years old. I would be in my room making videos of random stuff like my pet gecko. This was when YouTube wasn't a thing and people would just send links to their friends from it. I had no idea what was going to happen. 
I started songwriting when I was 12. I started playing the songs online and it snowballed. By the time I was in high school I had built a following that I didn't expect at all. 
I had a song called "Idle Town" that I made myself in my bedroom. I had no clue at the time, but it was the song that ended up getting me signed. That changed my entire life!
JN: That's a very personal song, right?
CG: The song is about my hometown. I had originally written it as a love song, then that person broke my heart. I changed all the lyrics to make it about how I love my hometown and my friends. It about how it feels to live in a small town. That's a very specific feeling when you want to get out, but also love the place so much. 
JN: Your music has been called Generation Z pop. What does that mean?
CG: I have no idea. People will call my music bedroom pop or indie pop. I just make music that I like. I will write a song in my bedroom and that's it. 
JN: That's how Billie Eilish started. 
CG: Yes. I feel like people these days will like a song and then just put it out. 
JN: Your song "Checkmate" doesn't seem to fit into any category. 
CG: Thank you. 
JN: How does that work when you are constructing the song?
CG: I was interested in early 2000 punk pop. I love Avril Lavigne. I grew up in that era of music and wanted to make music that belonged in that time period. I wrote "Checkmate" on acoustic guitar. It didn't sound anything like what it sounds like now. 
I've been in a really big grunge phase. I've been listening to Radiohead and Nirvana. Now it's a part of my music. 
JN: How did you hear about them?
CG: I discovered them through my producer who made my EP. His name is Daniel Nigro. When my life was turned upside down, he gave me a bundle of artists that he said would mean a lot to me this year. He had also been signed at 19 and dealt with the same things. The music hit me hard and that's why I fell so hard for that music.
JN: How old are you?
CG: I'm 20. 
JN: You can almost drink!
CG: I turn 21 when I'm on tour. The US tour is this fall. Hopefully, my album will be out by then and I can play that. I just want to make the best album I can and not follow a timeline. I want to get my music into people's ears. I want to meet people out on the road and see how things have changed. 
JN: When you play live, how do you connect with these personal songs?
CG: People say we are all different, but I think we all have the same problems. My motto with songwriting is if I relate to it then I guarantee that people relate to it. 
It's very easy for me to connect with an audience because they are my peers. I would be out in that crowd if I wasn't onstage. 
JN: Do you feel like music has saved you in life?
CG: Definitely. If it wasn't for music I don't know what I would have done. It changed everything in my life. Music and writing is my way of dealing with everything that has happened in my life. 
It's a vey healthy way to deal with things. Instead of doing bad things, I just work a lot and write songs. 
JN: What does your necklace mean?
CG: My best friend back home has a necklace that says, "Con" and I have this one that says, "Ash."
JN: What advice do you give people to build their social media up?
CG: I don't know, because I have done it my whole life. I just post what I like. I feel like if you have to try then it's probably not working. People really just grew up with me and I grew up with the Internet. Seeing my listeners and myself all grow older and seeing everyone out on tour makes us all buddies. I feel like we all know each other, because we are able to say a lot on the Internet and also feel like we are anonymous. 
JN: Have you noticed there are other Japanese artists here at Lollapalooza?
CG: I know! It makes me so happy. I usually am the only one. It's absolutely ridiculous how non diverse the music industry is. I don't think it's a coincidence. 
JN: Hopefully it will get better. 
CG: These days the world is starting reward creativity. For a while it wasn't. People want to hear different perspectives from all kinds of races and sexualities. I think that's really special. 
People are starting to notice casual racism more than they used to. Because of the Internet people are being exposed to different races. I grew up in Texas and I was one of three Asian kids in high school. I think people don't know about the rest of the world. They live in a bubble. The Internet is opening people's eyes into the rest of the world. 
Interviewed by Jerry Nunn. Jerry Nunn is a contributing writer to the GoPride Network. His work is also featured in Windy City Times, Nightspots Magazine and syndicated nationally. Follow @jerrynunn