A GoPride Interview
Alisa Xayalith
Electronic band The Naked and Famous talk backstage about their music
The band is straight, but we have gay musician friends.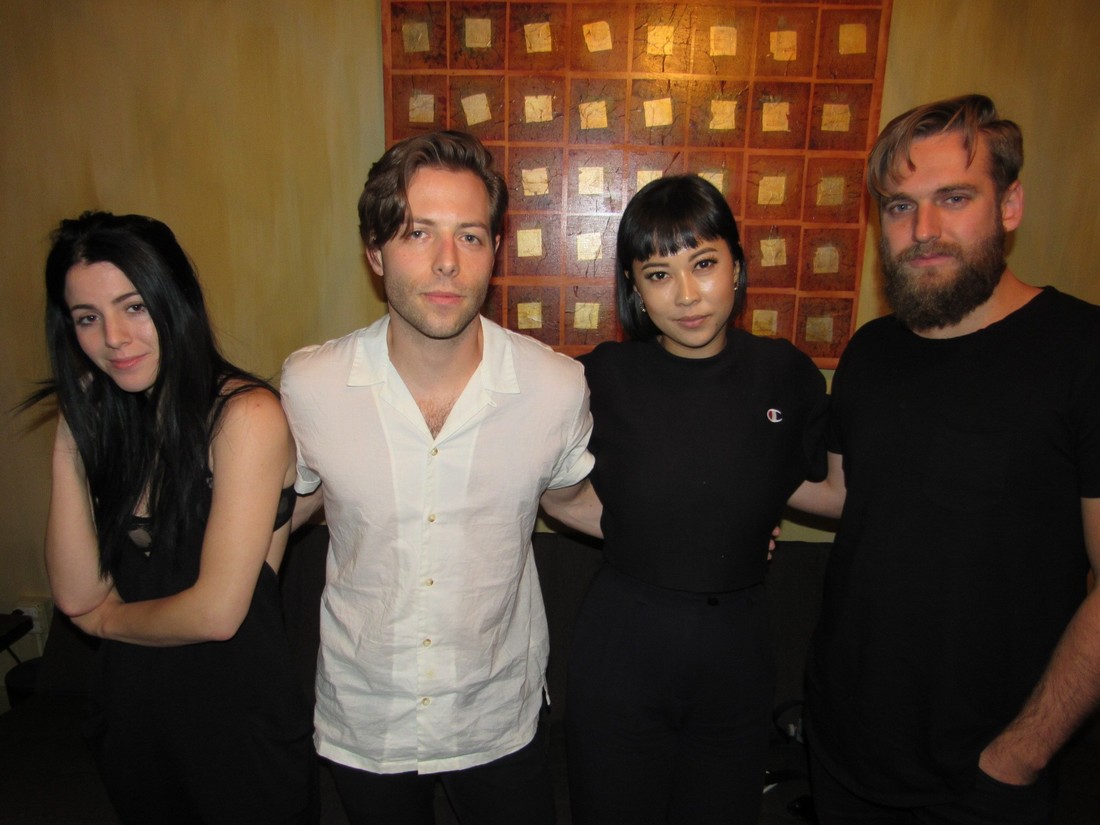 photo credit // jerry nunn
The Naked and Famous Open Up
Indie electronic band The Naked and Famous is made up of Alisa Xayalith, Thom Powers, Luna Shadows and David Beadle. Originally from Aukand, New Zealand, they are stationed in Los Angeles now. After a string of hit singles, the band traveled on tour bringing them to Evanston where they talked backstage about the music. 
JN: When did the band first start?
AX: (Alisa Xayalith) It was 2006. Instead of going to university, I knew I wanted to do music. I tried to figure out what I wanted. I enrolled in music college. That is where I met Thom. 
We started writing songs and recording. 
JN: You are both from New Zealand. How did you wind up in LA?
TP: (Thom Powers) Just from touring. When "Young Blood" blew up we were just chasing it around the world. LA is one of those places to end up. We had some good times there and it was a real industry pull. It feels like the music industry is there with all of the writers and producers. It made sense. 
It did seem a little Hollywood at first. 
AX: It's because we would come through town and play shows we would stay in a hotel in the heart of Hollywood Boulevard. Our direct experience of LA was that environment. 
TP: Now in LA we have found the places to be. 
JN: Do you play New Zealand often?
AX: No, we don't. It's hard to get back there and really expensive. 
JN: What is a fun fact about the band that people don't know?
AX: Thom and I have gotten into baking. Thom makes incredible soft chocolate chip cookies. He would have them on a plate while we were doing a writing session and it was so hard not to eat them!
TP: It's because I watched the first season of The Great British Bake Off.
JN: Is there a LGBT angle to the band?
TP: It is something we want to be involved with in whatever way we can. The band is straight, but we have gay musician friends. We just put out a song with morgxn, who is gay. 
We have been a fairly politically quiet band. In our culture in New Zealand, we are quite reserved. Our people don't want to put our feet in our mouth or have the repercussions on saying the wrong thing. 
Moving forward we want to display our affiliations and leanings as much as we can. 
AX: I am Laotian. The most political I have been is sharing my story about my family being refugees and immigrating to New Zealand. I hated seeing headlines that dehumanized refugees. So many people have the same story as mine and I felt the need to share my story. 
TP: Basically we are a left leaning band. We have now realized that now is the time to not be scared. 
JN: Talk about the current live album. 
TP: It began as an acoustic album. It became a stripped back album. It started when we were doing a radio promo. We were playing acoustically at radio stations. 
Originally we didn't want to do that. Our big single was blowing up and it didn't represent us. It took 10 years to venture out of the established idea we had of ourselves. 
We really wanted to commit. That just snowballed.
It is really something for our fanbase. This is for the people that know the music and the songs. 
We don't know what is next. We are working towards a new album. 
JN: Why did you want to do a cover song of Massive Attack's Teardrop?
TP: It is one of those songs that is an amazing piece of music. It comes from the era that our name comes from. Our name comes from a line in a Tricky song. 
AX: Those three bands, Portishead, Massive Attack and Tricky are all from Bristol in the UK. It us paying homage to those bands. It made sense to us. Elizabeth Fraser is a vocalist we both love. 
JN: Your video for "Punching in a Dream" gave me nightmares. Was it scary to film?
TP: It was a rough day. 
AX: It was freezing that day. I was in a chiffon dress. I had to lay down in the sand dunes and look dead. 
JN: What are you doing next?
TP: We have songs and everything is coming together. The future of the band is free. It has never felt free before. We can do whatever we want. We are not beholden to major label contract. We can work with whomever we want or put out music whenever we want. 
It feels new and exciting. We get to build our story obligation free. 
AX: It is a blank slate in a way. When we get home we are going to cram in recording and writing sessions. We are always working. 
Interviewed by Jerry Nunn. Jerry Nunn is a contributing writer to the GoPride Network. His work is also featured in Windy City Times, Nightspots Magazine and syndicated nationally. Follow @jerrynunn