A GoPride Interview
SG Lewis
SG Lewis spins for fans at Radius Chicago
I would like to be known for my own contributions to my music as well as for contributing to other musicians' work.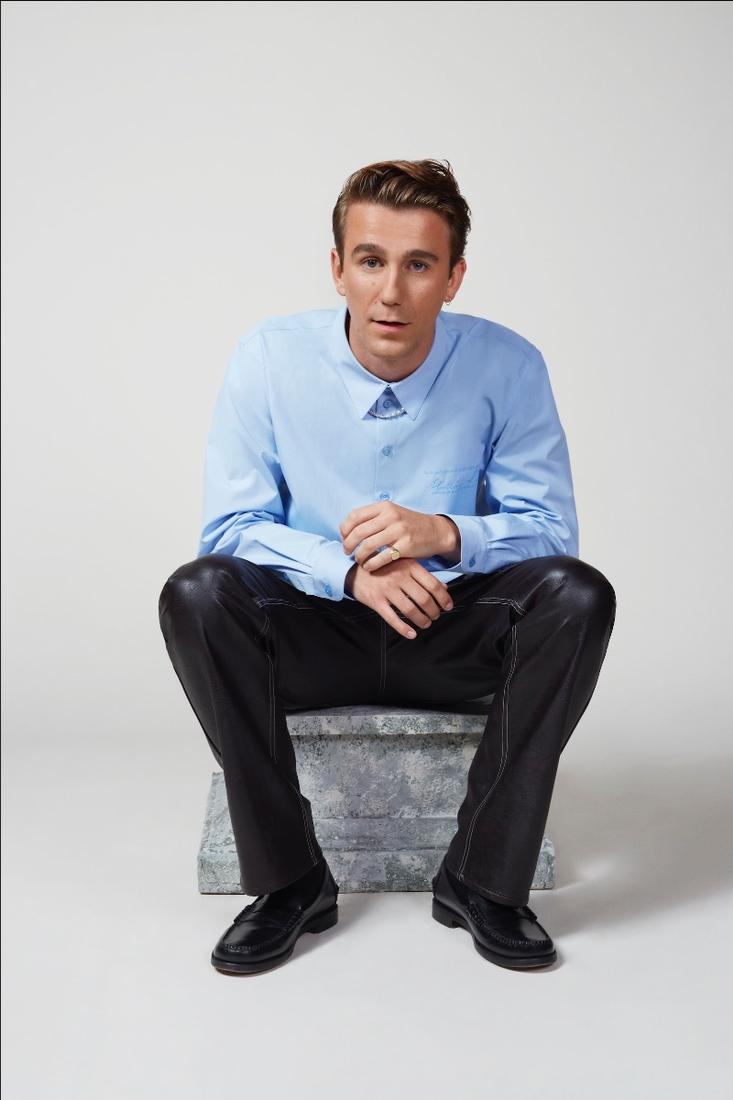 photo credit // high rise pr
Producer SG Lewis talks about new music backstage at Radius Chicago
English performer Samuel George Lewis wears many hats as a singer, songwriter and record producer. He has collaborated with artists such as Tove Lo, Dua Lipa, Clairo and Jessie Ware. After remixing tracks at a young age, he began releasing his own music online and became a resident DJ in Liverpool. In 2014 he signed a record deal with PMR Records and debuted a few extended play albums. He took on a major project by releasing a three-part set called Dusk, Dark and Dawn and a full release called Times in 2021. Lewis dropped in for a Windy City gig at Radius Chicago and chatted backstage about upcoming music before his live set on October 14, 2022.
JN: (Jerry Nunn) Start off talking about your influences growing up. I hear disco music influence in your work.
SGL: (Samuel George Lewis) Yes, I discovered disco secondhand in a way because I didn't grow up in a household where they played disco music. Now, my mom claims it was her but it was when I went to house parties in college that I discovered Honey Dijon.
JN: Honey plays a lot of house music.
SGL: Exactly, but there were disco edits and I went back to find the original tracks. Disco music united the room in a way I hadn't seen before. There were people with their arms around each other with pure joy. It was more positive and inclusive than techno music. I then took a deep dive into it and did some groundwork. It is a huge influence on everything that I do.
JN: What advice would you give other DJs?
SGL: To trust their own taste and the more unusual or unique the taste is will make someone stand out. In the age of TikTok and a million releases a year, if someone is chasing the pop zeitgeist they are already too late. They are better off sticking to their own guns.
JN: How do the United Kingdom fans compare to the United States fans?
SGL: British crowds can be more of a ruckus at festivals but American fans will tell you exactly how they feel. British people can sometimes downplay things where Americans will say their lives have been changed from a concert experience with an honesty to it.
JN: You have two tracks with Tove Lo released today on her album Dirt Femme with "Call on Me" and "Pineapple Slice." Talk about that. SGL: I met her husband Charlie Twaddle first at a Phoebe Bridgers gig. He mentioned that I would be working with his wife in a week and because we got to be friends there was immense pressure for the studio session to be good. We did "Call on Me" first then "Pineapple Slice" second. She is an incredible songwriter and easy to work with, so both times were very natural.
JN: I hear elements of New Order on "Call on Me."
SGL: Yes, it is definitely a new wave kind of vibe on it with a nod to Dead or Alive.
JN: "Pineapple Slice" has a "Ring My Bell" beat in it. SGL: Yes there is a tip of the hat to it. It is to show what music I have discovered and hopefully introduce it to a new audience.
JN: Where did you come up with the tennis album cover AudioLust & HigherLove?
SGL: It is about the duality of the album lust versus love going back and forth. Love is a game and the tennis court is inside a cathedral which is a dark setting. This record is about contrasts and contrasts such as yin and yang.
JN: Why does the album title have unusual capitalizations?
SGL: The album is about finding something real with love and romance and the confusion of those two things. I was trying to define these two worlds with one being dark in AudioLust and HigherLove being a more realized version of love. That categorized the songs and I just split it down the middle.
JN: The record isn't released until January. Do you have surprise guests planned?
SGL: Yes, but this is not as guest-heavy as in the past because I did a lot of it during the pandemic. I was stuck at home with my own thoughts a lot and wound up singing a lot on the album. There are a few surprise collaborations on there, but was an introspective experience since I was stuck at home.
JN: What would like people to know about you as an artist?
SGL: I would like to be known for my own contributions to my music as well as for contributing to other musicians' work. I am super proud of that. I like wear different hats and produce other people. It is my favorite thing to do.
JN: Have you noticed the LGBTQ+ community coming to your live shows?
AGL: Absolutely. I made an album inspired by legends from New York and the birth of disco. The central thing was it was a safe space for LGBTQ people to express themselves and celebrate. As a result, I have seen them come to my shows and I am lucky to share those spaces with LGBTQ fans. I hope they keep coming to this safe space in 2022!
JN: I think we need and deserve that.
AGL: Absolutely and I hear how EDM and big-stage electronic music are minimizing these safe spaces when that is really where Black, gay music came from. I want my music to create new spaces and that is what I try for every day.
JN: Have you worked with Honey Dijon yet? She is from Chicago…
AGL: No, I am just a fan. I saw her in Tulum recently from afar. The energy is so high in the room and she keeps it going up and up!
JN: What are you doing for the rest of the year?
AGL: I will just keep releasing more music. I think with this album being less collaborative, I want to put my producer hat back on and work with other performers. I am such a fan of other artists that I hope some of the collaborations will become a reality.
JN: Is there a dream artist you would like to work with?
AGL: Kylie Minogue would be great.
JN: Some people don't like to answer that question because they think it will be bad luck.
AGL: I think just the opposite. I want to put it out in the world to see if it would happen. Kylie put a couple of my songs on her Spotify playlist so we see if something happens one day. Let's manifest it!
Interviewed by Jerry Nunn. Jerry Nunn is a contributing writer to the GoPride Network. His work is also featured in Windy City Times, Nightspots Magazine and syndicated nationally. Follow @jerrynunn